Foundation Repair In
The City of Escondido, CA
Without a doubt Escondido, CA, is a place with plenty to do, for families to live, and for businesses to thrive. You have places like Kit Carson Park to walk around at, plenty of Golf courses to play at, and home to the San Diego Zoo Safari Park. This city is the ideal place for people to escape the city of San Diego, all the while still enjoying everything San Diego County has to offer.
But not everything here is perfect, especially when it comes to you dealing with foundation, crawlspace, and hillside issues that have been problematic to your residential or business property.
There are plenty of trusted foundation repair contractors you can count on that are experts in resolving these issues. Dalinghaus Construction has been in the foundation repair business since 2015, specializing in foundation stabilization, foundation leveling, deep injection with Polyurethane foam, crawlspace repair, and hillside stabilization. After completing over 2,300 foundation repair projects all around areas of Southern California, Arizona, and Nevada, residential and commercial property owners have trusted our expertise to finish every project with precision and accuracy.
Signs of foundation, crawlspace, and hillside issues in Escondido, CA
You shouldn't worry too much if you find only one of these issues. They might not be related to your foundation at all. It's after you see more than one of these signs that you should contact a licensed and qualified foundation repair contractor. 
Crawlspace issues might not be a large foundation issue where you deal with foundation settlement. It can often be that the floors aren't being supported properly for a couple of reasons. 1) The wood supporting your floor is deteriorating, or 2) the posts and pads aren't holding up your floor.
The signs of crawlspace issues will be your floor sagging in certain areas. You might see it, but you'll usually feel as though you're about to sink into your floor.
You'll know you have hillside stabilization issues when you see your retaining wall lean, bow, buckle, or crack. These issues are caused by lateral movement due to gravity and can be worse due to hydrostatic pressure.
The city of Escondido, CA, has a bunch of sandy loams that are prone to soil erosion when it rains. And while they can expand and shrink very little to moisture changes, the soil can still cause problems with foundation settlement, which means that as the soil shrinks, an area of the building that sits on your property is slowly sinking into the ground.
You'll want to make sure you have an expert come to inspect your property for these issues. Dalinhaus Construction offers quality foundation repair solutions so that you don't have to worry about the foundation, crawlspace, and hillside-related issues for a lifetime.
How does the foundation repair process happen in
Escondido, CA

?
The first step will always be one of our Project Design Specialists coming out to the front of your property to conduct a FREE 60-90 minute foundation inspection of your property. When it comes to properties on the market, the cost of a real estate foundation inspection will be $1,000, which is credited toward your foundation repair.
The specialist will go around the property and make a scaled drawing with floor elevation measurements to identify the problem, the area affected, and figure out a plan to resolve your foundation, crawlspace, or hillside issue.
Foundation inspections need to be scheduled either online or by calling Dalinghaus Construction at (877)360-9277.
On either the day of or after your foundation inspection, you will receive a foundation repair plan created by your specialist. This includes a scaled CAD drawing of your property, a full report based on what was found during your initial inspection, and the recommended repair plan.
The last is to schedule your foundation repair and have your project finally underway, assuming you agree to move forward with everything after the initial inspection.
What are the most common methods for foundation repair?
Dealing with foundation settlement will require an underpinning to help stabilize your residential or commercial building. Dalinghaus Construction does this in a couple of ways: galvanized steel Push pier and Helical pier underpinning systems.
Both are not only good for foundation stabilization, but they can also be used for foundation leveling, which is basically a bonus you can choose that lifts the area affected by foundation settlement to maximum practical recovery. The difference between each of these underpinning systems is how they're installed.
Push piers are galvanized steel tubes that are attached to your foundation and hydraulically driven into the ground using the weight of your home or business. They're driven in until reaching competent soil or bedrock.
Helical piers will be used in place of Push piers when the building doesn't exert enough weight to be effective. These piers have Helices at the base that allow them to be put into the ground separately from the building like a screw until reaching competent soil or the recommended torque. A helical torque motor is used to get these bad boys into the ground.
Whether you're dealing with soil erosion or you decided to go with foundation leveling, you will have voids in the soil that need to be filled in. This is when you'll have a deep injection with Polyurethane foam. The injection fills voids, densifies soil, can be used for releveling, and provides additional stabilization for your slab-on-grade foundation. Polyurethane rapidly expands, is light, can be as dense as concrete, cures in 15 minutes, and is environmentally friendly.
Crawlspace repair can happen in a couple of ways. When the wood under your floor has deteriorated, a production team will go in to shore up your crawlspace and replace things like girder beams. That and crawlspace jacks might be installed to act as your posts and pads. Either way, you'll have your floors feeling as though nothing bad ever happened.
Finally, there are two ways to do foundation crack repair. The first is gravity-feeding Epoxy, a glue-like resin, into the crack and letting it dry to hold everything together. The second is Carbon Fiber stitching, which is applied on top of the crack to provide additional strength and repel water from seeping inside.
How is hillside stabilization done?
It depends on what exactly is damaging your retaining wall. Weep holes can be installed in your retaining wall to allow moisture to escape and relieve hydrostatic pressure.
To stabilize your retainng wall and combat lateral moving soil, Helical tiebacks are put in through your wall and into the soil. Think of them like Helical piers, except they're installed at a more horizontal angle to stop the side-to-side motion of the soil. They're driven in until reaching competent soil or the recommended torque. They're then anchored into your wall to add that stabilization your retaining wall very much needs.
Reasons you'll want foundation repair, crawlspace repair, and hillside stabilization in
Escondido, CA

?
The reason we tell you to look for the signs of foundation issues is that they will be noticeable in the form of cosmetic damage. It doesn't look appealing. Thankfully, foundation repair allows you to deal with those issues once and for all.
While this rarely happens, the extent of the damage you see can move from cosmetic to structural. You don't want it to get to that point. Address the problems through foundation repair so it doesn't get to that point.
Foundation issues don't get better like a scratch on your arm. The problems tend to get worse. And when you cover them up, they come back. Foundation repair prevents these issues from coming back because your home or business slowly sinking and continuously displaying the damage.
Whether it's your windows and doors giving off a sticky sensation when you open and close them or your floors feeling off as though you're looking at life from an alternate perspective, foundation issues affect your day-to-day. Foundation repair prevents these problems from getting worse and can even be rectified via foundation leveling.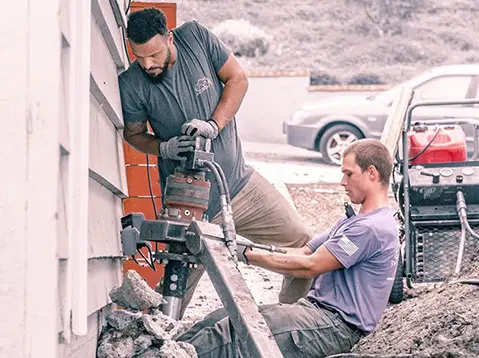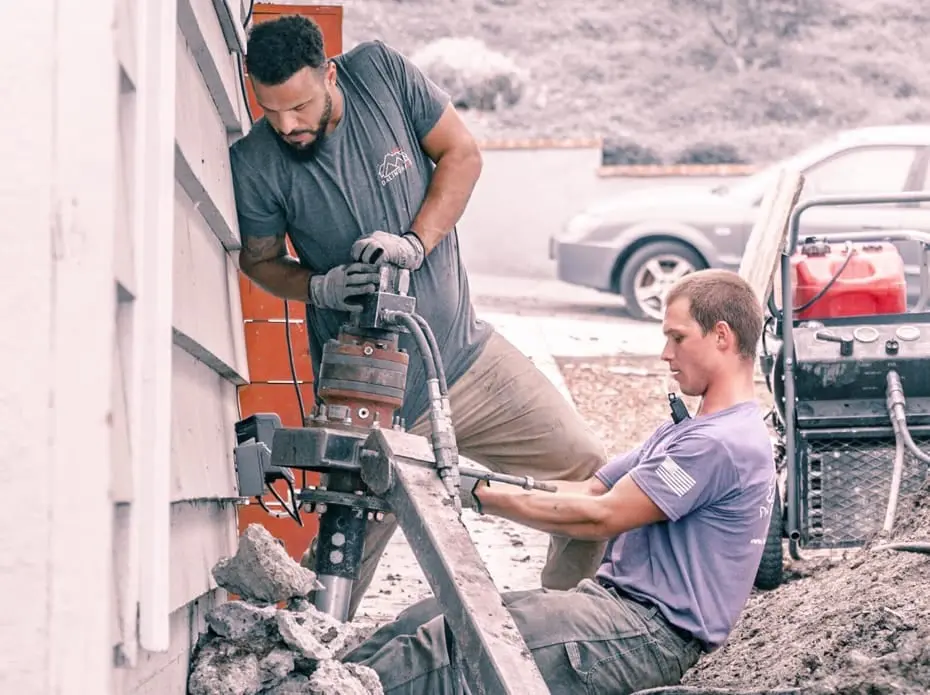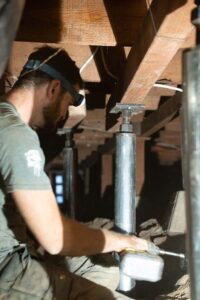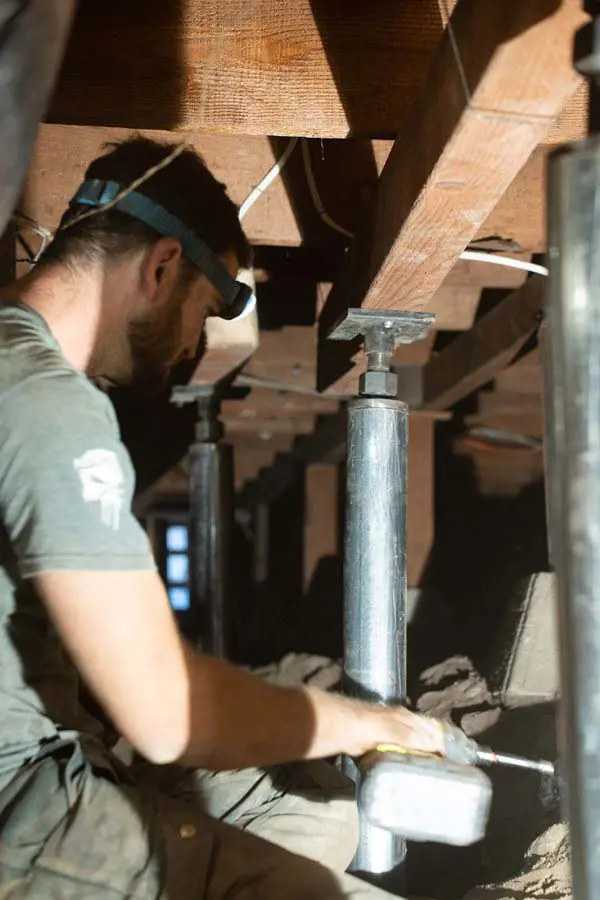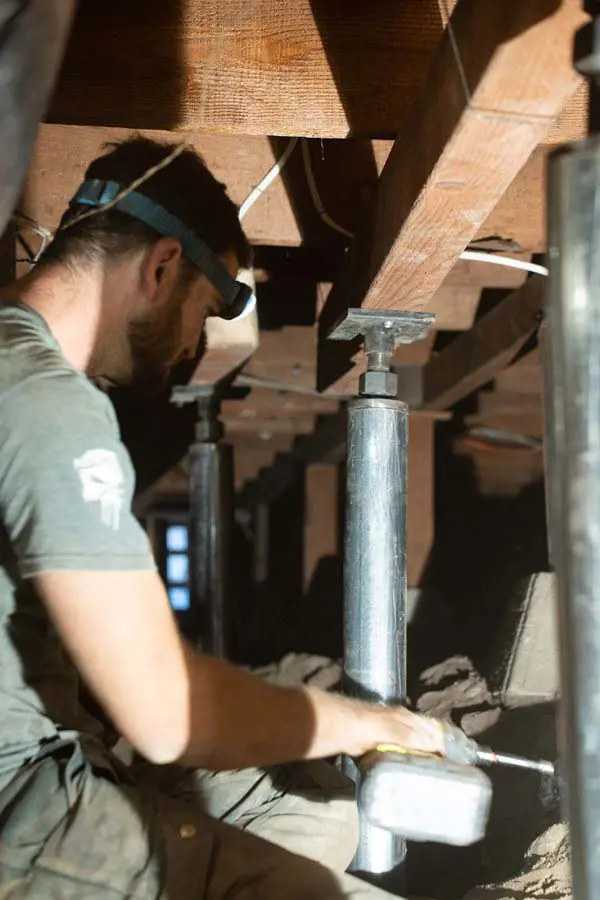 If you're planning to put your property on the market, you can say goodbye to the full value when you legally have to display foundation issues. Banks are less willing to loan for these properties, restricting you to Cash Buyers, who can negotiate the full value down by 30%. The worse the damage, the less gained in your pocket.
You don't want the floor of your raised foundation home with a crawlspace to have extensive damage to the point where you feel as though you will fall into the soil underneath. Crawlspace repair will strengthen your floors and have them working as normal.
Keep your soil where it's at through hillside stabilization. Soil moving laterally can exacerbate the foundation issues you're facing at a more expedient rate. For obvious reasons, you don't want that happening.
Foundation repair, crawlspace repair, and hillside stabilization make sense in ensuring the longevity of your property and offering stability in your life. Plus, you have a likelier chance of keeping your property at its full value. If it's not at full value, it won't be because of foundation issues.
Don't wait! – Schedule a foundation inspection today!
Look, having foundation issues already sucks, especially when you can see them materialize inside and outside of your home or business. And they don't get better. You'll want to have them addressed sooner than later, especially when it means the integrity, stability, and value of one of the largest investments in your life.
If you're in Escondido, CA, make sure to have a professional come and assess the issues you're dealing with. If you're unsure what exactly is happening with your residential or commercial property, have someone come out who can tell you exactly what's going on.
Dalinghaus Construction is ready to help you out.
To schedule an appointment, you can go online or call (877)360-9277.