Foundation Repair In
The City of Laguna Woods
The 32nd city in Orange County, Laguna Woods, CA, has become a desirable city to live in with beautiful scenery and wonderful public parks. The residential communities bring livelihood to the city alongside commercial businesses that contribute to the stability of the area.
Though like any place in the world, the area is susceptible to foundation issues.
Thankfully, they aren't issues especially when you have a foundation repair company like Dalinghaus Construction, which has helped over 2,300 residential and commercial property owners throughout Southern California, Arizona, and Nevada. We've specialized in services such as foundation stabilization, foundation leveling, deep injection with Polyurethane foam, crawlspace repair, and hillside stabilization since 2015. If you're looking for any of these services in Laguna Woods, CA, Dalinghaus Construction can do your foundation repair service with attention to detail you can count on.
Signs of foundation, crawlspace, and hillside issues in Laguna Woods, CA
You'll notice foundation issues in the form of cosmetic damage around your home or business property. And you'll see more than one sign. An isolated sign doesn't necessarily mean you're dealing with a larger foundation issue. Contact a licensed and qualified foundation repair contractor when you encounter multiple issues listed.
You'll know you have crawlspace issues when you can feel your floor sag. This can be due to a couple of factors.
As for hillside issues, you'll see your retaining wall bow, buckle, lean, and even crack if the damage is severe enough. The reason this is happening is due to the lateral movement of the soil. Moisture in the soil can also add unnecessary hydrostatic pressure that provides more damage to your retaining wall.
Laguna Woods, CA, has a mix of clay and sandy loams, which can cause issues you don't want to deal with regarding your residential or commercial property. Clay is susceptible to expansion and shrinkage depending on the amount of moisture present, the temperature outside, and other environmental factors. Because Southern California is usually dry, the clay soil tends to shrink. Sandy soil doesn't expand and contract as much when exposed to moisture, but soil erosion can still happen. Either way, you're likely to deal with foundation settlement, which means an area of your home or business is slowly sinking into the ground.
If you're dealing with any of these issues, you can contact a foundation repair contractor to come out and do a foundation inspection of your property. Dalinghaus Construction will be transparent with you every step of the way so you know exactly what you're dealing with and how your issue can be resolved.
How is your
foundation repair process

done in Laguna Woods, CA?
Your foundation repair process starts with a FREE 60-90 minute foundation inspection around your property. Note: foundation inspections for properties on the market will be $1,000, which is credited toward your foundation repair.
And when we say foundation inspection, this also includes looking at your crawlspace or retaining wall.
One of our Project Design Specialists will go around your property to look for any signs of foundation issues and create a scaled drawing with floor elevation measurements to find the area affected by issues.
On either the day of or after your foundation inspection, you'll receive a foundation repair plan created by your Project Design Specialist. This includes a CAD drawing of your property, the full report on what was found during your initial foundation inspection, and the recommended foundation repair plan.
If you agree to continue with your foundation repair, you will have your project scheduled so that your foundation, crawlspace, or hillside issues are a thing of the past.
How are
foundation and crawlspace repairs

done?
Dalinghaus Construction uses a couple of effective and more affordable foundation repair underpinnings to stabilize your residential or commercial building. We use galvanized steel Push piers and Helical piers.
Both of these underpinning systems serve the same purpose in stabilization and can also be used for foundation leveling, which involves lifting your building to maximum practical recovery if you choose to go that route. The main difference between these two systems is how they're driven into the ground.
Push piers are hydraulically driven into the ground using the weight of your building if it exerts enough of a load. They're put into the soil until reaching competent soil or bedrock.
Helical piers are used when the building is too light since they have helices at the base that allow them to be driven down separately from the building. They're put in like a screw using a helical torque motor until reaching competent soil or the recommended torque. They are then attached to the retrofit brackets to stabilize your home or business.
Whether you decide to go with foundation leveling or you're fighting soil erosion, the voids in the soil need to be filled to offer additional stabilization to your slab-on-grade foundation building. The solution Dalinghaus Construction uses is deep injection with Polyurethane foam. This will be done for filling voids, soil densification, and releveling. Polyurethane is rapidly expansive, cures in 15 minutes, is around 3-5 lbs per cubic foot, is as hard as concrete when under enough pressure, and is environmentally safe. Deep injection with Polyurethane foam is a better alternative to mud jacking.
As for Crawlspace repair, one of our production teams will go into your crawlspace to either replace the deteriorated wood holding up your floor and/or install crawlspace jacks to do the work of the old posts and pads. It might be a mixture of both repairs depending on what you're dealing with.
When you're dealing with foundation settlement, you're also dealing with foundation cracks in the concrete. This can be fixed in a couple of ways:
How will you do hillside stabilization?
It depends on what exactly is making your retaining wall fail. Lateral movement will be combatted with Helical tiebacks, which are like helical piers but installed through the wall and into the soil until reaching competent soil or the recommended torque. They're then anchored to your retaining wall for additional reinforcement.
If hydrostatic pressure is an added factor to your retaining wall failure, moisture needs to escape somehow. Weep holes will be retrofitted so the water can escape and your retaining wall can have less stress.
Why do you want foundation repair, crawlspace repair, and hillside stabilization in
Laguna Woods, CA
You'll notice cosmetic damage as it relates to foundation issues. And they don't look good. But at least foundation repair will allow you to take care of the cosmetic damage without worrying about those problems coming back.
Though this doesn't happen often, cosmetic damage can eventually turn structural if you decide to wait a long time for your foundation repair. Don't let this happen. Your property is not only prone to being red-tagged, but foundation repair will be more expensive.
Your home or business won't magically become better from foundation issues. They'll get worse before they get anywhere close to better. And, as we said, your foundation repair cost will increase over time, whether it's because you're dealing with more damage or the cost of materials has increased.
You might notice your day-to-day might be a little more difficult than it used to be, even if you're not conscious of it. Your doors and windows feel like they have a stickiness to them when you open and close them and a part of your floor is sloping as though you're going on a hike in your own home. Have foundation repair done to keep these problems from becoming worse.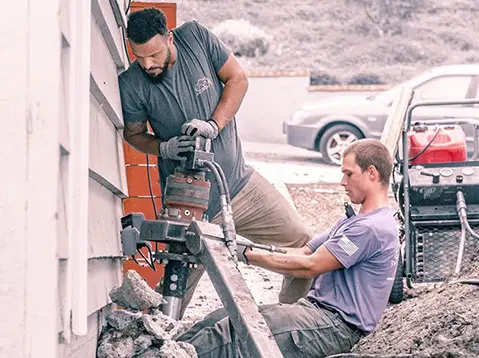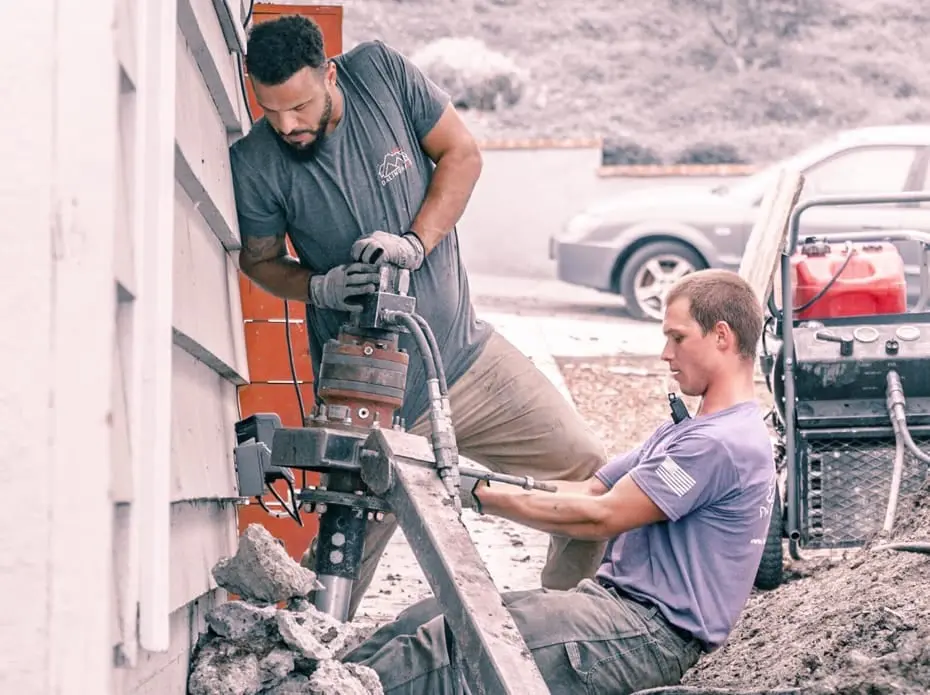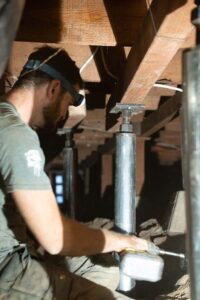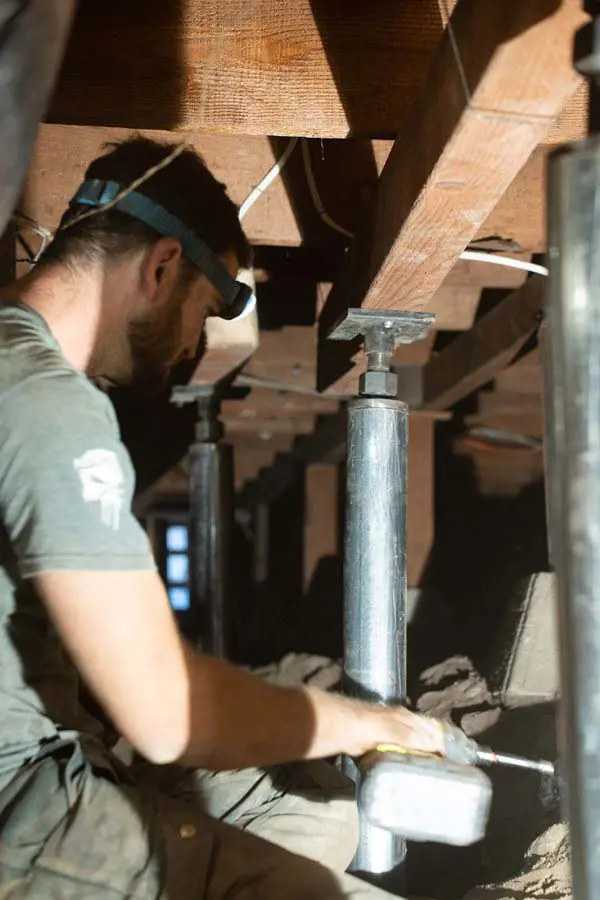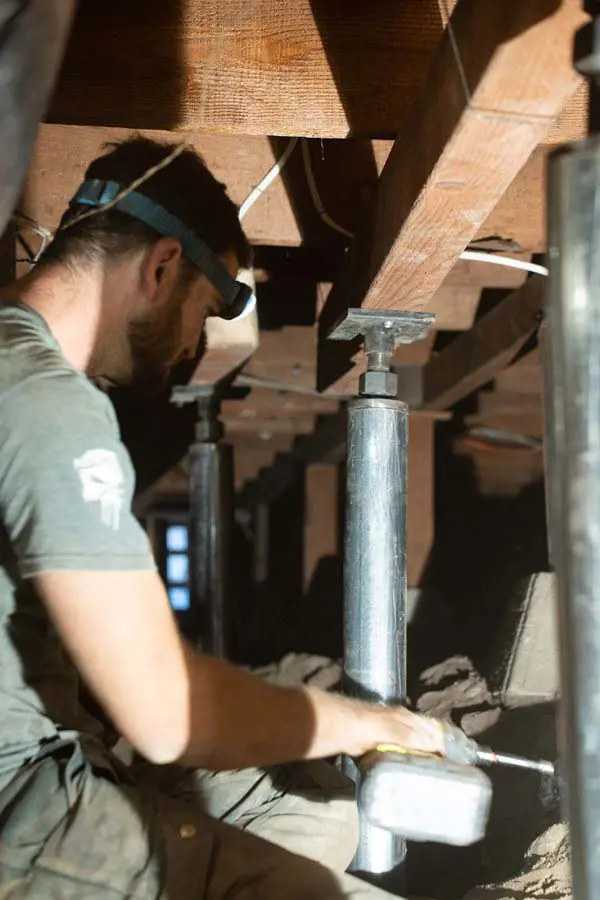 Sagging floors don't feel reassuring, especially when you feel as though you'll slowly fall into your raised foundation home with a crawlspace. Have your floors feeling secure and level with Crawlspace repair.
Foundation repairs help maintain property value; anyone who plans on selling their home needs an inspection beforehand since potential buyers will want assurance that all foundational issues have been addressed before they purchase the house.
HIllside stabilization can help avoid any foundation issues you're experiencing from getting worse at a quicker rate. Lateral movement can exacerbate these issues, which is why you want to keep the soil where it's at.
If you want to ensure the value, longevity, and stability of your property, you want to go forward with your repairs. Keep in mind if you intend to put a property with these issues on the market, they need to be legally disclosed, which can lower the full value price by 30%.
Not sure what to do next? Schedule a foundation inspection!
These issues aren't things you need to deal with on your own. We understand your residential or commercial property is your number one investment in life. Dalinghaus Construction is ready to help you out every step of the way.
If you're in Laguna Woods, CA, make sure you schedule your foundation inspection to see what needs to be done for foundation repair, crawlspace repair, and hillside stabilization.
To schedule an appointment, you can go online or call (877)360-9277.