Do you live in Orange County (the great 714) and have cracks zipping through your stucco? Stucco crack repair is a quick and easy fix unless the fractures are caused by foundation settlement. No matter where you live, if you want to learn why you should wait to repair your stucco cracks until after your home's foundation is lifted/stabilized via underpinning, this article is for you.     
Our team has serviced Orange County since 2015 and helped thousands of homeowners level, stabilize, and secure their homes. We've also helped point hundreds of homeowners in the right direction when it comes to delaying stucco repair until after the foundation is fixed once and for all.  
This article will cover why it's imperative to wait to repair stucco until after a foundation lift/stabilization and a DIY standard stucco repair method.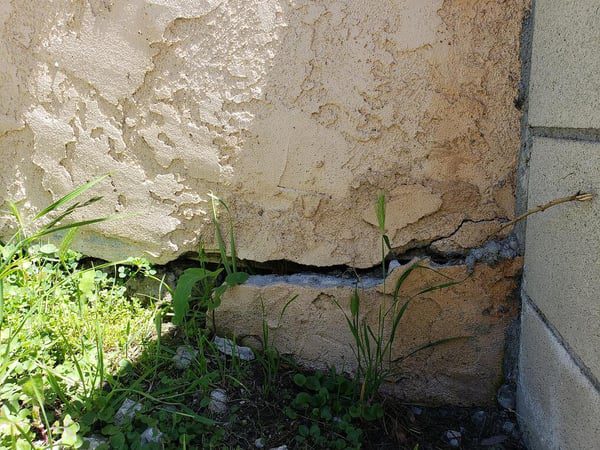 Why Wait to Repair Your Stucco Until After a Foundation Lift
Orange County, and most of the Left Coast, is riddled with various kinds of expansive soil: clays, loams, silts, and more cool geological strata. Expansive soils are notorious for soaking up significant amounts of water and expanding, the soil a big earthy sponge. As the soil raises, it lifts and warps foundations due to stress.
Expansive soils are also infamous for the flipside of the coin, shrinking due to a lack of moisture. As the soil deflates, homes settle and sink into the incompetent, non-load-bearing soil. Homes rarely settle evenly, resulting in unbalanced support beneath a home's foundation.
Signs and symptoms of foundation settlement include:
  Sloped floors
  Difficult to open doors/windows
  Cracked drywall
  Cracked stucco
For a more comprehensive explanation of the signs and symptoms above, in addition to helpful diagnostic visual aids and video content, read our article 5 Signs and Symptoms of Foundation Issues (Foundation Settlement & Foundation Heave).
Homeowners across Orange County attempt to address the symptoms of foundation settlement prior to digging down to the root of the problem. And, honestly, who wouldn't? Cracked drywall is a major eyesore and walking across sloped floors can cause vertigo. Cracked stucco can make you look like a lazy homeowner.  
The issue with fixing cracked stucco specifically is that filler (caulk/mud) is used to fill the stucco cracks. Under normal, level circumstances, this would be the correct repair approach. However, lifting a home helps reduce the size of the cracks naturally and will push out any excess repair filler used in the initial stucco patch, resulting in the need for a second repair after the lift.
It's best to wait until after the size of the crack has been naturally reduced by the home lift and then patch-and-paint. Or, if your home cannot be lifted, it's still best to wait until it is stabilized (frozen in place) prior to patch-and-painting your stucco. Otherwise, your home will continue to sink and pull the patched stucco apart.
In short, when it comes to patching cracked stucco caused by foundation settlement: patience is a virtue.    
Simple DIY Stucco Repair Post Home Lift/Stabilization
 After your home has been lifted to maximum practical recovery or stabilized against further settlement, the stucco repair can begin.
Step numero uno is to widen the fracture (yes, trust us) about a quarter of an inch via a chisel/flathead screwdriver and hammer. It's best to chisel out the crack at a 90-degree angle to the wall. Clear the cobwebs, dirt, and various debris out from the widened fracture.
The second step is to utilize your preferred caulk/mud, filling the crack with the repair compound. As the filler is applied, make sure to trowel the compound so it's even with the stucco. Give the patch at least 24 hours to cure before applying paint matching the exterior of your home.
It's best to perform a DIY stucco repair after you check your weather app and have a couple of days of sunshine.
You may notice your repair is not as firm as the surrounding stucco – this is a good thing. This elasticity allows for some play during a seismic event and prevents the patch from cracking.
Earthquakes are a big deal in OC. Does your OC home have a precarious cripple wall foundation? Is it secured? If not, it should be. Read our article What is a Cripple Wall Foundation? (Earthquake Safety Orange County) to learn how to protect your home.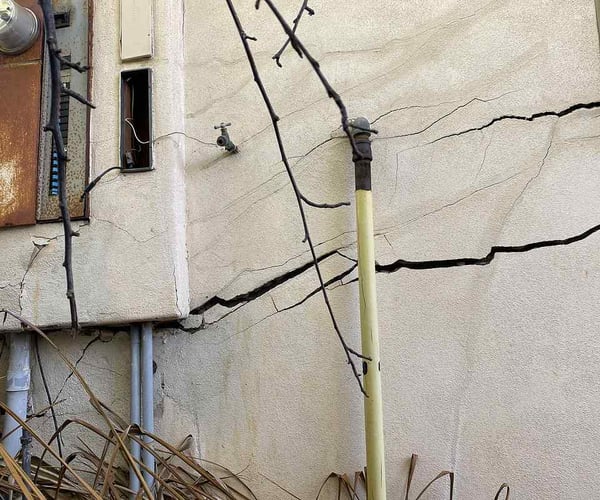 Underpin Your Foundation First   
In this article, you learned the importance of waiting to repair your stucco until after your foundation repair lift. You also learned a simple DIY method of quickly repairing stucco cracks. In short, first thing is first: repair your settled foundation prior to addressing any stucco issues.
Dalinghaus Construction Inc. has over 100 years of combined foundation repair experience and offers a variety of foundation repair services: polyurethane deep injection, stemwall crack repair, slab lifting/leveling, steel pier underpinning, and more.
If you think your stucco cracks are caused by foundation settlement and would like to know the average repair cost for steel pier underpinning, read our article Underpinning Cost – Steel Pier Systems.
If you would like to know for sure if your stucco cracks are caused by foundation settlement and you live in SoCal or Arizona, click on the link below to book a free foundation inspection.