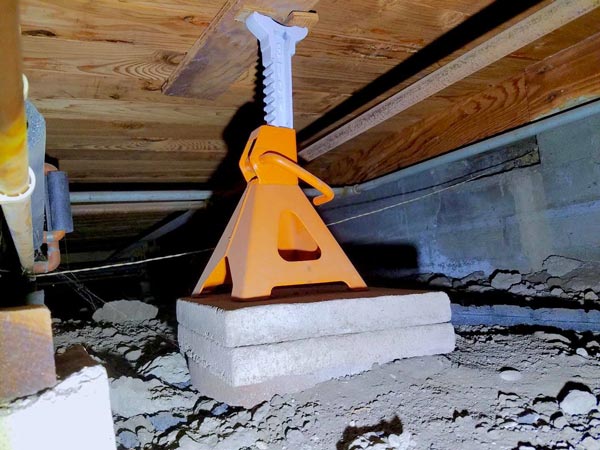 Owning a home in Costa Mesa, CA, gives you access to some of life's best options. You will find beautiful views from the hilly terrain overlooking the beach below, and it's just a short drive to LA.
The area of Costa Mesa also has its problems, and you will often find them under your feet. The sandy and clay soils can result in a wide range of foundation problems, but Dalinghaus Construction is there to help with quality and trustworthy foundation repair services.
The issues you might face in Costa Mesa extend beyond your home's foundation. Due to your hillside location, you may also need a seawall repair or hillside stabilization.
Each property and foundation is unique. With over 2000 completed projects since we started in 2015, we have seen it all. We are a trusted source of foundation repair services in Costa Mesa, CA, and throughout the surrounding area.
If you have any questions or want to use our free foundation evaluation service, call or fill out our convenient online form to get started.
Common Signs of
Foundation Problems

in Costa Mesa, CA
Below is a short list of possible signs you have a foundation problem. If you have one of these signs, don't panic. Any home could experience these issues. Then again, having a professional look into the matter is a good idea, so things don't progress.
Seawalls and retaining walls are notable features in Costa Mesa. We rely on them to keep the soil from moving too far, either into the water or onto our neighbor's property.
With the hilly area and sandy soil in Costa Mesa, it isn't out of the question to see some movement take place. When you see your seawall or retaining wall move, lean, or bow, you are already dealing with a wall failure.
When you see these problems occurring, the time to act is now. It will eventually fail as the pressure builds and puts more pressure on the wall. A complete failure could damage your home and property or lead to possible injury.
Dalinghaus Construction provides seawall repair and retaining wall repair services in Costa Mesa. Regardless of the problem, we can stabilize the wall and ensure it stands firm for a long time.
What does the
foundation repair process

look like?
Before the foundation repair process begins, you must have the property inspected. That is where our Project Design Specialists come in.
After requesting a free inspection, our team will come to your property for a thorough foundation inspection. In most cases, the initial assessment takes 60-90 minutes.
Our specialists will then create a home diagram showing your property's measurements and elevations. At that point, we create a unique repair plan according to your needs.
We will get back to you with a full report on what we found, a CAD drawing of your property, and a repair plan. Once you approve what we recommend, we can begin pulling permits and completing the repairs.
What does the
foundation repair process

look like?
Dalinghaus Construction uses the best options for foundation repair to ensure great results every time. These include push piers and helical piers.
How do they repair
foundation cracks

?
There are a few different methods available to repair foundation cracks. We use the following, as they are the best options available.
Carbon Fiber Stitching:
Small carbon fiber pieces are applied to the cracks to strengthen the area. The carbon fiber keeps water from getting into the gap and expanding it. It also stops additional cracks from forming.
Epoxy:
This two-part industrial-strength superglue is inserted into cracks, holding things together as it dries.
8 Reasons Why You Might Need
Foundation or Seawall Repair and Hillside Stabilization in Costa Mesa, CA
You want to be as comfortable in your home as possible, including being happy with its appearance. There are many benefits to curb appeal, but unless you handle the necessary foundation repair, the problems will keep showing.
If local code enforcement officers red-tag your home, it is unsafe to occupy. Foundation problems can lead to red-tagging, but our foundation repair service removes the red-tag.
Many frustrating problems can be associated with the need for foundation repair. Those problems can include sticking windows and doors. The related issues are also eliminated by fixing the root of the problem.
When your foundation shifts and settles, it typically does so more in one area than another. It may even create a tripping hazard as your home sinks unevenly. Repairing the foundation can also include leveling the home.
5. Foundation Problems

Get Worse:
Any issues with your foundation will not get better unless you have them repaired. In most cases, the problems will worsen, and the repair costs will increase.
Your seawall plays an essential role in keeping your soil from disappearing into the water and preventing erosion. Repairing a failing seawall will stop it from causing further problems.
7. Lateral Soil

Movement:
If a retaining wall fails, the soil it is holding back can shift, causing any ground behind it to shift. Shifting soil can affect both your home and your property. Hillside stabilization keeps the soil in place and prevents costly foundation problems.
8. Your Home is

Your Investment:
The home is the largest investment for most people. If any damage were to occur, you must disclose it before selling. Foundation and seawall repair can keep damage from occurring and maximize your sale price.
It's Time To Schedule Your Free Foundation Evaluation
Don't allow costly repairs to creep up on you. With our foundation evaluation, you will know what is happening with your foundation and what you should do to get it back in shape again.
You can schedule a free foundation evaluation in Costa Mesa, CA, or anywhere in the surrounding area. We are ready to help you with your foundation repair, seawall repair, or hillside stabilization project.
Note: Free evaluations are only for homes not yet for sale. If you have your home on the market, there will be a $1000 charge for a real estate inspection.
Costa Mesa, CA
Foundation and Seawall

Repair Services
Living in Costa Mesa, CA, means dealing with the soil. It is a mixture of sandy soil and expansive clay, resulting in the possibility of shifting both laterally and vertically.
When you have problems with a settling foundation or seawall/retaining wall failure, you can count on Dalinghaus Construction to fix the problem. We are the most trusted resource in Costa Mesa and nearby areas, and we offer the following services: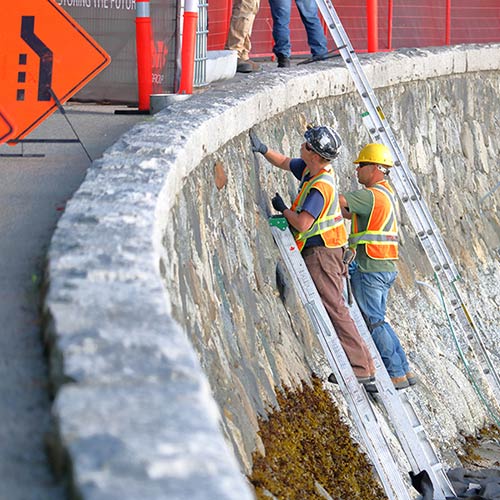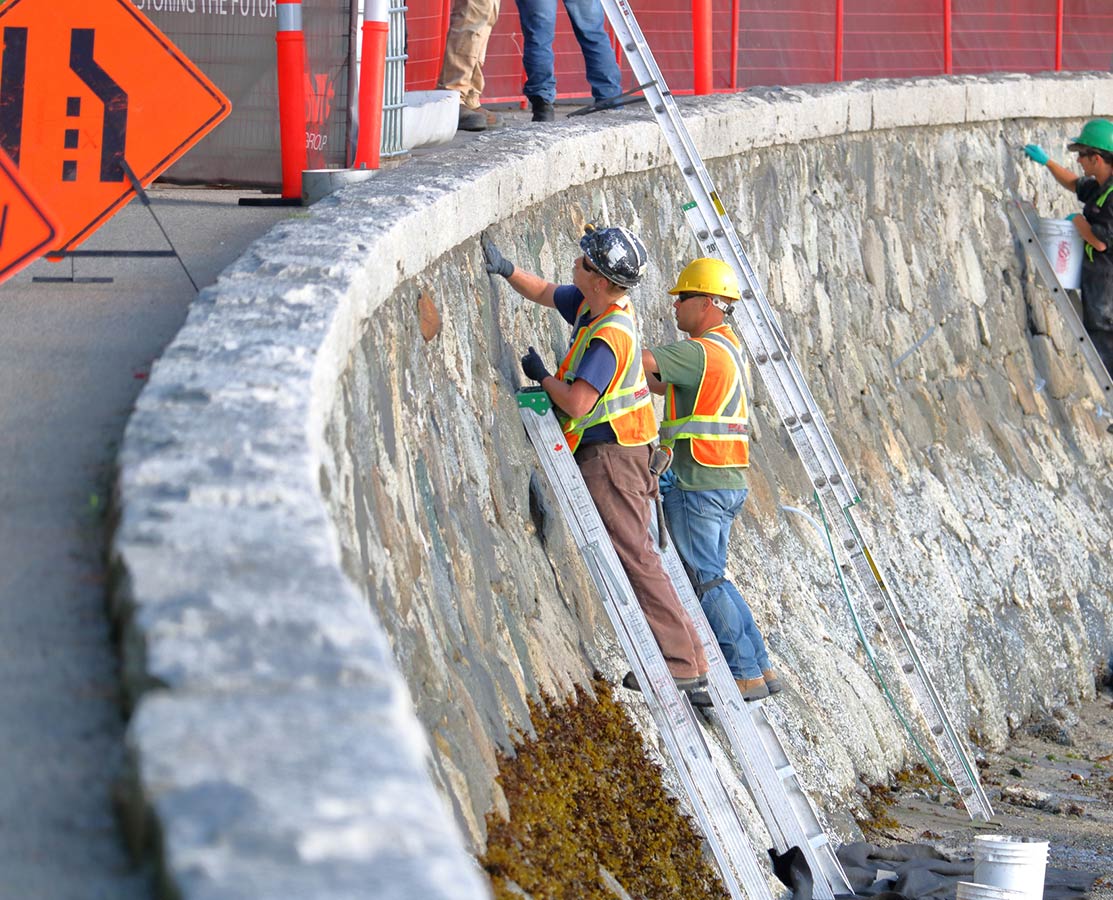 Schedule your
free
evaluation today
When we say free, we mean FREE. No hidden fees and absolutely no pushy sales tactics from us. We will contact you within 24 hours!
We proudly serve Southern California, Arizona, and Nevada.
*Free evaluation is for homeowners only.

Foundation inspections for real estate transactions fees start at $1000 that can then be applied as a credit if there is work that is needed to be performed on the home. The fee is to cover our time to inspect and generate a report as well as any travel expenses.
We offer foundation repair in Costa Mesa, CA and the following areas: