Foundation Repair In
The City of Irvine
Irvine, CA, is one of those nice and convenient cities that is accessible by air, bus, car, or train. It's by John Wayne Airport (SNA) and right off various interstates. It's also where famous people like Will Ferrell are from.
The other less-fun fact about Irvine, CA, is that the residential and commercial properties have structures susceptible to their fair share of foundation issues.
That is why you need a reliable foundation repair contractor to help with your repair. Dalinghaus Construction has served homes and businesses since 2015 in cities such as Irvine, CA. We've done over 2,000 foundation repair projects in Southern California, Arizona, and Nevada. Our teams do projects with incredible attention to detail that lets you know your property will be protected after your foundation repair.
How do I know if my Irvine, CA, home or business has foundation issues?
Foundation issues will be the same no matter where you are. The amount may vary, but the signs will be the same. And it will usually be more than one sign. One sign may not be foundation related.
The soil in Irvine, CA, is mixed with clay loams, sandy loams, and other types of soil. Much of that likely has to do with the topography and geography, especially with the city being close to the coast while also next to slopier areas.
Clay soil expands or shrinks depending on moisture content, fluctuations in temperature, and other factors. With how dry Southern California is, many homes experience foundation settlement, which means an area of your home is slowly sinking into the ground.
This is why you want to make sure a reliable foundation repair specialist can provide quality services to stabilize your home. Dalinghaus Construction is here to help make sure your home is safe.
What can I expect during the
foundation repair process

?
We try to make this foundation repair process as simple for you so you don't need to keep worrying about your Irvine, CA, property.
We'll always start with a scheduled free 60-90 minute foundation inspection. If your property is on the market, real estate foundation inspections will be $1000, which is credited toward your foundation repair.
Regardless of which inspection you need, all of them involve one of our Project Design Specialists going to your property to do a foundation inspection. They will create a scaled diagram of your home or business with floor elevation measurements to find the problem with your property.
Based on what was found, you'll then receive a foundation repair plan that includes a full report, the scaled CAD drawing of your property, and a recommended repair plan.
Finally, your foundation repair begins and is eventually completed based on the plan and city permits.
How is foundation repair done in Irvine, CA?
We don't like to use concrete underpinnings. They're very expensive, take time to cure, and are invasive. Instead, the two common methods we use are galvanized steel push piers and helical piers.
Think of these underpinnings acting like stilts for your home or business. Each pier is driven into the ground until reaching competent soil or bedrock and is attached to your concrete footing. They're installed to prevent a structure from moving as the soil under it does.
Push piers are hydraulically pushed into the ground using the weight of a structure, while helical piers are put in separate from the building, especially if it's too light.
They're mainly installed for stabilizing your home or business. However, they have an added bonus of being used to lift the area of a structure affected by foundation settlement.
What often happens after a lift is voids are created in the soil. They need to be filled to further stabilize your slab-on-grade foundation. This is when polyurethane foam is injected into the ground. This foam expands rapidly, cures in about 15 minutes, and becomes as hard as concrete when under a lot of pressure. Polyurethane mixes well with sandy soils.
Are there ways to repair foundation cracks?
There sure are! This can happen in one of two ways.
The first is a resin referred to as epoxy that is gravity fed into the crack, which will then dry to act like an industrialized glue.
The other option is using Carbon Fiber stitching. This is applied onto the crack to waterproof it and prevent others from appearing. These stitchings provide extra strength to your concrete slab or footing.
Why should I get foundation repair for my
Irvine, CA

property?
If you plan to sell your property, foundation repair lets your sell at the full value and have a broader range of potential buyers. Foundation issues will make the value of your property go down by 30%, especially if the damage is severe.
Foundation repair doesn't get cheaper. As time moves forward, so does the price. There is an amount of time you might be able to wait, but the period will vary based on what happens. You might be able to wait a few months (ask a specialist), but you don't want to put off your foundation repair forever.
You won't be able to resolve foundation issues on your own. You can put a bandaid on them, cover them up, or pretend they're not there, but foundation settlement causes more damage over time.
The damage is usually cosmetic, meaning you don't need to worry about your home or business becoming damaged to the point it collapses. It can become structural as damage gets worse. If you're seeing sunlight through a ceiling crack, you'll definitely want foundation repair. Chances are you're dealing with a structural issue at that point.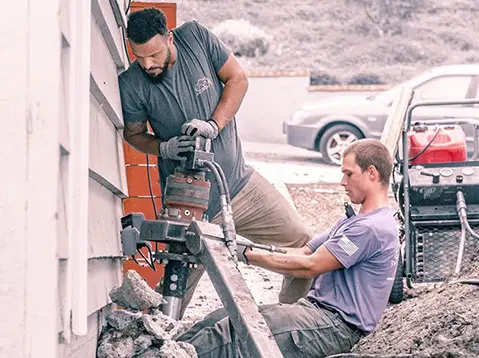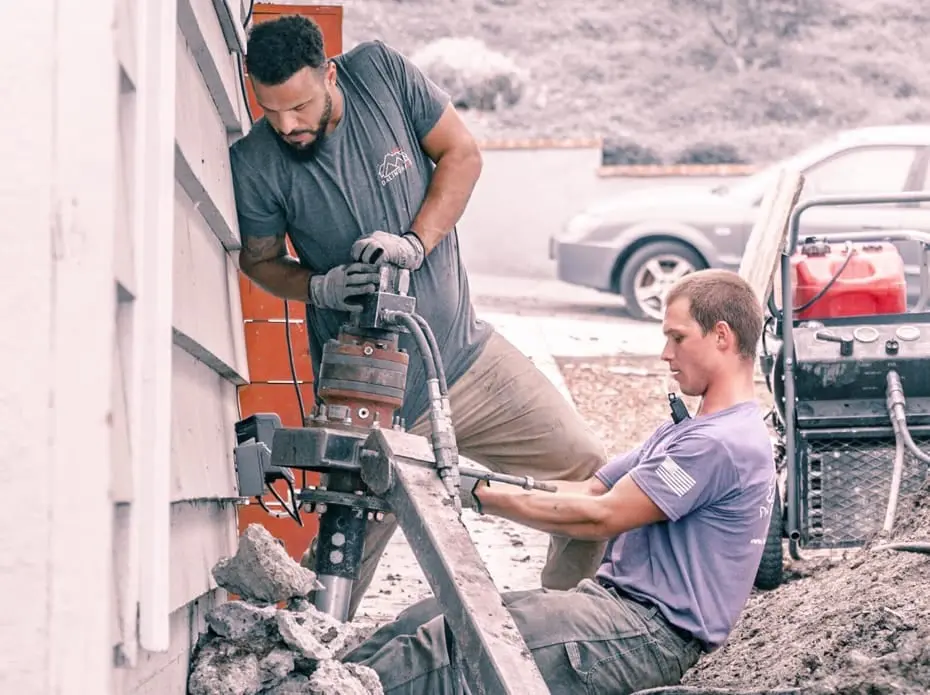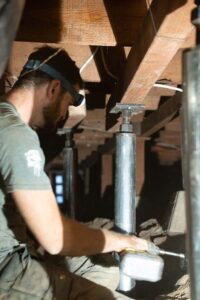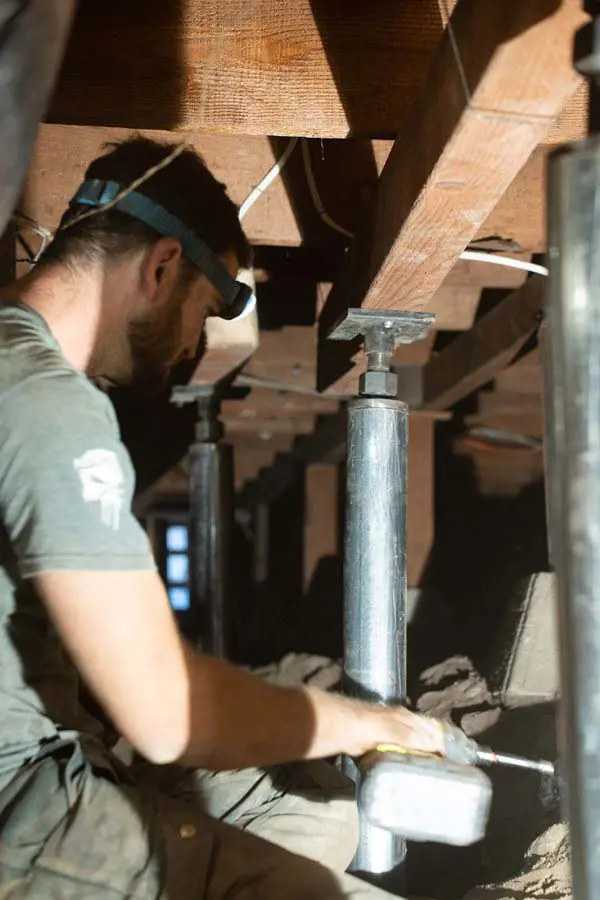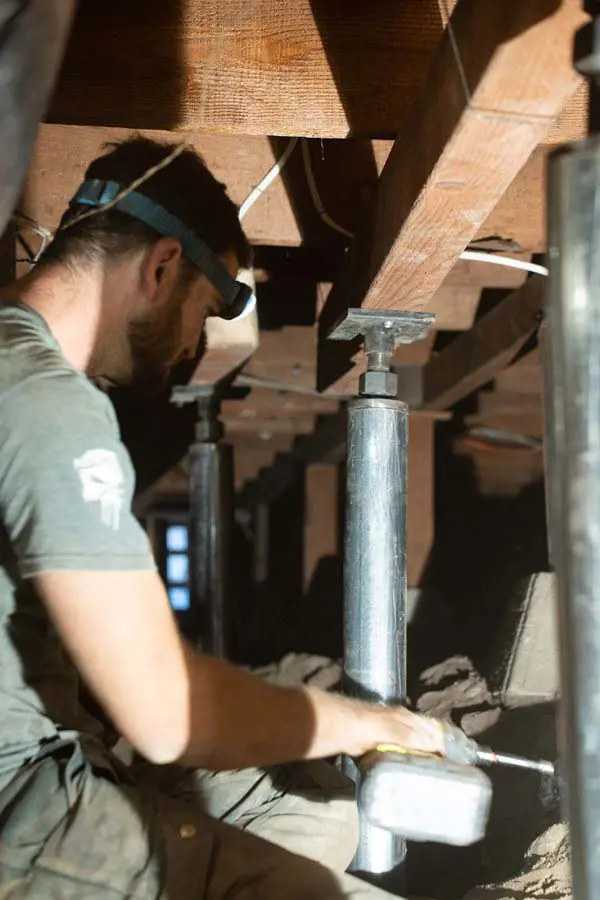 Structural damage can end up with your property being red-tagged, meaning your home or business is deemed unsafe. Foundation repair will make it less likely for your home to be red-tagged and be able to address the larger problems.
Foundation cracks are usually an indicator of foundation settlement. Maybe foundation heave, but that's not too common in Irvine, CA. This will cause your floors to be uneven, which isn't initially noticeable, but can be if the sinking is severe enough. Foundation settlement and foundation leveling can prevent your floors from getting worse.
Employees in your business might feel uncomfortable if they notice signs of foundation issues. Knowing foundation repair has been done on your commercial building will add to their wellness, making them feel secure in their place of work.
Foundation repair is a good idea for financial and stability purposes. Your home or business will last for a long time as you have less repairs to make from foundation issues.
Need your foundation looked at in Irvine, CA? Schedule your foundation inspection today!
You want to make sure your foundation is protected. It's something to take seriously financially, for stability, and for you mentally.
Foundation inspections are free, unless it's for a property on the market. Real estate foundation inspections will be $1000.
Make sure your Irvine, CA, foundation is protected – schedule a foundation inspection today.