Foundation Repair In
The City of Santa Ana, CA

?
Being the second largest city in Orange County, Santa Ana, CA, has become a historical place, even with hot and uncomfortable winds named after it. It's also where Wells Fargo opened its first office in 1874. While the city was originally developed for cattle grazing and farming, Santa Ana, CA, has become a place with a plethora of home and business owners.
It is also an area that makes many residential and commercial buildings prone to foundation settlement.
Thank goodness foundation repair isn't something you have to deal with on your own. Dalinghaus Construction has completed over 2,300 foundation repair projects since 2015, specializing in foundation stabilization, foundation leveling, and crawlspace repair. Our team of experts can provide quality foundation repair solutions so that your home or business doesn't need to worry about damage from foundation settlement.
What are the signs of foundation issues in Santa Ana, CA?
When you start to see more than one of these signs, you should strongly consider reaching out to a foundation repair specialist to evaluate your property.
Santa Ana, CA, is filled with clay soil, which is prone to expansion or shrinking depending on the moisture present. Southern California is generally a dry area. You can imagine this city is fairly dry and uncomfortable, the soil has less moisture and shrinks. This results in foundation settlement, which causes an area of your home or business to sink.
You want to make sure a foundation repair specialist can diagnose these problems and provide solutions. Dalinghaus Construction is one of those contractors who are ready and waiting to help.
How will my
foundation process

go?
First, a foundation inspection will be scheduled so a Project Design Specialist can come out to your property and evaluate the property for any foundation issues. Foundation inspections can be scheduled online or by calling Dalinghaus Construction at (877)360-9277.
The foundation inspection lasts 60-90 minutes and is free unless your property is on the market. Real Estate foundation inspections will be a $1,000 cost that is credited toward your foundation repair.
You will receive a repair plan the day of or after your inspection. If you agree to move forward, your foundation repair project will be scheduled and underway.
How will you do foundation repair in Santa Ana, CA?
The two methods Dalinghaus Construction uses to combat foundation settlement are galvanized steel Push pier and Helical pier underpinning systems. Both are used for foundation stabilization and can be used for foundation leveling. Each of them is driven into the ground and attached to your concrete footing to act sort of like stilts. You don't want your home or business moving as the soil does.
They do the same things but are installed differently. Push piers need to be hydraulically driven into the ground using the weight of your building until they reach competent soil or bedrock.
Helical piers will be used when a building is too light, using helices at the base to be driven into the ground separate from your home or business. They are then attached to your concrete footing after reaching competent soil or the recommended torque.
There are times there are voids in the soil, especially after lifting your foundation. Polyurethane foam is injected into the soil to densify the soil and support your slab-on-grade foundation. Polyurethane is also used for deep injection and releveling.
As for repairing foundation cracks, this can happen in one of two ways. Either Epoxy, a gravity-fed resin, is put into the crack to dry and hold everything together, or Carbon Fiber stitching is applied to the crack to strengthen the foundation and waterproof the crack.
How is crawlspace repair done?
If you lift a raised foundation home, someone will definitely need someone to go into the crawlspace to install crawlspace jacks since your posts and pads won't be supporting the floor. Sometimes your posts and pads aren't holding your floor up, regardless of whether you lift your home.
A production team will go into your crawlspace to shore everything up and install the crawlspace jacks to hold up your floors.
When it comes to deteriorated wood, there's still shoring that will go on. From there, the deteriorated wood will be replaced so your floors work as well as when your home was first made.
Reasons for foundation repair in
Santa Ana, CA
You want to make sure your home or business looks appealing both inside and out. Unfortunately, foundation settlement is bound to cause cosmetic issues. Foundation repair will at least let you know the cosmetic eyesores won't come back because of foundation issues.
If you were to cover up those cosmetic issues without foundation repair, they're bound to come back. It would be like putting a bandaid on an open wound.
Sometimes cosmetic issues aren't as cosmetic as you want them to be. Though incredibly rare, the damage can become structural. You don't want that. It puts your property at risk of being red-tagged.
Foundation repair becomes more expensive if you hold off for a long time. While it's technically an unknown if your foundation issues are going to get worse, our experience is that they tend to. Worse foundation issues result in more expensive repairs.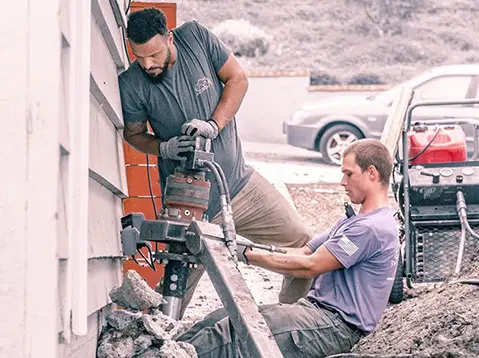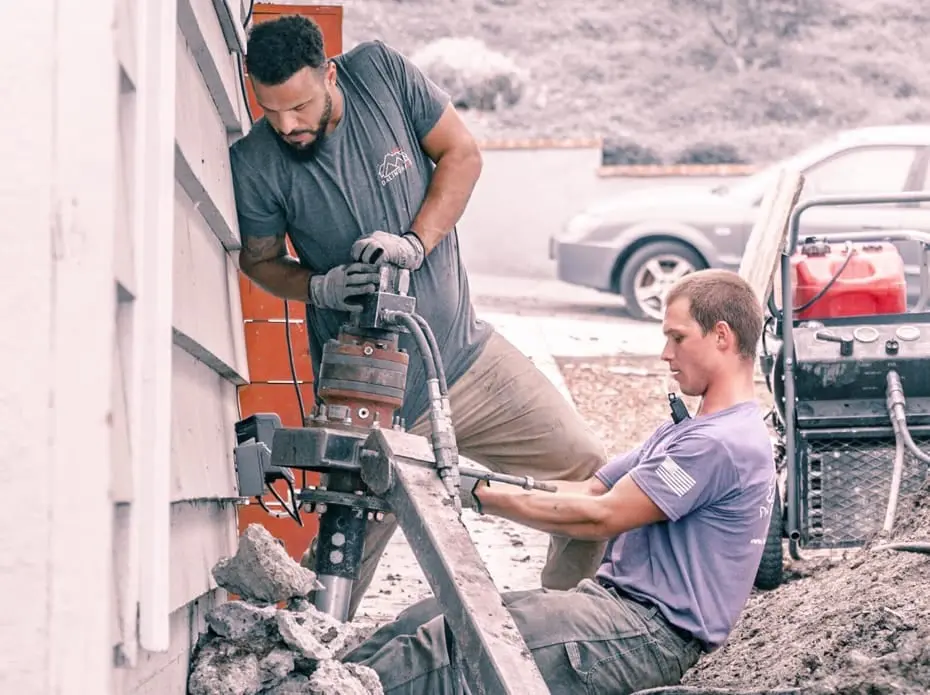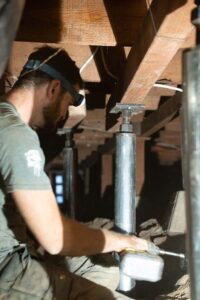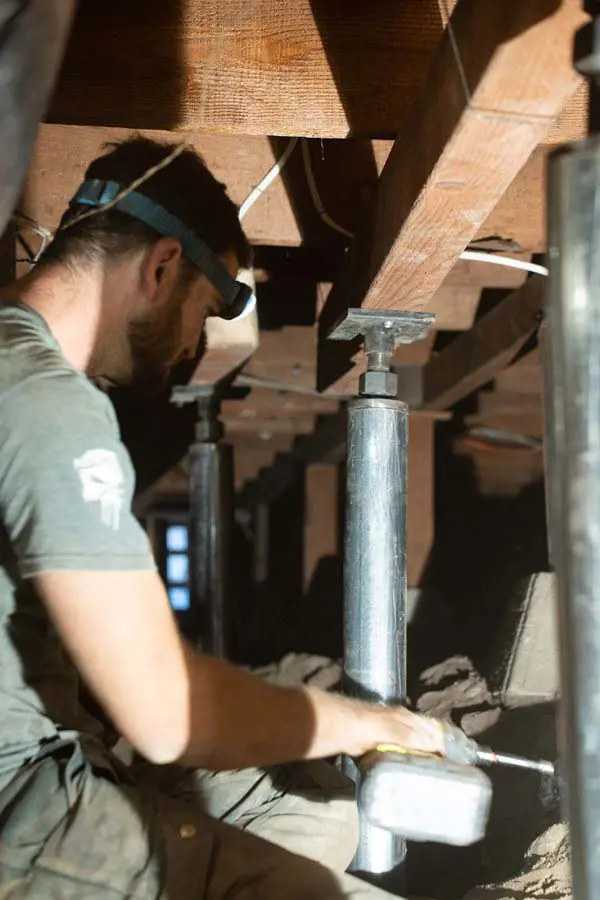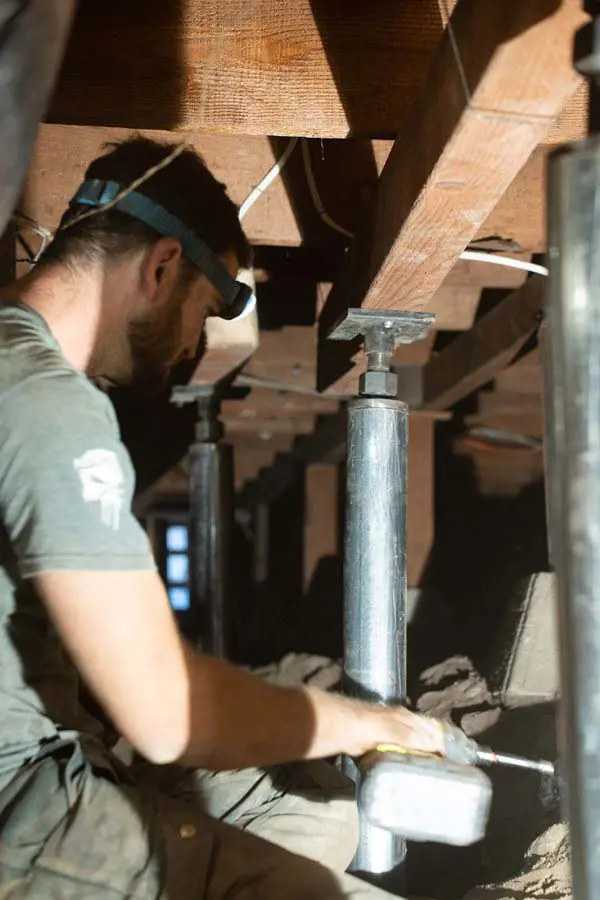 You might not realize it, but foundation issues affect your day-to-day life. It may be from your doors and windows feeling sticky when you try to open and close them. Your floors might feel off on one side while the other is leveled.
Foundation issues don't make your home or business feel welcoming. Those who don't know much about the foundation repair industry may think the building they're in is about to fall apart. Foundation repair will prevent these damages from getting worse and allows you to address those unpleasant sights.
If you decided to sell your property, all foundation issues will need to be legally disclosed. Banks are less likely to loan to properties with these problems, limiting you to cash buyers. They can negotiate the price down by 30% of its original value.
If you're looking for stability in a property that's damaged, foundation repair protects your top investment. You ensure the longevity of your home or business and maintain its value.
Make sure your Santa Ana, CA, property is protected by scheduling a foundation inspection
Dalinghaus Construction understands you want to make sure your foundation is taken care of so you can feel comfortable in your own property. Keep the issues easy to deal with now so they're not a big deal later.
If you're in Santa Ana, CA, make sure to schedule a foundation inspection with a trusted foundation repair contractor. Dalinghaus Construction is ready to hear from you to help out in any way we can.
Don't let your foundation get worse – contact us for a foundation inspection today!