Foundation Repair In
Las Vegas, NV
In the city of sins and occasional gambling wins, Las Vegas, NV, is a popular place to go. Of course, not everyone who lives there enjoys that touristy scene. That's probably why you're here as a home or business owner.
With the slogan of "whatever happens in Vegas stays in Vegas," that's probably not the best idea when you need a foundation repair contractor you can trust in the area.
Though Dalinghaus Construction has its origins in Southern California, we've done over 2,300 foundation repair projects in Southern California, Arizona, and Nevada. Since 2015, we've helped serve cities like Las Vegas, NV, with foundation stabilization, foundation leveling, and crawlspace repair for those occasional homes in the Las Vegas area. After dealing with so many foundations and soil types, our team of experts can handle jobs of any size with precision and accuracy.
What are the signs of foundation problems in Las Vegas, NV?
When you see multiple signs, chances are the odds are against you. A sign added to your list means it's more than likely you're dealing with foundation issues. One sign is likely an isolated problem from your foundation.
Las Vegas, NV, home and business owners face challenges when it comes to foundation issues. The area has very well-drained soils, meaning that soil erosion is a big thing when the rains come in. When the soil shifts, you deal with foundation settlement, meaning an area of your homes and businesses (literally) sinks.
When you notice signs of foundation issues, you want to make sure a qualified foundation repair contractor can be there for you. Dalinghaus Construction wants to make sure your home or business is safe from foundation damage by providing high-quality foundation repair solutions.
How will my foundation repair process go in
Las Vegas, NV

?
You'll first have your foundation inspection scheduled with one of our Project Design Specialists. Our specialist will be at your doorstep to assess and address the issues you're experiencing. Your foundation inspection will last 60-90 minutes as the specialist goes around your property, creating a scaled diagram of your home or business with floor elevation measurements to properly evaluate your property.
Your foundation inspection is free unless your property is on the market. Real estate inspections are $1,000, which is credited toward your foundation repair.
On the day of or after your foundation inspection, you'll receive a foundation repair plan. This will include the scaled drawing of your property, a full report, and the recommended plan.
Finally, if you agree to move forward with your foundation repair, you'll have your foundation repair scheduled and underway.
What foundation repair methods do you use in Las Vegas, NV?
There are two common methods Dalinghaus Construction uses for foundation stabilization. Galvanized steel Push piers and Helical piers are excellent at their job and cost-effective compared to other foundation repair methods.
Push piers uses the weight of your home or business to be hydraulically driven into the ground until they reach competent soil or bedrock. If your structure is too lightweight, helical piers will be installed using helices at the base that allow it to essentially be screwed into the ground using a helical torque motor. They're then attached to the foundation.
Not only are these methods effective at foundation stabilization, but they're also great for foundation leveling, which involves lifting the area of your home or business affected by foundation settlement.
Soil erosion and foundation leveling will create voids in the soil that needs filling. To densify soil and help add extra stability to your slab-on-grade foundation, Polyurethane foam will be injected into the ground. Polyurethane expands rapidly, cures in 15 minutes, can be as hard as concrete, is much lighter than concrete, and is environmentally safe.
To fix foundation cracks, either Epoxy will be gravity fed into a crack and dry, or Carbon Fiber stitching is applied onto the crack to provide strength and prevent water from getting into the crack.
How does crawlspace repair happen in Las Vegas, NV?
So your floors can feel like they used to, we'll have someone go into your crawlspace to shore everything up so thatt deteriorated wood can be replaced or install crawlspace jacks. This way your raised foundation will feel like there was never a problem.
Good reasons to do foundation repair in
Las Vegas, NV
Living in the City of Sin doesn't mean your home or business needs to look like it has sinned. Foundation issues cause cosmetic damage you don't want to deal with. Foundation repair can let you address cosmetic damage without worrying about them coming back because of your foundation.
You don't want to have foundation issues to eventually cause structural damage. This doesn't happen often, but it can become a thing if you neglect your foundation problems for an extended period.
Foundation issues won't magically get better. You can put a bandaid on the cosmetic issues, but they'll come back if you do nothing about fixing the root of the issue: your foundation.
You might not notice it now, but foundation issues may be affecting your day-to-day. Your windows and doors might feel sticky when you try to open and close them.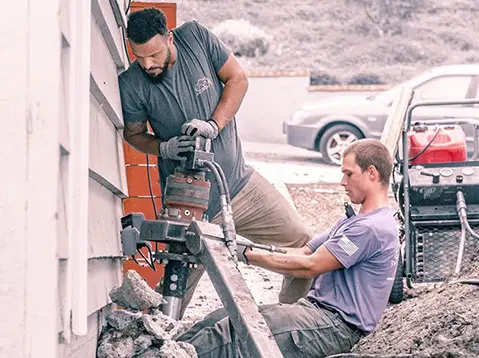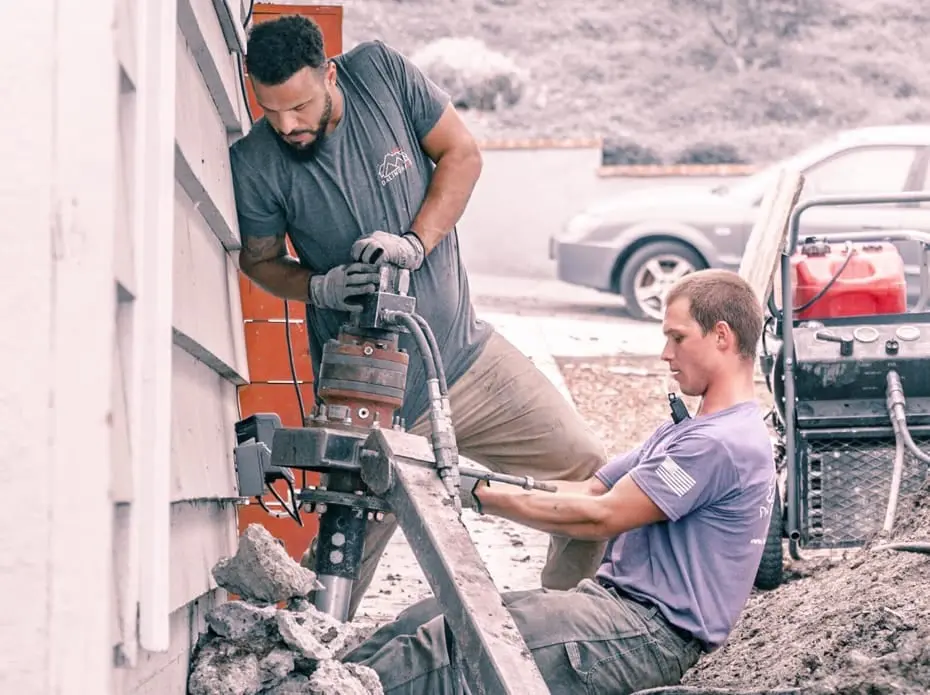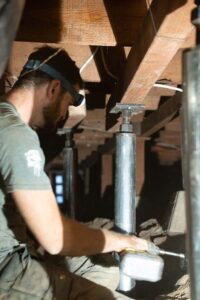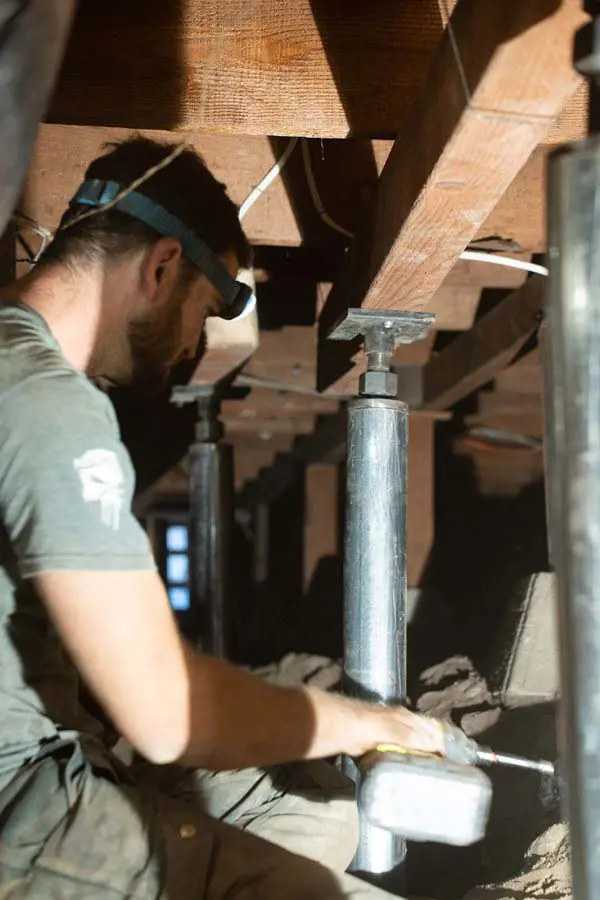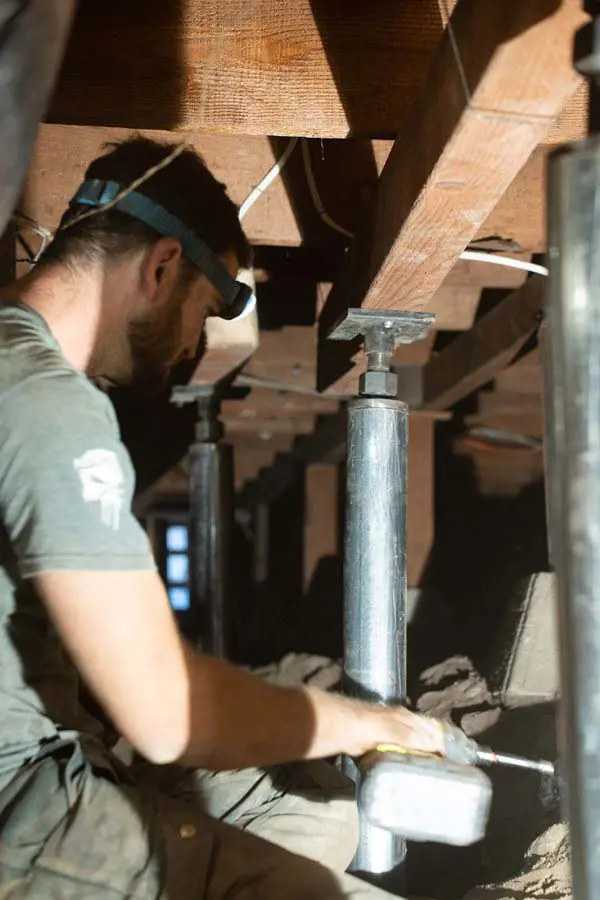 Your floors might feel slightly off as though you're seeing things from multiple angles. Foundation settlement does affect your floors and causes them to sink. Having to do a balancing act on your property is uncomfortable to deal with.
You want to make sure you're not going to fall into your raised foundation floors. Sagging floors throw you off and make your own home become a hazard.
If you're selling your property, any foundation issues need to be legally disclosed. Banks are less likely to give loans for damaged properties, meaning you'll be limited to cash buyers. They can negotiate the price of your property down by 30%.
Foundation repair and crawlspace repair help maintain stability for your property and protects your number one investment. These repairs help with maintaining property value and increase the longevity of your home or business.
Schedule your foundation inspection for your Las Vegas, NV, property
If there is another reason to have your foundation inspected, it's for your peace of mind. You can have some reassurance in identifying the problem and how it can be solved.
Don't let your foundation continue to be an issue in your life. Make sure your Las Vegas, NV, property is protected. Dalinghaus Construction can help with your foundation repair needs.
Go online or call (877)360-9277 to schedule your foundation inspection today!