Foundation Repair In
The City of Aliso Viejo
When it comes to Aliso Viejo, CA, there are variations in its topography and soil types. There are plenty of areas with hills that make homes and businesses susceptible to downward and lateral movement. There are also flat areas that make properties prone to foundation settlement. The city also has loamy soils that can be sandy, stoney, or clay. Clay is prone to movement depending on the moisture content. Shifting soil will affect your home or business through foundation settlement, heave, or lateral movement.
But that's why foundation repair contractors are willing to help out. Dalinghaus Construction has been a leading contractor in Aliso Viejo, CA, since 2015, having completed over 2000 foundation repair projects in Southern California, Arizona, and Nevada. We specialize in foundation stabilization, foundation leveling, polyurethane injection, hillside stabilization, and crawlspace repair for residential and commercial properties.
Our team of professionals is ready to help you with your foundation repair needs, being able to handle any job of any size with amazing attention to detail.
What are the signs of foundation issues in Aliso Viejo, CA?
Your home or business may be affected by foundation settlement or heave, whether it's on a flat area or a hillside. They result in signs of a failing foundation. Don't be afraid if you see only one of these signs. The worry should come when you see more than one sign.
Sometimes it may feel as though your floors feel depressed in the middle of your raised foundation home. This means something is going on with your crawlspace. Sometimes the wood under your home isn't holding out well. That or the posts and pads aren't holding up your floor.
Alisa Viejo, CA, is an interesting case with it being a little inland, close to the coast, and also a hilly spot. This leads to a variety of soil types some homeowners and business owners have to deal with. Soil composition affects soil based on moisture content, temperature, and other environmental factors.
When it comes to the foundation of your home or business, you want a trusted and reliable professional to help you with potential foundation repair.
Dalinghaus Construction offers high-quality foundation repair solutions in Aliso Viejo, CA, here to help you rectify those signs of foundation issues.
What can I expect for my foundation repair process in
Aliso Viejo, CA

?
The foundation repair process in Aliso Viejo, CA, is the same as any other city in Southern California. It starts with a free scheduled 60-90 minute foundation inspection with one of our Project Design Specialists at your property. They will evaluate the property and its foundation, creating a scaled property diagram with floor elevation measurements.
Next, the Project Design Specialist who inspected your foundation will create a foundation repair plan based on initial findings. You will receive a full report, the CAD drawing of your property, and a recommended foundation repair plan.
Finally, our production team will go out to the property to make the foundation repair happen based on the proposed plan and required city permits.
What methods are done for foundation repair and hillside stabilization in Aliso Viejo, CA?
You'll learn about many types of underpinnings and other methods of foundation repair. Dalinghaus Construction uses two types of underpinnings that are common, more affordable, and effective. We use galvanized steel push piers and helical piers to stabilize your home or commercial building.
Push piers and helical piers do the same job. They're driven into the ground with the ends attached to the concrete footing of the foundation to act sort of like stilts. So when the soil moves, your home or business won't move with it. The difference between these piers is how they're put into the ground and the requirements they need to fulfill.
Push piers are hydraulically driven into the ground until they reach competent soil or bedrock. Helical piers have helices at the end of the pier that allows it to be screwed into the ground with a helical torque motor acting like the screwdriver. They're driven until reaching competent soil or the recommended torque.
The weight of the structure will determine what type of pier is used. A lighter structure will require helical piers, whereas push piers use the weight of the structure to be hydraulically driven.
Both types of underpinning not only stabilize your home or commercial building but can also be used to lift the area affected by foundation settlement back to maximum practical recovery. That way everything can be relatively level compared to when there were foundation issues present.
After a lift, a slab-on-grade foundation will need additional stability, especially when voids are created in the soil. Polyurethane is injected into the soil to create a foam that's as hard as concrete when under enough pressure. It is used for soil densification, void fill, and deep injection.
And those pesky hills in Aliso Viejo, CA, might be giving you trouble with lateral movement, whether it's for your home, business, or retaining wall. Helical tiebacks are excellent for supporting your residential or commercial building, or your retaining wall is working at maximum efficiency.
Helical tiebacks are installed at a more horizontal angle under the structure or in a retaining wall until they reach competent soil or the required torque. They're excellent for foundation stabilization and hillside stabilization.
How is crawlspace repair done in Alijo Viejo, CA?
When your floors remind you of the animated character Droopy the Dog, that's not a good sign. It means something is going on in the crawlspace, whether it's the wood deteriorating or the posts and pads aren't doing their job in holding the girder beam up.
Our production team will go into the crawlspace and shore up everything to either replace deteriorating wood or put in crawlspace jacks to support the girder beams that hold up the floor. Sometimes both will happen depending on the condition of everything.
The main reasons to do foundation repair, hillside stabilization, and crawlspace repair in
Aliso Viejo, CA
A home or business with foundation issues doesn't look as appealing as it should depending on the severity of the foundation settlement or heaving. Those cosmetic issues will be noticeable. Even if you cover them up, they'll eventually come back. Foundation repair will let you take care of the cosmetic damage on a more permanent level.
If cosmetic damage does happen after your foundation repair, chances are it isn't foundation related.
The majority of foundation issues usually cause cosmetic damage, which can be annoying. If foundation repair is put off long enough, the damage can become structural. We still wouldn't worry about the structure collapsing, but your property can be red-tagged, meaning it's deemed unlivable.
Foundation repair can prevent your home from being red-tagged and makes structural issues easier to tackle.
Foundation issues don't magically get better. There might be some temporary bandaids you can use to cover up the damage, but foundation issues get worse before they get better. Foundation repair will make it so you don't need to worry about foundation issues coming back to haunt you.
Sagging floors for your raised foundation can become a tripping hazard or make you feel as though you'll fall into your crawlspace. All of this means something is failing in your crawlspace. Crawlspace repair will have your sagging floor feeling as good as new.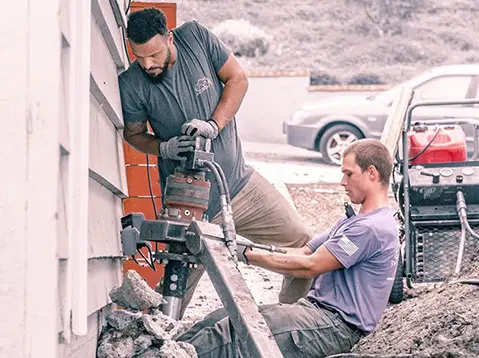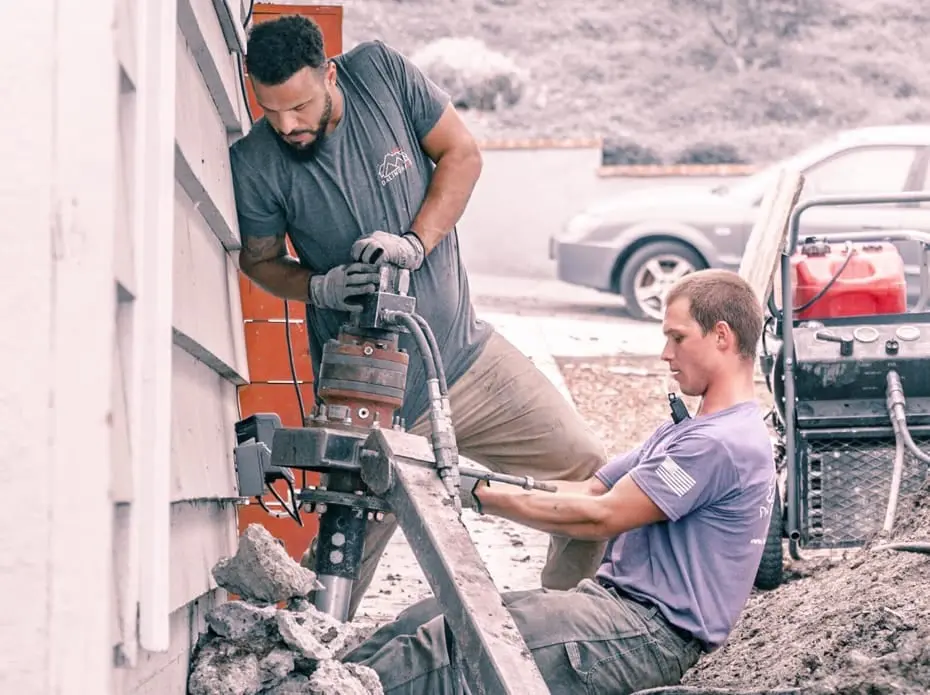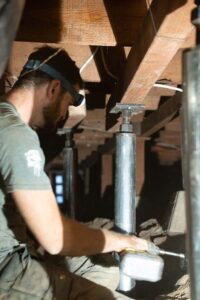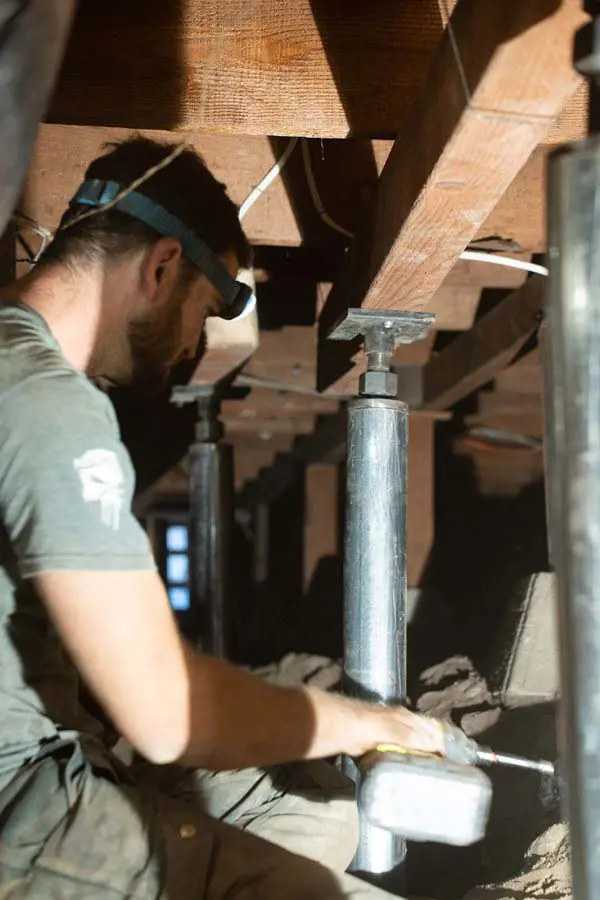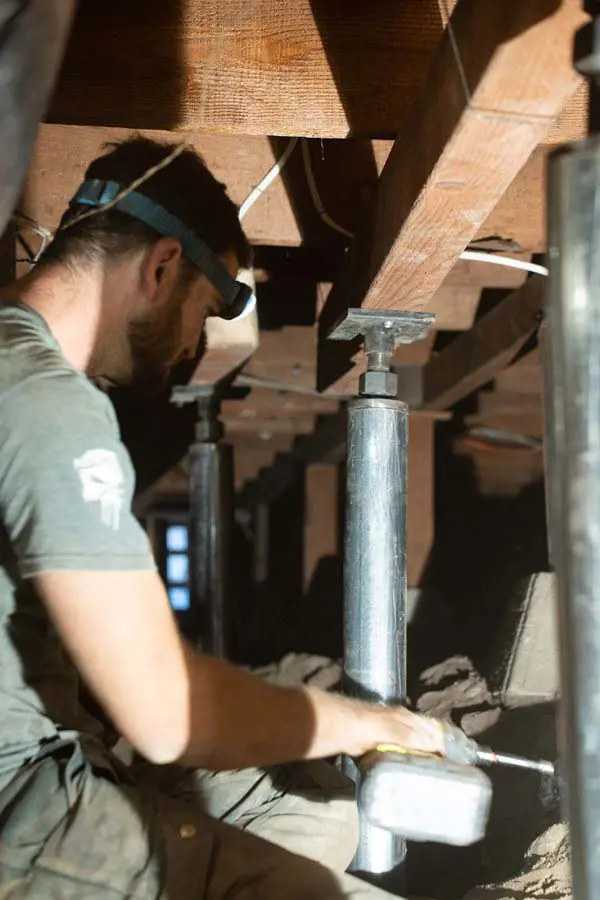 Foundation settlement will cause doors and windows to be difficult to open and close. Frames get a little off base, causing these things to feel sticky. Foundation repair, via foundation stabilization or foundation leveling, can let you address those window frames and door frames so things are easy to open and close.
Holding back soil with a retaining wall is necessary so you and your neighbors don't deal with your property moving around. You'll deal with property damage due to lateral movement and foundation settlement. Hillside stabilization will at least limit the amount of lateral movement affecting your property.
Foundation issues affect the value of your property. If you plan to sell on the market, foundation issues need to be legally disclosed. Banks generally don't give loans for these properties and limit potential buyers to cash buyers, who can negotiate your property down by 30%. Foundation repair will broaden the number of buyers and maintain the full value of your property.
Foundation repair makes sense to protect your number one investment. You'll add stability to your life and increase the longevity of your property.
Schedule a free foundation inspection for your Aliso Viejo, CA, property
That's right! Your foundation inspection is FREE! At least for properties NOT on the market.
Real estate foundation inspections will cost $1000, which is credited toward your foundation repair.
Regardless of whether your property is on the market, your foundation repair, hillside stabilization, and crawlspace repair are things you want to take seriously. That way there is some stability for your number one investment and personal peace of mind.
Don't wait – Schedule your 60-90 minute foundation inspection today!