Foundation Repair In
The City of Chino, CA
Not to get the city confused with its counterpart in the hills, Chino, CA, is far more even in elevation. You'll have small slopes here and there, but foundation issues due to lateral movement are less common. Unfortunately, the expansive soils still cause issues that require foundation repair.
Foundation repair is something Dalinghaus Construction is all too familiar with. We specialize in foundation leveling, foundation stabilization, crawlspace repair, deep injection with polyurethane, and crawlspace repair for residential and commercial properties. Since 2015, we've had over 2000 projects, establishing us as a trusted source of foundation repair in Southern California, Arizona, and Nevada. We've done plenty of work in Chino, CA, for homeowners and commercial property owners to have peace of mind.
We can handle a job of any size with expertise, having incredible attention to detail you can depend on.
How do I know if my Chino, CA, home has issues?
The signs won't be too hard to find. When it comes to foundation issues, you'll find more than one of these signs. If you find a sign on its own, the issue might not be foundation related. 
While Chino is far more flat compared to its counterpart in the hills, that doesn't mean there aren't occasional slopes. With the help of gravity, the soil will start to move laterally and downward. You might start to see your retaining wall bowing or leaning.
You might notice your raised foundation home is starting to sag and feel droopy. Either the wood is deteriorating or the posts and pads aren't connected to hold up your floor.
Chino, CA, is subjugated to expansive clay soils, which expand and contract based on the amount of moisture present, the temperature, and the climate. The result of this is your home or commercial property dealing with differential settlement, which means a portion of a structure is slowly (slower than a snail's pace) sinking into the ground.
These conditions need a trusted professional to deal with foundations in the Chino, CA, area. Dalinghaus Construction has a team of experts ready to provide quality foundation repair services. We want your peace of mind.
What does the
foundation repair process

look like in Chino, CA?
The foundation repair process in Chino, CA, works the same as anywhere else. You'll first have a Project Design Specialist come out on your scheduled day to come to do a free 60-90 minute foundation inspection. A detailed and scaled home diagram is made and provided with floor elevations.
Note: If your property is on the market, there is a $1000 charge that is credited toward your foundation repair.
Next, a repair plan is made and provided for you based on what the Project Design Specialist found in the initial foundation inspection. So you'll receive a full report, a CAD drawing of your property, and the recommended plan of repair.
Finally, foundation repair is done based on the city permits and repair plan.
What
foundation repair

methods are used in Chino, CA?
You'll know of all kinds of foundation repair if you look it up on google. Dalinghaus Construction often uses galvanized steel push pier and helical pier underpinnings in Chino, CA.
Push piers are galvanized tubes that are hydraulically driven into the ground to competent soil or bedrock. They are then attached to the concrete footing so your home doesn't move when the soil does.
Helical piers also use galvanized steel tubes, except these piers have helices at the base. So instead of being hydraulically pushed into the ground, a helical torque motor is used to put the pier into the ground like a screw until it reaches competent soil or the recommended torque. They also are attached to the concrete footing of your residential or commercial property so it doesn't move when the soil does.
Both push piers and helical piers can be used for foundation leveling, which involves lifting the part of the home affected by foundation settlement to maximum practical recovery.
If your residential or commercial property is lifted, there will be voids in the soil that need to be filled and strengthened. Polyurethane foam is injected into the soil for void fill and soil strengthening.
Helical tiebacks are used to prevent your retaining wall from failing and collapsing. It is installed in your wall into competent soil to strengthen your retaining wall. While the lateral movement isn't as big of a deal in Chino, CA, you still want your retaining wall to work properly.
Sometimes someone needs to get on their stomach and crawl into your crawlspace. Crawlspace repair is necessary to replace wood or install crawlspace jacks to support your floors and have them as good as new.
How are foundation cracks repaired?
Foundation cracks can be repaired in a couple of ways.
Epoxy is a resin that can be used as a superglue to "glue" the concrete back to its original state. It's like glue as strong as superman.
Sometimes those cracks need to be covered entirely to prevent moisture from getting in. Carbon fiber stitching is excellent in covering the cracks and making sure water doesn't get in. That won't flow with carbon fiber.
Why should I look into foundation repair or hillside stabilization in
Chino, CA

?
Even though foundation issues will mainly cause cosmetic damage. They aren't a danger, but they don't make you feel safe. And you won't be able to cover them up. They'll come back eventually. Foundation repair will make you feel as though the cosmetic damage won't come back again.
While foundation issues are mainly cosmetic, they can become structural if they're ignored. And if the damage is severe enough, it can be red-tagged, meaning that the structure is deemed unsafe to occupy. Foundation repair will make it so you won't have to deal with your property being red-tagged.
Foundation repair doesn't get cheaper over time. The longer you wait, the higher likelihood the damage will get worse. The worse it gets, the more foundation repair will cost.
Most people don't understand the ease of opening and closing doors and windows. Foundation settlement will make these daily things feel sticky, becoming tedious and monotonous to deal with the struggle to get fresh air.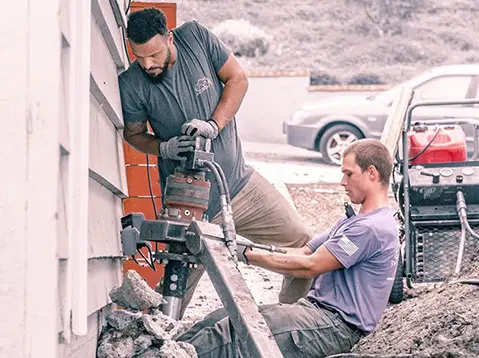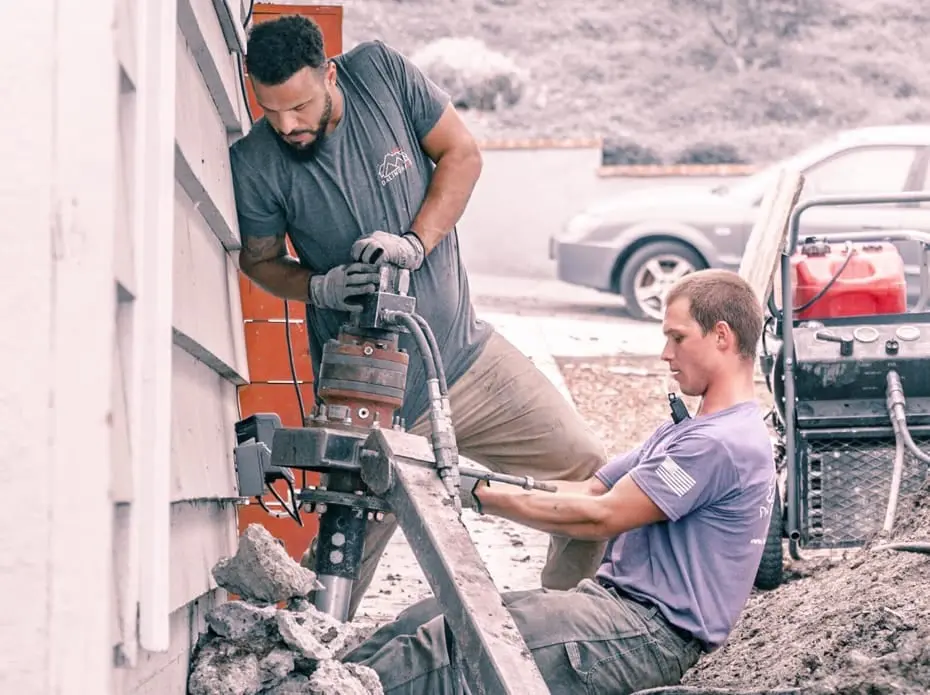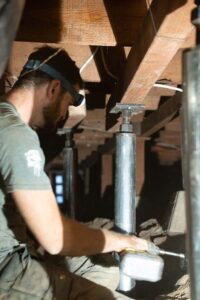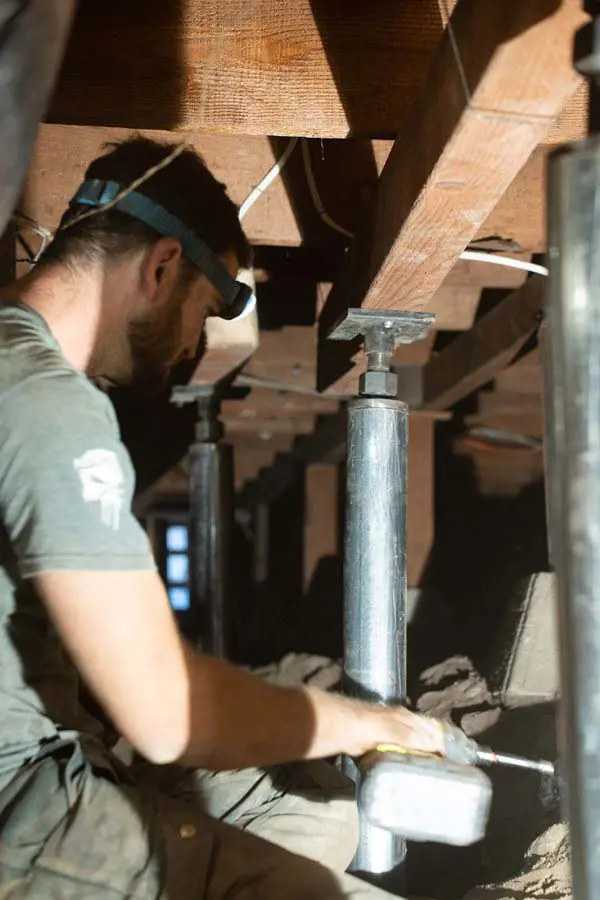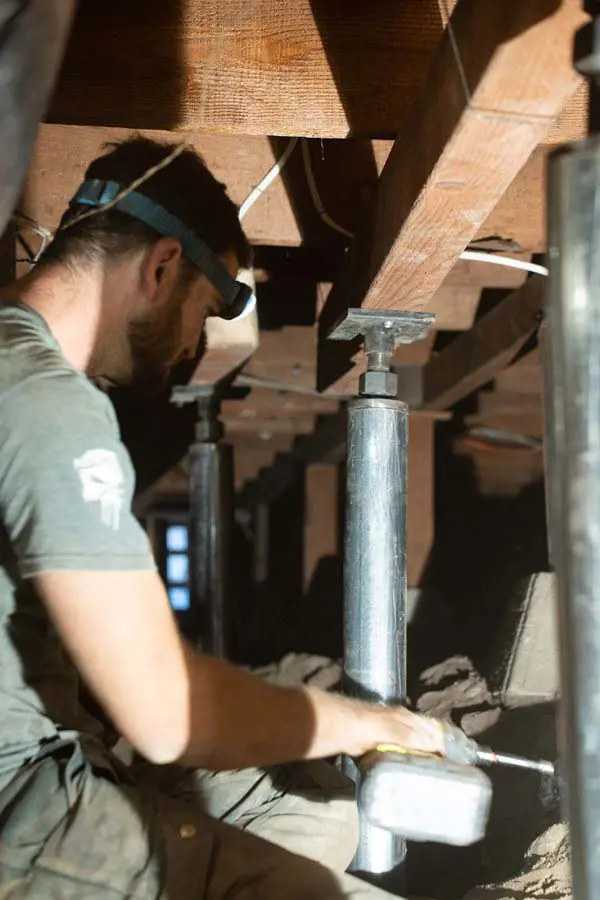 Foundations settle differentially, meaning the floors will be uneven. You can walk regularly in one area, followed by suddenly doing the Michael Jackson lean in another.
You've maybe noticed your floor feels depressed and droopy, as though you're about to bounce on a breakable trampoline. Crawlspace repair can have your floor working as well as new.
Retaining wall failure isn't a big deal in Chino, CA, compared to the sister city with hills. Still, you want it to work so the soil stays in one place.
Financially, repairing your foundation makes sense, especially if you want to sell your property. A damaged foundation needs to be legally disclosed when selling on the market. This will limit potential buyers to cash buyers, who can negotiate the full value of your home by 30%.
What's next? Schedule a free foundation inspection!
Foundation repair is the way to go, whether it's to deal with the issues in your residential or commercial property or to sell on the market. You don't want the small issues to get worse.
Foundations are part of your number one investment in life that should be taken seriously. And you want your biggest investment to last long and maintain its worth.
If you're in Chino, CA, schedule a free foundation inspection so you can have some peace of mind with your property.
Dalinghaus Construction is ready and waiting to help with your foundation repair. Schedule with us today!