Foundation Repair In
The City of Camarillo
The city of Camarillo, CA, has come a long way, going from mostly farmland to being incorporated in 1964. The city now has a world-class outlet mall, excellent for wedding venues, a commemorative Air Force World War II Aviation Museum, a skydiving school, and become a place families have found themselves living and working.
It's also a part of California that is susceptible to issues involving foundation settlement. There are the occasional hillside and crawlspace issues.
These problems aren't something you need to deal with on your own, especially when you have reliable foundation repair contractors who serve Camarillo, CA. Since 2015, we've done 2,300 foundation repair projects involving foundation stabilization, foundation leveling, hillside stabilization, and crawlspace repair. Our team of experienced professionals has gone all around Southern California, Arizona, and Nevada, helping home and business owners with foundation repair projects big and small.
Signs of foundation issues in Camarillo, CA
As an area of your home or business slowly sinks into the ground, you'll notice more than one of these signs. When you do, you'll want to make sure you get into contact with a licensed and qualified foundation repair contractor.
Your raised foundation home with a crawlspace might feel like it's making your floor sag. You might be able to see it. This likely means something is going on with your crawlspace, whether it's the wood inside deteriorating or the posts and pads aren't supporting the floor from underneath.
Soil moving laterally can be a serious issue to deal with. You'll start to see your retaining wall start to lean, bow, buckle, and even crack.
There are many well-drained soils in Camarillo, CA, that are susceptible to soil erosion, causing issues with foundation settlement for many homes and businesses. Problems like this require attention from certified professionals who have years of foundation repair solutions. Dalinghaus Construction provides these services for cities like Camarillo, CA, to keep your home safe from future foundation damage.
The foundation repair process for your
Camarillo, CA

property
The beginning process will start after scheduling your foundation inspection – either by scheduling online or by calling (877)360-9277 – where one of our Project Design Specialists comes to your property. Your foundation inspection will last 60-90 minutes as your specialist goes around your property and draws a diagram with floor elevation measurements.
Foundation inspections NOT on the market are free. Real estate foundation inspections are $1,000, which will be credited toward your foundation repair.
On the day of or after your foundation inspection, you will receive a recommended foundation repair plan created by the same Project Design Specialist. This includes a full report on what your specialist found, the scaled drawing they created, and the recommended repair plan.
If you agree to move forward with your foundation repair, your project will be scheduled and finally happen based on the repair plan and required city permits.
What methods of
foundation repair

are used?
When your home or business starts to sink, foundation stabilization will need to happen. The foundation repair methods we use are galvanized steel Push pier or Helical pier underpinnings. Both of them serve the same purpose in stabilization, though the installation differs based on the needs of your foundation repair.
Push piers are galvanized steel tubes that use the weight of your building to be hydraulically driven into the ground until reaching competent soil or bedrock.
Some buildings are too light for Push piers to be effective. This circumstance is when Helical piers will be driven into the ground separate from your home or business. These piers have helices at the base that allow them to be screwed in using a helical torque motor until reaching competent soil or the recommended torque. They're then attached to the foundation.
Both systems are fantastic for foundation stabilization and foundation leveling, which involves lifting your home or business to maximum practical recovery.
After lifting or if the soil has been eroding, Polyurethane foam is injected into the ground to provide additional support for your slab-on-grade foundation and densify the soil. Polyurethane expands rapidly, cures in 15 minutes, is both lighter and as hard as concrete, and is environmentally safe!
Foundations are susceptible to cracking, regardless of which type of foundation your home or business has. The ways these can be repaired by gravity-feeding Epoxy, a glue-like resin, into the crack until it dries. Carbon Fiber stitching can be applied onto cracks to provide extra strength and prevents water from reaching the rebar.
Finally, Crawlspace repair is essential to having your floor feel normal again and having your crawlspace doing its job properly. A production crew will crawl inside to replace any deteriorated wood and install crawlspace jacks to provide additional support.
How do you do hillside stabilization?
It's never a good feeling to see the soil winning against your retaining wall. To provide reinforcement, we will put Helical tiebacks through your wall and into the soil until reaching competent soil or the recommended torque. They act like Helical piers, except installed at a more horizontal angle. They're then anchored to the wall to add that extra support and provide hillside stabilization.
Reasons to repair your foundation in
Camarillo, CA
A home or business dealing with foundation settlement doesn't match the fantastic weather in Camarillo, CA. You notice cosmetic damage as your foundation becomes damaged. You'll want to stop those cosmetic damages via foundation repair.
Though this doesn't happen too often, foundation issues can make cosmetic damages turn structural if you wait way too long. Foundation repair before that point will help prevent those structural damages.
Foundation issues usually only get worse. They certainly won't get magically better. And if you try to cover up those cosmetic issues, they'll eventually come right on back.
Foundation repair doesn't get cheaper. Damages become worse or prices for materials increase. The earlier you get your foundation repaired, the better for your wallet.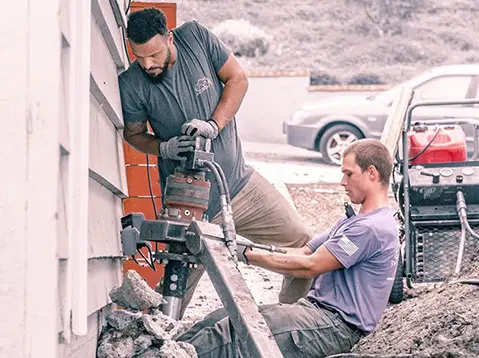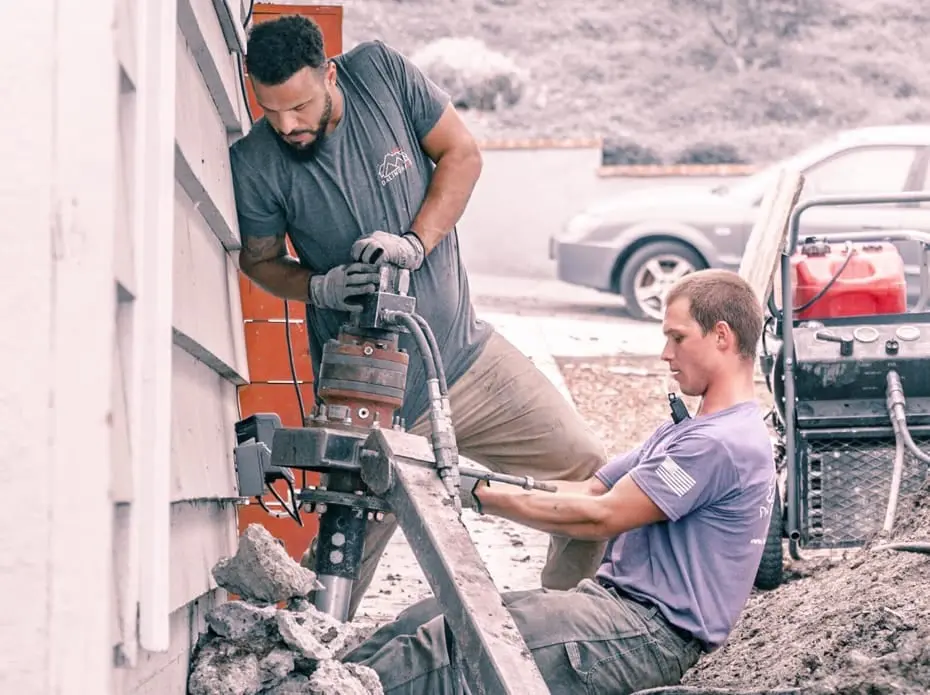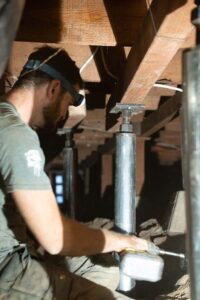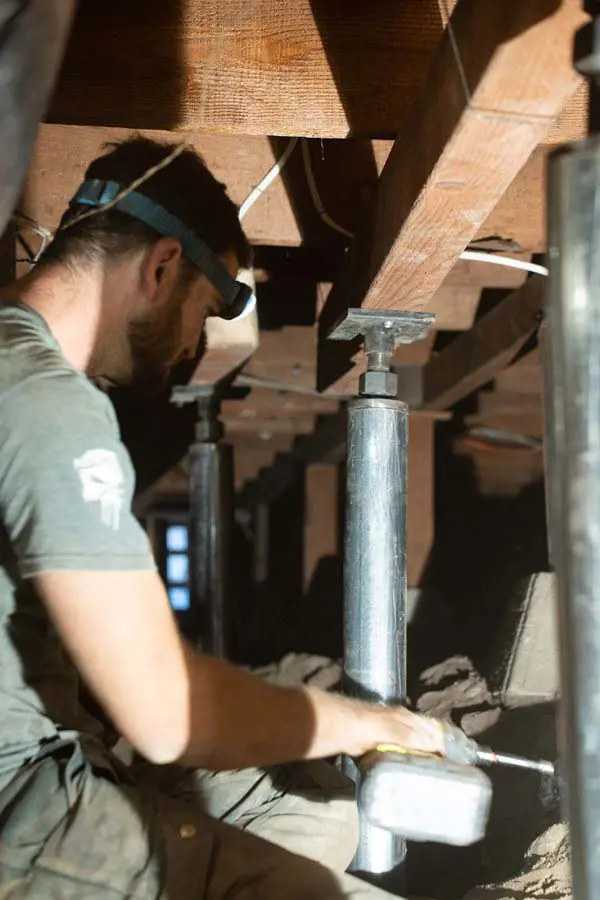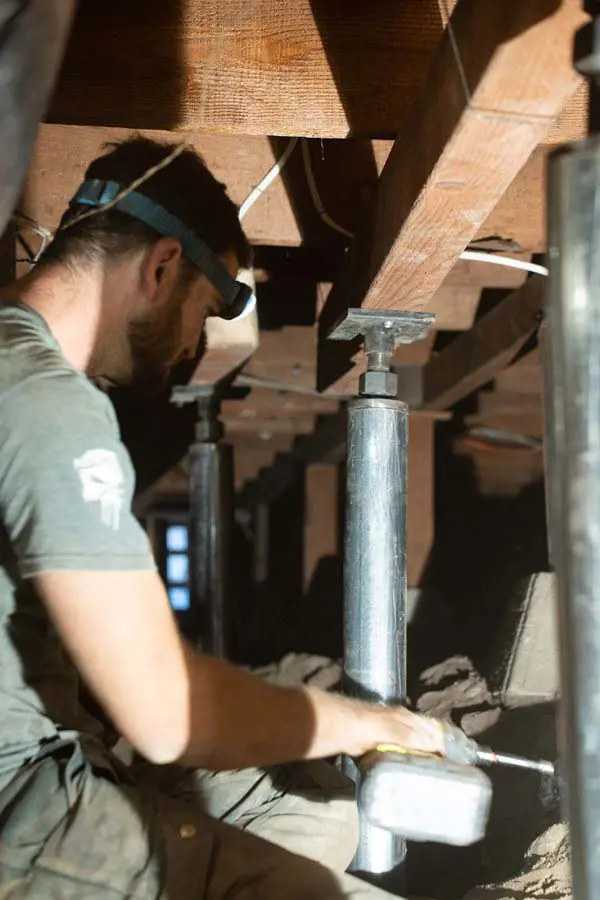 Your day-to-day might become more difficult as foundation issues become worse. Doors might be difficult to open or windows become difficult to close. Plus, your floors may feel off as one area is level and another is sinking.
Speaking of floors being off, damage to your crawlspace makes floors start to feel droopy or that you're going to sink. Crawlspace repair will have your floor back to normal and eliminate that sinking sensation.
Keep the soil where it's at and prevent it from affecting your home or business. Laterally moving soil causes more damage than people think. Hillside stabilization is the way to go.
Foundation repair helps you maintain the full value of your property. Damages created from foundation issues need to be disclosed legally when on the market. This can decrease the value of your property by 30%, especially if you're limited to cash buyers.
Schedule a foundation inspection in Camarillo, CA
Protecting your number one investment should be a priority and taken very seriously, especially if it affects your livelihood. You want to make sure your home or business has some longevity through stability.
Don't leave the foundation on your Camarillo, CA, property unchecked. At the very least schedule a foundation inspection to understand what's happening to your home or business. That way you can at least have a plan for repairing your foundation.
To schedule an appointment, you can go online or call (877)360-9277.