Foundation Repair In
The City of Hesperia
Gold courses, plots of land, and plenty of parks are when you know you've his smack-dab in Hesperia, CA. More home and business owners are finding themselves in the area. You're probably one of those people if you're here!
And along with owning that home or business, you're also dealing with foundation issues.
But don't worry. That's why there are reliable foundation repair contractors that can help out in Hesperia, CA. Dalinghaus Construction has done over 2,300 foundation repair projects since 2015, being experts in the craft and helping property owners in Southern California, Arizona, and Nevada. We've become a trusted source for quality foundation repair in cities like Hesperia, CA. If you want foundation repair work done with accuracy, Dalinghaus Construction has the attention to detail you can count on.
Signs of foundation issues in Hesperia, CA
Seeing these signs isn't fun by any means, but don't worry too much if you only see one sign. That might be entirely separate from foundation issues entirely. When you see more than one is when you'll want to contact a licensed and qualified foundation repair contractor.
Hesperia, CA, has its fair share of loam and clay soils, which are susceptible to expansion or shrinkage based on the amount of moisture present. Dry soil shrinks and causes differential settlement, which means an area of your home or business is slowly sinking. The amount of moisture, temperature, and other environmental factors.
Soil conditions require a foundation repair contractor to come out and offer foundation repair solutions. Dalinghaus Construction offers quality foundation repair solutions for your residential or commercial property in Hesperia, CA. That way your home or business can last more than a lifetime.
The foundation repair process in Hesperia, CA
The foundation repair process no matter where you are starts with a Project Design Specialist at your door for a scheduled 60-90 minute foundation inspection, which involves them going around the property to look at any potential signs of damage due to foundation issues.They draw a scaled drawing of your property and take floor elevation measurements to find the area affected by foundation issues. That way they can create a recommended repair plan you will receive either the day of or after your foundation inspection. This includes a full report, the same scaled drawing of your property, and the recommended foundation repair plan.
To schedule your foundation inspection with Dalinghaus Construction, either go online or call (877)360-9277.
And if you agree to move forward with your foundation repair, your project will be scheduled and finally happen!
What foundation repair methods are used in Hesperia, CA?
Various companies will offer a plethora of foundation repair solutions. Dalinghaus Construction uses galvanized steel Push pier and Helical pier underpinnings to stabilize your home or business. These methods are more affordable compared to other foundation repair methods and are incredibly efficient solutions.
Both galvanized steel systems do the same job in foundation stabilization. What's different is how they look and how they're installed.
Push piers are galvanized steel tubes that use the weight of your structure to be hydraulically driven into the ground until reaching competent soil or bedrock.
Helical piers are used when Push piers aren't the ideal solution. They have helices at the base of the pier that allows them to be installed separately from the structure until reaching competent soil or the recommended torque. They're then attached to the foundation.
They're excellent for foundation stabilization. As a bonus, they can be used for foundation leveling, which involves lifting the area affected by foundation settlement up to maximum practical recovery.
Not only is the soil susceptible to shrinkage when there is a lack of moisture, but also soil erosion when it rains on those rare occasions. Either from soil erosion or after foundation leveling, voids in the soil need to be densified and strengthened using Polyurethane foam. Polyurethane rapidly expands, cures in 15 minutes, is lighter than concrete, is as light as concrete, is environmentally safe, and is effective in adding support to your slab-on-grade foundation.
How do you repair foundation cracks?
This happens in a couple of ways:
A glue-like resin called Epoxy is gravity fed into a crack and dries. It has great strength that helps keep your foundation together.
Small bits of Carbon Fiber stitching are applied over the crack to provide extra strength and prevent water from reaching the rebar in your foundation.
Reasons for foundation repair in
Hesperia, CA

?
These signs of foundation issues make themselves known in your home or business in the form of cosmetic damage. You can cover them up, but they'll eventually come back.
While it doesn't happen often, the damage can be more than cosmetic; it can become structural. And if the damage is severe enough, your property is at risk of being red-tagged.
You won't see your home or business get better like the human body healing after a scratch. The trend is that foundation issues usually get worse.
If you're tired of the damages your property endures, foundation repair allows you to address the issues with significantly less worry of them coming back.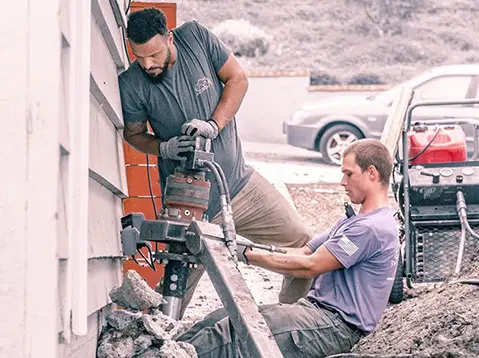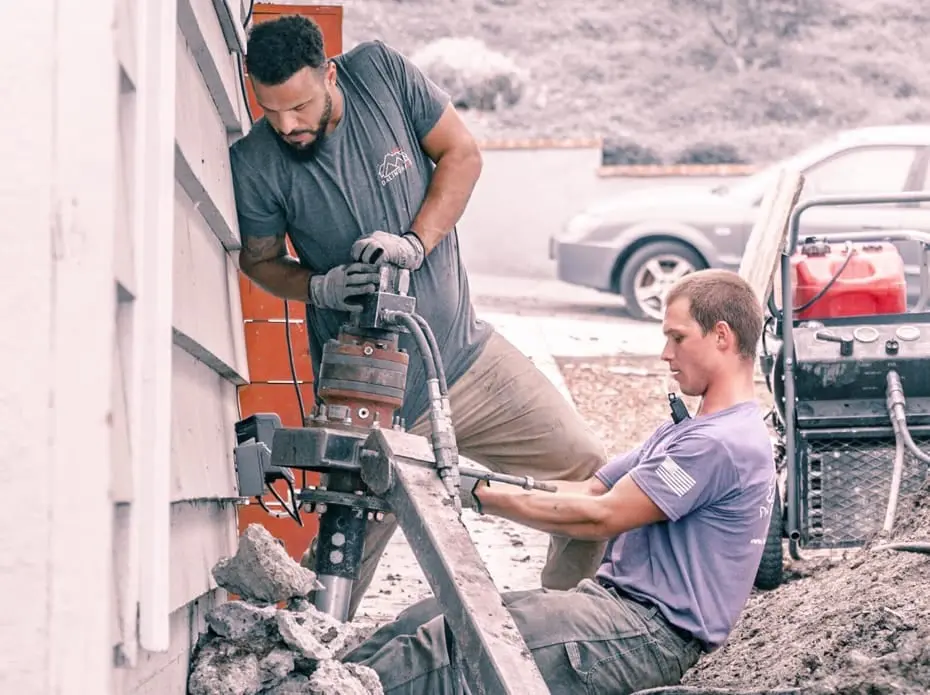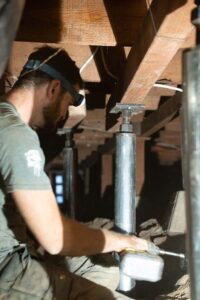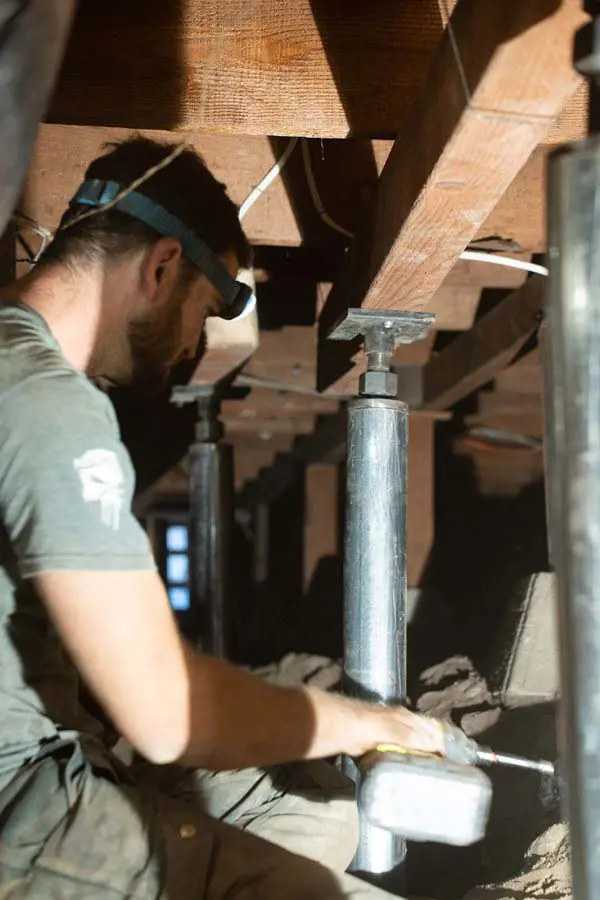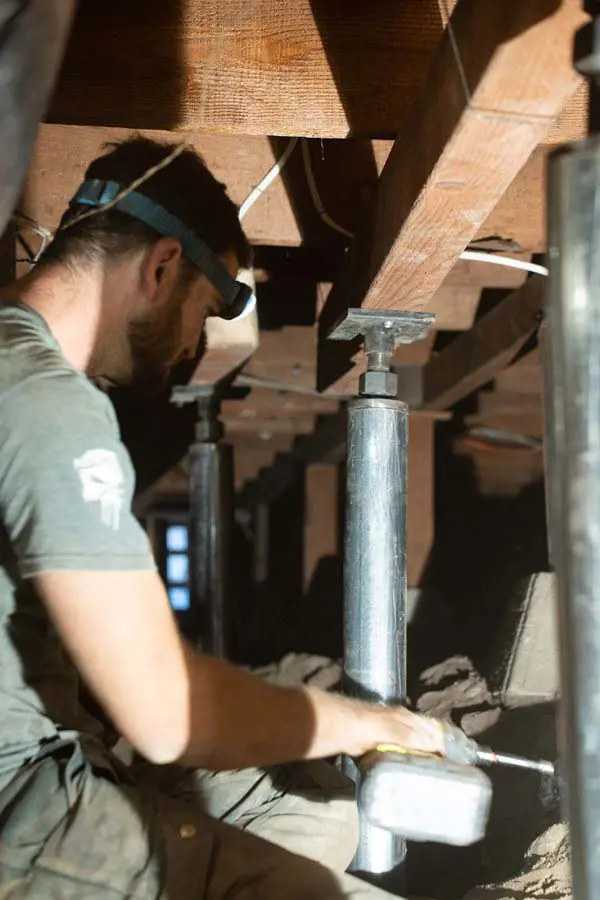 You can choose whether or not you will work out on certaiYou may have noticed your windows and doors feel sticky, becoming difficult to open and close. Foundation repair allows you to adjust windows and doors without you having to worry about the sticky sensation coming back because of your foundation. n days. Foundation settlement or heave will make your day-to-day feel more like a workout, especially as it makes doors and windows feel sticky. So opening and closing these things might make you break a sweat. However, you will no longer need to break a sweat to get those windows and doors open with foundation repair.
When your home or business sinks, you feel it. At least with your floor, at least when one part of your structure is level while the other feels like it's trying to make you fall over. Don't let that sinking become worse. Foundation repair is the way to go.
Any damages need to be disclosed legally when going on the market. Banks don't often loan for properties with foundation issues, meaning you limit your buyer base to Cash Buyers. They can negotiate the full value of your property down by 30%.
Foundation repair maintains stability, property value, and provides longevity for your home or business.
The next step – scheduling a foundation inspection!
Foundation issues don't get better. The solution is foundation repair. Don't let the small things escalate. And you can maintain the value of your property.
If you live in Hesperia, CA, make sure to schedule your foundation inspection. That way you can understand the issue your home or business is experiencing and at the very least know how the problem can be solved.
To schedule an appointment, you can go online or call (877)360-9277.