Eight miles east of downtown Los Angeles, the independent city of Montebello, CA, is part of the Gateway City Council of Governments created to improve quality of life. The city is considered to be safe, making it a comfortable place for residents to live. Large companies can assuredly flourish.
The surface soil also has a ton of expansive clay and loamy sand, which can be problematic for property owners when it comes to their foundations, crawlspaces, and retaining walls.
While the soil can be a problem for your property, you don't have to take care of it on your own. You have plenty of trusted foundation repair contractors such as Dalinghaus Construction, which has serviced over 2,300 properties since 2015 with projects involving foundations, crawlspaces, and retaining walls. We understand these issues well, becoming a trusted source for these repairs all over Southern California, Arizona, and Nevada for quality foundation, crawlspace, and retaining wall solutions. That way these problems will be a thing of the past for you.
The signs your Montebello, CA, property has foundation, crawlspace, and retaining wall issues
If your foundation is experiencing more than one of these signs, you'll want to contact a licensed and well-reviewed foundation repair contractor to come out and look at your property. A single sign might not be related to a problem with your foundation.
You might notice the floor of your raised foundation with a crawlspace feels as though it's sagging. Crawlspace issues don't necessarily mean there is a larger problem with your foundation related to settlement or heave. It might be that either 1) the wood holding up your floor is deteriorating or 2) your posts and pads aren't connected from underneath to support your floor.
You'll know there are problems with your retaining wall when you see it bow, buckle, lean, or crack. Moisture is the top culprit for this failure since it's added weight to soil moving laterally.
The mix of soil types creates hardships for property owners like you in Montebello, CA, especially when moisture comes into play. Moisture can cause erosion or make it so clay soil expands or shrinks. Most homes or businesses deal with foundation settlement, meaning that the soil contracts and causes your structure to slowly sink into the soil. Meanwhile, foundation heave thrusts your property upward.
If you're dealing with any of these issues, you'll want a foundation repair professional to come out and inspect your Montebello, CA, property. Dalinghaus Construction can help you with quality foundation, crawlspace, and retaining wall solutions.
Your foundation repair process in
Montebello, CA

?
This also includes crawlspace and retaining wall repair if you're also in need of those services.
The first step involves one of our Project Design Specialists coming to your property to do a FREE 60-90 minute inspection. They will go around your property to look for any signs of issues to figure out what exactly you're dealing with. As they go around, they will create a scaled drawing of your property with floor elevation measurements. That way they can build a recommended repair plan best suited to your needs.
If the property that needs inspecting is on the market, there is a $1,000 charge, which is credited toward the foundation, crawlspace, or retaining wall repairs.
The second step happens the day of or after your initial inspection. You will receive a recommended foundation, crawlspace, or retaining wall repair plan from your specialist, which includes a CAD drawing of your property, the full report on what they found during the inspection, and the recommended plan.
If you agree to continue with your repair, you'll have your project schedule date. One of our production teams will be at your property to provide the necessary services and provide you peace of mind.
Methods of foundation and crawlspace repair in Montebello, CA
If you've been researching methods of foundation repair, you might be learning about concrete methods. Dalinghaus Construction uses galvanized steel underpinnings to stabilize your foundation using Push piers and Helical piers.
They both serve the same purpose in foundation stabilization, meaning your foundation will stop slowly sinking into the ground due to settlement. The main difference is in their installation.
With the name Push pier, you have a little bit of an indication of how they're installed. They use the weight of your structure to be hydraulically driven into the ground until reaching loadbearing strata.
Helical piers are used when your home or business is too light for Push piers to be effective. They're installed separately from the building using a helical torque motor until reaching the recommended torque or competent soil. They have helices at the base that allow them to be driven in like a screw.
Both methods of underpinning can also be used for foundation leveling, meaning the area of your structure affected by the settlement will be lifted to be as close to level as possible.
Whether you're dealing with soil erosion or you decided to go through with foundation leveling for your slab-on-grade foundation, you'll want the voids in the soil to be filled to add further stabilization. You'll have deep injection with Polyurethane foam done to densify the soil and fill voids. Polyurethane can also be used to relevel a structure under ideal conditions. Polyurethane foam expands rapidly, can be as hard as concrete when under enough pressure, is lightweight, and is environmentally friendly. Plus, it cures in 15 minutes, which is way faster than concrete.
To make your floor back to level for your raised foundation home, a production team will go into your crawlspace to do crawlspace repair. They will either 1) replace the deteriorated wood that holds up your floor such as girder beams, or 2) put in crawlspace jacks to do the job of posts and pads. Maybe both depending on if each repair is needed.
Finally, there are a couple of methods used for foundation crack repair. One method is the use of Epoxy, a glue-like resin that is gravity fed in the crack and dries to hold together your foundation. Another method is using Carbon Fiber wrapping, which is applied over the crack to provide strength to your foundation and prevent water from sneaking in the gaps.
Retaining wall repair methods
The number one culprit to retaining wall failure is due to moisture. Hydrostatic pressure adds weight to the soil. To allow moisture to escape, weep holes can be retrofitted.
To stabilize your retaining wall and avoid extra damage from lateral movement, Helical tiebacks will be put in through your wall and into the soil until reaching the recommended torque. They're similar to Helical piers, except they're put in more horizontally. They're then anchored to your retaining wall to provide hillside stabilization.
Reasons to have foundation, crawlspace, and retaining wall repair in
Montebello, CA
No one wants to feel as though their residential or commercial property is run down. The cosmetic damages that result from foundation issues can make you feel that way. Thankfully, foundation repair makes it easy to address cosmetic eyesores.
Foundation-related damages tend to be cosmetic, though they can become structural if you decide to completely neglect your foundation. Don't let the damages become that problematic. Foundation repair keeps damages from getting that bad.
Your signs of foundation issues can get worse and more prominent as time goes on. They certainly won't heal themselves without a professional to help your property.
Your floors will feel off, whether it's due to settlement or feel the sag on your raised foundation. Your windows and doors will be difficult to close and open and the problems become worse. Not going through with foundation repair can affect your day-to-day.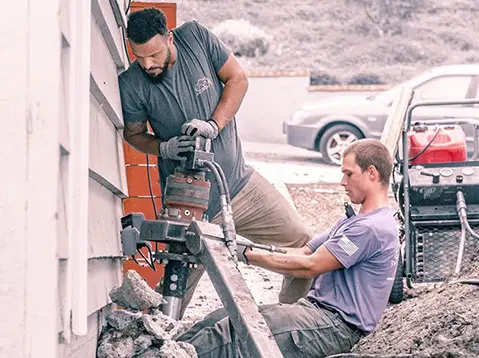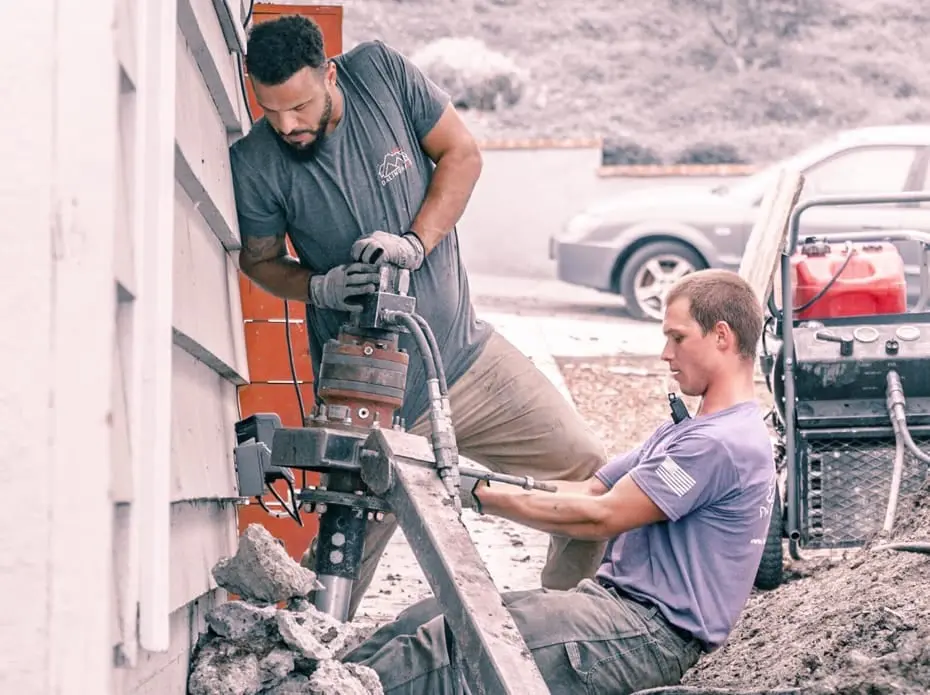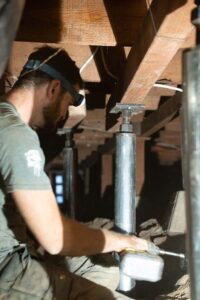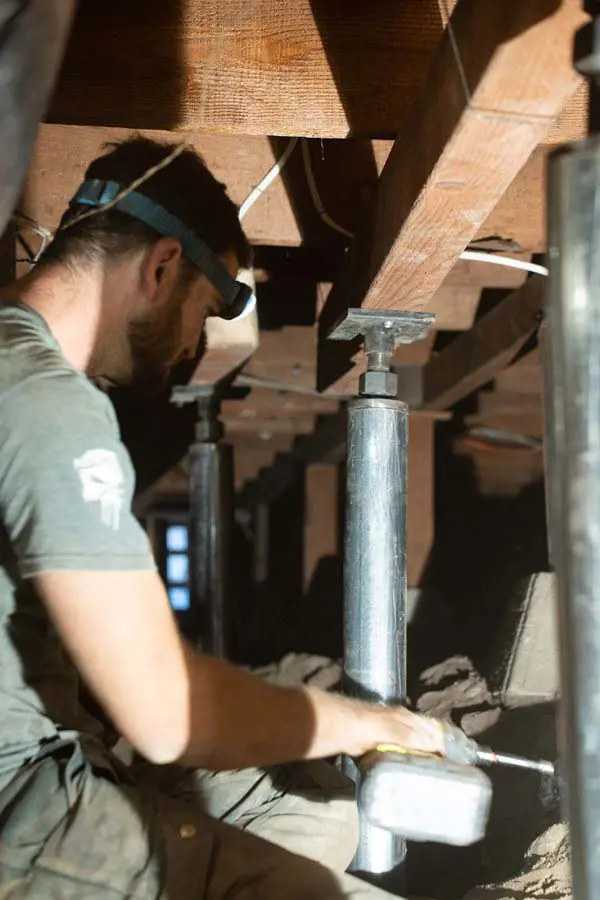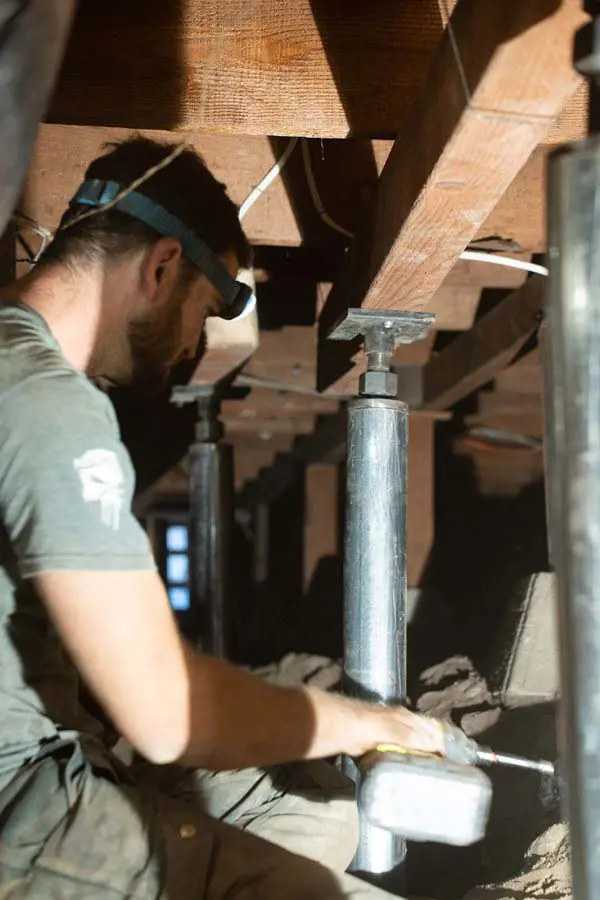 Sagging floors aren't exactly a problem in your home that offers you comfort. Crawlspace repair has your floor working like when your home was first built. You won't feel as though you'll fall into your crawlspace.
When your home or business is on a hill, you don't want your property to move with the soil. That causes extensive damage. Retaining wall repair will help in keeping the soil from moving and causing unnecessary destruction to your property.
If the property is on the market, good luck selling your property for its full amount when you have to legally disclose foundation, crawlspace, and retaining wall issues. You'll be limited to cash buyers, who can negotiate the price of your property down by 30% of its full worth.
Repairing your foundation, crawlspace, and retaining wall makes sense when your property is your number one investment throughout your life. These repairs help ensure the longevity, stability, and value of your property.
Next – Schedule a foundation inspection for your Montebello, CA, property
Don't let these signs and damages live on to haunt your property. Then there are reliable foundation repair contractors that can help you out, it brings you closer to feeling at ease.
You can start with someone checking out your property to see if there are any problems with your foundation, crawlspace, or retaining wall. That way we can figure out why your residential or commercial property is experiencing these issues.
Make sure you can ensure the integrity of your property. You can go online or call Dalinghaus Construction at (877)360-9277 to schedule a foundation inspection today.