Are you sick of bowed floors, slanted floors, floors that bounce and squeak even if you tip-toe across the house? Are you traumatized by the idea of crawling beneath your home again to shove shims in claustrophobic places, hoping to level out your floor? If so, it's probably time to pursue a permanent solution: post and pad replacement.  
Dalinghaus Construction Inc. has over 100 years of collective foundation repair experience and has serviced thousands of foundations (raised, basement, and slab) in Arizona and Southern California. We're here to walk you through post and pad replacement, even if you ultimately choose to employ another contractor for this project.  
By the end of this article, you will know the signs and symptoms of a broken post and pad system, learn the primary tools of post and pad replacement, and understand the implementation process. 
What are Post and Pad or Pier-and-Beam Foundations?
Post and pad foundations, also referred to as pier-and-beam or crawlspace foundations, is a type of raised foundation (indicating it is suspended above ground or "above grade"). The name is self-explanatory, as the posts simply refer to wooden posts/blocks that fit into cement pads/anchors, the dynamic duo suspends and supports the weight of the home.
Post and pad foundations rest on concrete footings, the load of the home primarily suspended by beams which are suspended by the posts and pads (which are spaced every 6 feet for single-story homes and every 4-5 feet for second-story homes).  
Occasionally, the cement pads are buried into the subgrade (especially if they were poured prior to the home flooring installation). Pads buried in the subgrade are generally too large to dig out and remove during the repair. Sometimes, the pads sit above grade, often on a compacted bed of gravel, referred to as engineer fill.
Over time, water damage (due to leaks and/or poor drainage) rot and corrode the posts and pads. Water causes the cement pads to spall and helps create a moist environment where mold and fungus thrive (both of which rot and eat away at untreated wood posts). Termites, also, can wreak havoc on wooden posts, turning them into sawdust.
To learn more about how spalling can structurally compromise your home and how to effectively treat it, read our article What is Concrete Spalling (Causes, Prevention, & Treatment).  After the 2021 Surfside Condominium Collapse, it's more important to be educated on spalling than ever before.
Note – in Southern California, post and pad foundations are seriously affected by seismic activity. Earthquake damage can be largely prevented through seismic retrofitting, otherwise referred to as brace-and-bolting. To learn more about our partnership with the brace-and-bolt, read our article, Earthquake Brace + Bolt Program (Dalinghaus Partnership).  
Signs and Symptoms that You Need Your Raised Foundation's Posts and Pads Replaced
Like with most types of foundation failure, when posts and pads fail, the signs and symptoms are painfully obvious. A busted pier-and-beam foundation system can make your home seem downright haunted:
  Cracked drywall
  Sloped floors
  Bowed floors
  Bouncy/squeaky floors
  Cabinets pulling away from the wall
  Doors and windows that are difficult to open and/or close
  Leaning chimneys
One of the perks of a crawlspace foundation is that much of the damage can be empirically witnessed beneath the home. Even without "symptoms", you know that posts and pads need to be replaced or added to if the current pier-and-beams are crooked or spaced too far apart.   
How Post and Pads are Replaced
The great news is that post and pad replacement is an incredibly non-invasive foundation repair procedure. All the repair takes place beneath your home in the crawlspace. Therefore, there is minimal disturbance to you and yours during the entire repair process. Most pier-and-beam replacements can be completed in a day.   
Please note – Dalinghaus Construction Inc. requires a minimum of 18 inches of clearance to send foundation inspection specialists and production crew members underneath your home.
We strongly suggest you call a demo and hauling company from yelp to assist you with excavating the extra soil. This can run anywhere between $3-$10 thousand dollars to excavate the soils. Dalinghaus Construction Inc. does not specialize in this type of work, so we charge double the average price.      
The deteriorated posts and pads are replaced with new smart jacks or jack piers. Currently, gravel or engineer fill is no longer accepted by many counties in California – pour-in-place pads are taking over. This can add some time and cost to your project. Ultimately, the complexity of the installation and repairs ups the price.  
Smart Jacks cost $600-$800.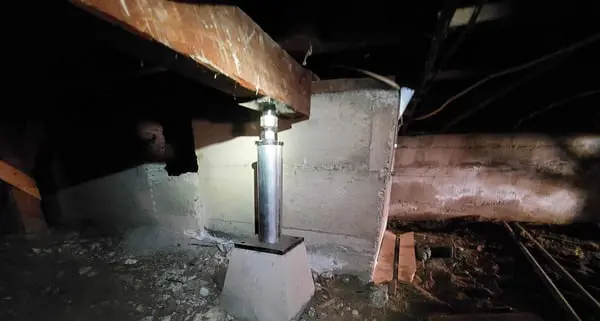 Jack Piers cost $400-$600   
The average price of post and pad replacement projects costs anywhere between $5-30 thousand.
Find the Right Post and Pad Replacement Company for You
In this article, you learned the definition of a post and pad foundation, the various signs and symptoms of pier-and-beam foundation failure, and the methodology of how these types of post and pier foundations are replaced. You also learned that the average cost of post and pier foundation repair ranges between $5-$30 thousand.   
Dalinghaus Construction Inc. has proven itself in the foundation repair game, completing hundreds of post and pad replacements in Southern California and Arizona. We would be happy to come out and offer you a free foundation inspection and repair quote.
However, if you'd like several bids, we suggest you read our article 5 Best Foundation Repair Companies in Southern California.
If you're ready to receive a free foundation repair quote from Dalinghaus Construction Inc., and you live in SoCal or Arizona, click on the button below.