Are you looking for information about horizontal cracks in a foundation wall? If so, you've landed on the right page because that's what we're going to talk about in this article. We'll review the causes of horizontal cracks in a foundation wall and discuss various repair options.
Are Horizontal Cracks In A Foundation Wall Serious?  
Yes, horizontal cracks in a foundation wall are serious, unfortunately. However, that doesn't mean your home is ready to collapse.
Horizontal cracks are serious because strong, sturdy foundation walls are critical to a building's structural integrity. Therefore, even minor cracks in a foundation wall can cause homeowners to lose sleep. While horizontal cracks in a foundation wall are indeed more serious than other types of cracks, they are almost always repairable. That doesn't mean you can afford to adopt a "wait and see" attitude if you see a horizontal crack. A horizontal crack in a foundation wall means your home has sustained structural damage. It's essential to get the damage assessed right away because it will get worse if you wait, and then you'll pay more for the repair. In other words, you'll save money if you act fast.
The severity of a horizontal crack in a foundation wall depends on several factors, including its length, width, and depth. Generally, cracks that are wider than 1/4 inch or extend deeper than two-thirds of the wall's thickness are more serious.
Horizontal cracks in a foundation wall are typically caused by either foundation movement or hydrostatic pressure. We'll talk more about this in the next section.
Causes Of Horizontal Cracks In A Foundation Wall 
A variety of factors can cause horizontal cracks in foundation walls. However, the most common are the following:
Hydrostatic Pressure 
Hydrostatic pressure is the most common cause of horizontal cracks in a foundation wall. Hydrostatic pressure builds up when excess moisture in the ground around the foundation can't drain off.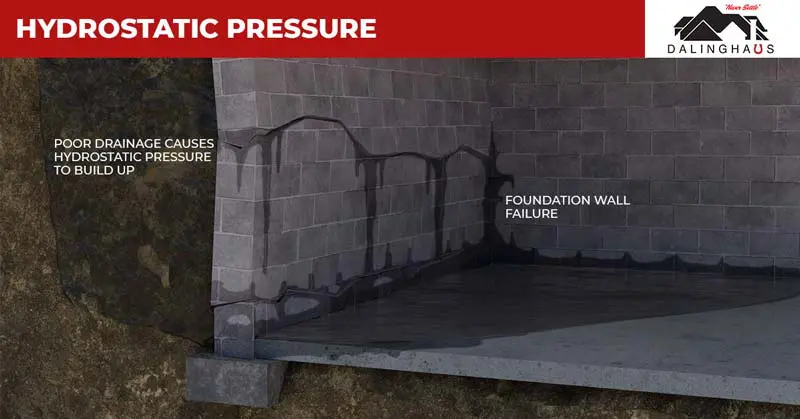 Hydrostatic pressure exerts tremendous force against foundation walls. The walls will eventually bow inward and even crack horizontally if it isn't relieved.
Horizontal cracks in a foundation wall caused by hydrostatic pressure happen in homes with either basement or crawl space foundations.
Foundation Movement 
Horizontal wall cracks can also be caused by foundation movement. Various things can cause a foundation to move, including the following:
Expansive soil – Soil that contains a lot of clay swells when it soaks up moisture and then shrinks when it releases moisture and dries out. This back and forth, swelling and shrinking, creates movement in the ground under the foundation. Eventually, this can lead to horizontal wall cracks.
Erosion-prone soil – Some types of soil are prone to erosion. If this happens, it can leave behind voids into which the house could settle.
Excavation next door – If your neighbor digs a big hole too close to your property, it could destabilize the foundation under your home.
Seismic events – Seismic activity and other natural disasters can also cause horizontal wall cracks.
Poor construction – Soil needs to be adequately tamped down before anything gets built on it. If this isn't done correctly, the house could settle unevenly into the ground after it's built.
Whatever the cause of the horizontal cracks, it's important to address any cracks in foundation walls as soon as possible, as they can compromise the structural integrity of the building and lead to more serious damage down the line. Consult with a professional foundation repair contractor to determine the best course of action for repairing foundation wall cracks.
How Are Horizontal Foundation Cracks Repaired?  
Because horizontal foundation cracks can compromise your home's structural integrity, it's essential to repair them as soon as possible. Fortunately, there are several methods for repairing horizontal foundation cracks. These include the following:
Carbon Fiber Straps  
This technique involves affixing carbon fiber straps to the surface of the foundation wall, covering the crack, and providing additional support. Carbon fiber reinforcement is particularly effective for larger cracks that are more than one-fourth of an inch wide and have penetrated the full depth of the foundation. Carbon fiber straps are virtually invisible when painted over.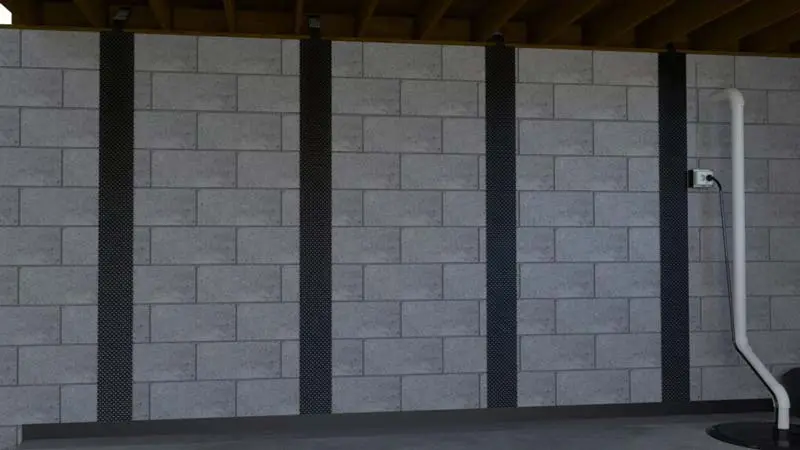 Wall Plate Anchors  
These are specially designed metal plates, which are installed on the inside of a foundation wall. The wall plate anchors are carefully inserted through the basement wall until they reach the soil outside. This allows the anchors to secure the foundation wall and prevent further bowing. The anchors are then tightened to exert pressure on the wall and reverse the effects of bowing.
Wall plate anchors have proven to be a cost-effective method of correcting bowing foundation walls. They are also discreet, meaning they will not drastically change the aesthetics of your home's interior space. In addition, they can be installed year-round, making them a popular choice for homeowners looking to secure their foundation walls.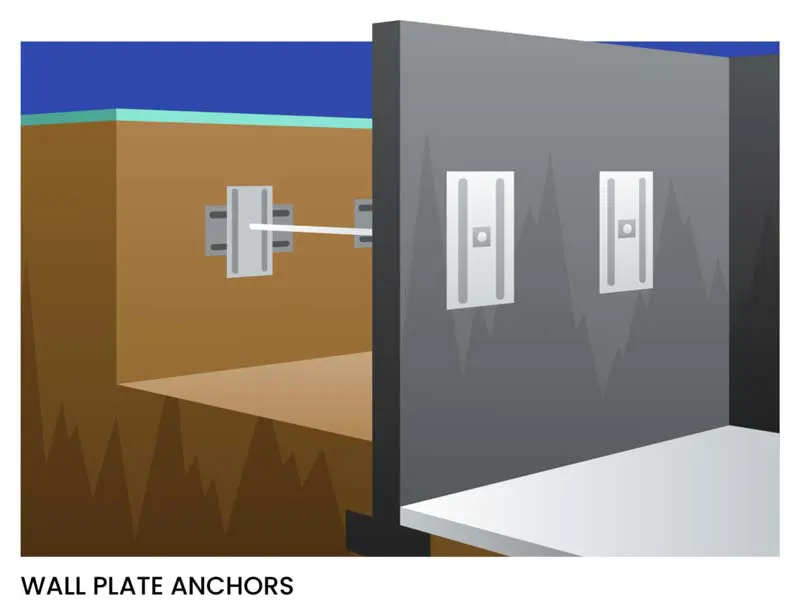 Helical Tiebacks 
Helical tie-backs are installed by drilling a hole through the foundation wall, into the soil behind, and then inserting a long, screw-like rod into the hole. The rod has a helical shape, resembling a corkscrew, which allows it to anchor deep into the soil and support the foundation.
Once the rod is in place, a steel plate is attached to the end inside the foundation. Upon securing the plate, hydraulic jacks gradually pull the foundation wall back into its original position. The result is a straight, stable wall secured by the embedded helical tie-backs.
The installation process is significantly faster and less disruptive than traditional foundation repair methods, as digging up large sections of the foundation or surrounding landscape is unnecessary. This makes helical tie-backs an increasingly popular option among homeowners looking to repair their foundation walls.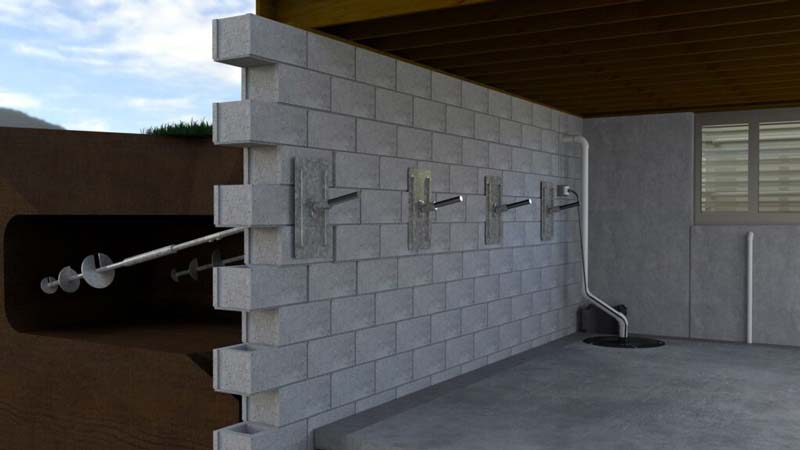 How You Can Help Prevent Horizontal Cracks in a Foundation Wall  
Fortunately, there are ways to help prevent horizontal cracks in foundation walls. Since most horizontal foundation cracks are caused by hydrostatic pressure pushing against the foundation wall, you can go a long way toward preventing these cracks by simply controlling groundwater around the foundation. Here are some ways to do that:
Make sure to remove decaying leaves and other debris from your gutters regularly. This ensures water doesn't overflow the gutters and run down the side of your house, soaking the ground around the foundation.
If necessary, regrade the yard around your home so that it slopes away from the foundation. This prevents groundwater from draining toward the foundation.
Consider relocating water-hungry flowers and shrubs planted next to your foundation.
Install downspout extensions to carry water at least 15 feet from your foundation before release.
Install a drain tile system. This is the best foundation waterproofing solution because it prevents excess water from building up in the soil.
Following these preventative measures can significantly reduce the risk of horizontal foundation cracks and ensure your home remains sturdy and safe for years.
If you've noticed horizontal cracks in your foundation wall – or any wall – contact Dalinghaus Construction immediately and schedule an evaluation. We serve Southern California, Arizona, and Nevada.