Do you reside in the big and beautiful Orange County on top of an unsecured cripple wall foundation? If yes, that sucks. Orange County is prone to earthquakes that'll shake up your home like a dirty mixed drink. If you live in OC (or any other earthquake-prone locale) and would like to learn what a cripple wall is and how to protect it against earthquake damage, this article is for you.   
Since 2015, our team here at Dalinghaus Construction Inc. has helped hundreds of homeowners in Orange County & Southern California secure raised foundations via brace and bold systems. We believe preventative maintenance is the best form of maintenance – especially when it comes to your home.
In this article, you'll learn what a cripple wall foundation is and how to protect your home against seismic activity.
Check out our post Making A Disaster Plan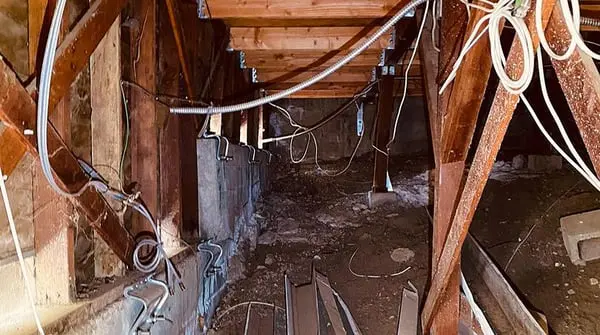 What is a Cripple Wall Foundation?
A cripple wall is a type of raised foundation (such as post-and-pad & stemwall foundations) and is comprised of wooden stud walls, typically 14 inches to 4 feet tall, that create a crawlspace between the home's subfloor and the soil.
The wood stud walls sit on top of an exterior concrete foundation, relying primarily on compaction for support (which, as we'll learn later, is precarious for earthquake territory).  Cripple walls are old-school, commonly found in homes built prior to 1960 on sloped hillsides.
Cripple walls get their name because they are utilized in the "cripple zone" – the section of the home suspended above the slope. This is referred to as the cripple zone because it is the weakest link during a seismic event. Yes, you guessed it due to the titular role, but the cripple wall is the first section of the home to buckle and, in effect, cripple the home.
Read more about Earthquake retrofitting.
Problems with Cripple Walls in Orange County   
Orange County has gorgeous communities built into hillsides that boast beautiful vistas, such as Saddleback Valley. Many of these homes are precariously unsecured against severe seismic activity.  
As mentioned above, cripple walls rely primarily on gravity and compression for their structural integrity – the load of the home sandwiching the cripple wall between the house and cement foundation. Yes, the cripple wall is wedged between the home and foundation nice and tight, but often neither section is properly attached.
So, if and when there's an Orange County earthquake, cripple walls snap, rack, and/or slip out from in between the home and foundation, causing that section of the home to follow the law of gravity and biff it (a technical Seismologist term).    
Homes can slide right off their foundation when the cripple wall fails.
In short, unsecured cripple walls are incredibly susceptible to sudden, violent movement – making earthquakes public enemy No. 1.
Read more: Earthquake! How Safe Is Your Foundation?
Securing Orange County Homes Against Earthquakes
So, how do you secure a cripple wall against seismic activity? Earthquakes shake and rock your home side-to-side. Unsecured cripple walls sway, exerting a tremendous amount of force on the cripple wall itself. This live load play and torque significantly weakens the wood.
Thus, the main idea behind securing a cripple wall is to limit the play that occurs during an earthquake – typically via braces and bolts that strap the foundation, cripple wall, and home securely together.
Brace and bolting a cripple wall can involve adding additional plywood to brace the inside of the stud walls in addition to securing framing/foundation anchors to connect the rim joist to the top of the stud wall.
To see if you qualify for financial assistance from the Earthquake Brace and Bolt Grant, check out our article: Earthquake Brace + Bolt Program (Dalinghaus Partnership).    
Seismically Retrofit Your Orange County Cripple Wall
In this article, you learned that a cripple wall is a type of raised foundation that is particularly susceptible to earthquake damage. You also learned the best way to mitigate future damage is to brace and bolt your cripple wall foundation.
Dalinghaus Construction Inc. holds over 100 years of combined foundation repair experience. We perform steel pier underpinning, polyurethane deep injection, carbon fiber crack repair, and more.
Check out our blog: How Much is Foundation Repair in Orange County?
If you live in Orange County (or anywhere in Southern California or Arizona) and would like to book a free cripple wall foundation inspection, click on the link below.