Foundation Repair In
The City of Santa Clarita
With a 100-acre park, host of a marathon held every November since 1995, a spot for filming, and by many attractions, low crime rates, and high-ranking schools, Santa Clarita, CA, has become a popular city in Southern California for residents to live and businesses to thrive.
Even with all the great aspects of Santa Clarita, CA, residential and commercial properties still have to deal with foundation-related issues.
You don't need to worry about that when you have reliable foundation repair contractors that can help you with foundation, crawlspace, and hillside-related issues. Dalinghaus Construction has been a trusted foundation repair contractor since 2015, specializing in foundation stabilization, foundation leveling, deep injection with Polyurethane foam, crawlspace repair, and hillside stabilization. We've completed over 2,300 foundation repair projects in Southern California, Arizona, and Nevada, helping residential and commercial property owners like you with our team of experts. We do our foundation repair projects with precision and accuracy you can count on.
Signs of foundation, crawlspace, and hillside issues in Santa Clarita, CA
You'll want to contact a licensed and qualified foundation repair contractor when you notice these signs of foundation issues. You'll find more than one of these signs when you have issues related to some form of foundation settlement or heaving. Having only one sign doesn't necessarily mean there's a problem with your foundation.
While crawlspaces are part of raised foundations, their signs of damage aren't necessarily indicative of a larger foundation issue. It can be, but this isn't always the case. Then you feel and possibly feel your floors sag, this can mean there is a larger problem with your crawlspace. Either the wood supporting your floor is deteriorating or the posts and pads aren't holding everything up properly.
You'll notice you have hillside issues in the form of damage to your retaining wall, whether it be bowing, buckling, leaning, or cracking if the damage is severe enough. The pressure of lateral movement is already powerful. Moisture in the soil will cause hydrostatic pressure to make your hillside issue worse.
Santa Clarita, CA, has loamy soil, which doesn't shift, expand, or shrink generally with moisture, but is still susceptible to moderate soil erosion. This can cause foundation settlement, which means an area of your home or business will sink into the ground slowly and cause foundation issues. Soil erosion is a real thing that can cause problems for you.
When you notice any of these issues listed above, you should contact a foundation repair contractor to check these problems out. Dalinghaus Construction will be transparent with you every step of the way. That way you know exactly which issues you're dealing with and how they can be fixed.
How does the
foundation repair process

go in Santa Clarita, CA?
When we say foundation repair process, this goes for your crawlspace, retaining wall, and seawall.
The first part will be an initial foundation inspection scheduled online or by calling (877)360-9277.
One of our Project Design Specialists will come to your property to conduct a 60-90 minute foundation inspection where they will go around to look for signs of foundation, crawlspace, and hillside issues all the while creating a scaled diagram of your property. They'll also have floor elevation measurements to figure out the area affected by these issues.
Either the day of or after your initial foundation inspection, you will receive a foundation repair plan as recommended by your specialist. This includes a full report on what was found during the inspection, a CAD drawing of your property, and the proposed plan.
If you decide to continue and agree to your foundation repair, your project will be scheduled, underway, and finished, making your foundation, crawlspace, and hillside issues a thing of the past.
Methods for foundation and crawlspace repair in
Santa Clarita, CA
Many foundation repair companies in Los Angeles will use concrete underpinnings to stabilize your foundation. Depending on which underpinning you get, it can be expensive, ineffective, and sometimes makes foundation issues worse.
Dalinghaus Construction uses galvanized steel Push piers and Helical piers, which are effective for foundation stabilization, foundation leveling, cost-effective, and efficient.
Both save the same purpose, though are different in terms of design and installation.
Push piers are galvanized steel tubes that are hydraulically driven into the ground using the weight of your home or business. They're put in until reaching competent soil or bedrock to hold your residential or commercial building like stilts.
When the building is too light, Helical piers are used in place of Push piers. They're similar but these piers have helices at the base that allow them to be driven independently from the structure. A helical torque motor is used to put the piers in like a screw until reaching competent soil or the recommended torque. They're then attached to the retrofit brackets that are bolted to your foundation.
Their primary function is foundation stabilization, though they're also used for foundation leveling, which involves lifting the area affected by foundation settlement up to maximum practical recovery.
Whether you're dealing with soil erosion or you lifted your slab-on-grade foundation building, there are voids left in the soil. They need to be filled for additional stabilization. This is where deep injection with Polyurethane foam comes in. Polyurethane foam is excellent, especially when it expands rapidly, cures in 15 minutes, is light (3-5 lbs per cubic foot), can be as hard as concrete, and is environmentally safe. It is used for void fill, soil densification, and can be used to relevel buildings affected by foundation settlement.
Sometimes you'll also need Crawlspace repair after lifting your raised foundation home. That or something is failing in your crawlspace. Deteriorated wood holding up your floor will be replaced or the posts and pads will have crawlspace jacks put in their place. Either way, your floors will feel level and walkable again.
You'll likely have cracks on your foundation when dealing with settlement, whether your foundation is slab-on-grade or raised. Depending on the crack, it can be addressed in a couple of ways. One method is using a glue-like resin called Epoxy, which is gravity fed into the crack until everything fills and dries. There's also Carbon Fiber stitching, which uses small carbon fibers to cover up the cracks. This strengthens your foundation and prevents water from seeping in and causing your rebar to oxidize.
Fixing a retaining wall for hillside stabilization
Depending on why your retaining wall is failing, there are a couple of methods of repair. To relieve hydrostatic pressure, weep holes can be put in to let water escape and reduce the hydrostatic pressure. And to combat lateral movement, your retaining wall will be reinforced with Helical tiebacks. They're very similar to Helical piers, except they're driven horizontally through your wall until reaching competent soil or the recommended torque. They'll then be anchored to your retaining wall for stabilization purposes.
Reasons for foundation repair, crawlspace repair, and hillside stabilization in
Santa Clarita, CA
Foundation settlement causes cosmetic damage to your residential or commercial building. As time goes on, it's likely to become worse without foundation repair. Prevent those damages from getting worse so you can make the cosmetic damages go away.
As we said, damages are likely to become worse without foundation repair. The damages can go from cosmetic to structural. That's not something you want to deal with, especially if it puts your property at risk of being red-tagged.
Foundation issues won't magically repair themselves. They'll likely become worse over time, also making your foundation repair more expensive later whether it's due to extensive damages or the cost of materials increasing.
You may not notice it, but your life is made a little bit harder as you try to close and open windows and doors. Foundation issues do that. They also make your floor slope as the area of your building slowly sinks into the ground.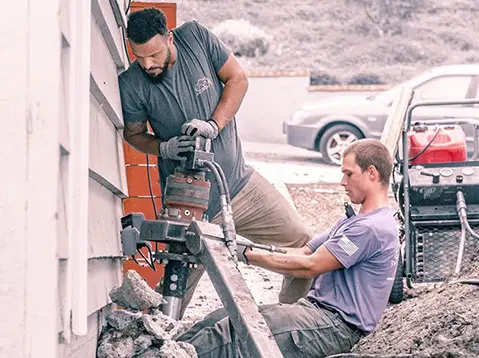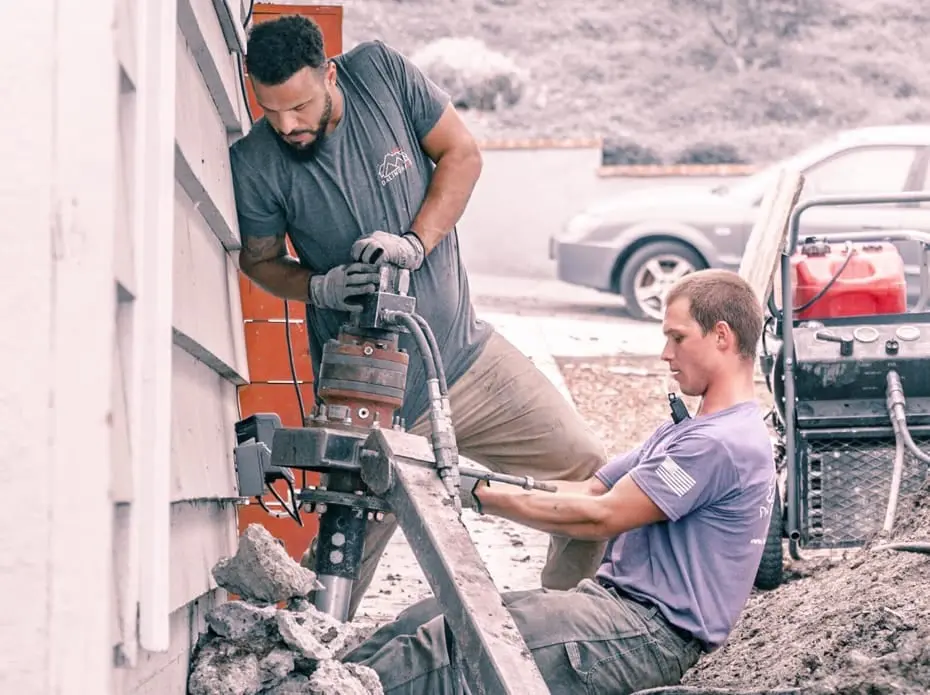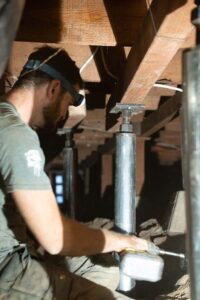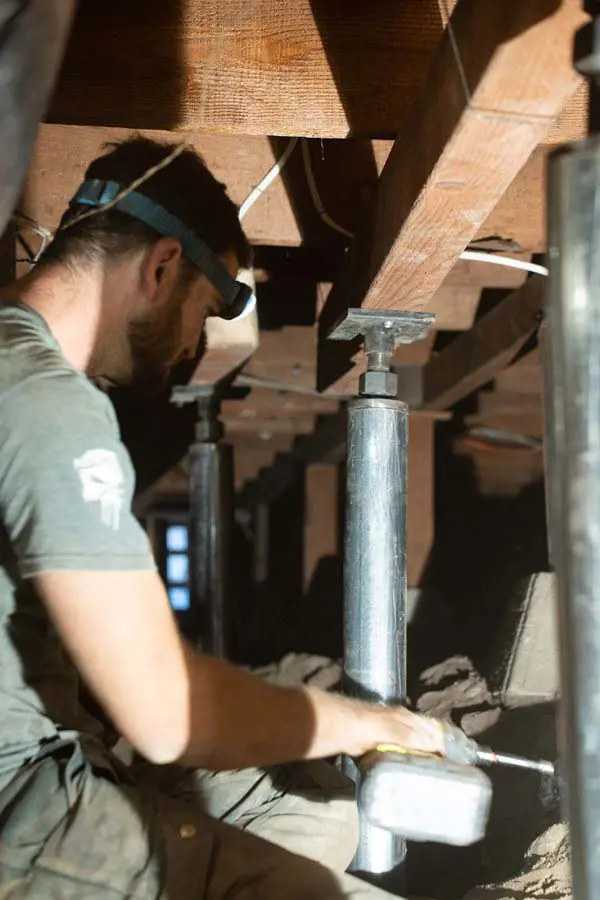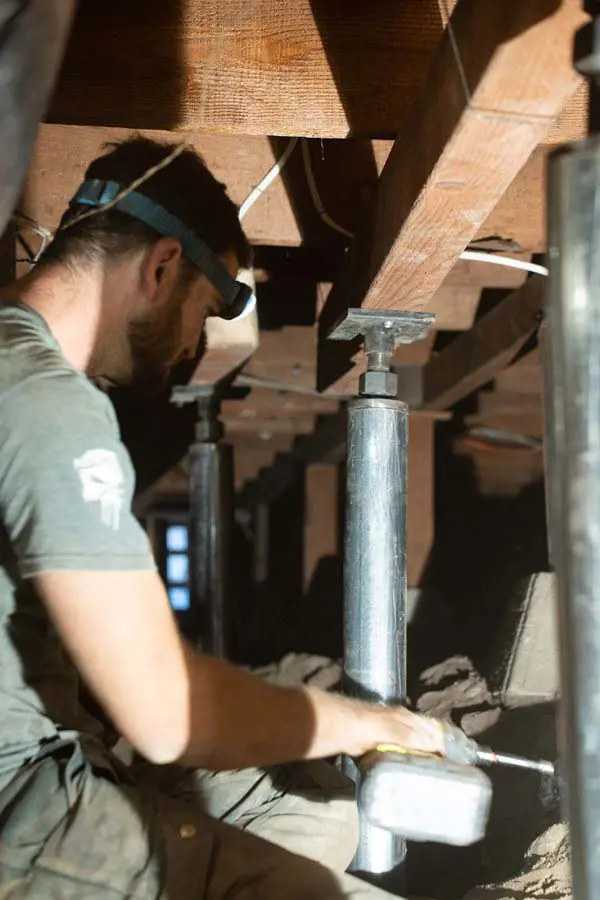 Drooping floors make you feel as though you're about to slip through your floor and into the soil. You want crawlspace repair to prevent more damage and have your floor supported.
Reinforcing your retaining wall keeps the soil where it's at and prevents foundation issues from rapidly becoming worse. Hillside stabilization helps to keep the soil where it's at and prevents your issues from becoming worse. Repairing a retaining wall is far cheaper than replacing one.
If you plan to sell your residential or commercial property, all of these issues need to be legally disclosed. Banks are less likely to loan for these properties, which restricts your buyers. Your property can be negotiated down to 30% of its full value when you're restricted to Cash Buyers.
You'll want foundation repair, crawlspace repair, and hillside stabilization for the benefit of the stabilization, longevity, and value of your Santa Clarita, CA, property.
Your next step – schedule a foundation inspection
It's okay if you're not entirely sure what's happening with your residential or commercial property. It's better to contact an expert who can give you the rundown. Even if you know what's going on, get a second opinion. Maintaining your Santa Clarita, CA, property is important so you don't have to deal with further repercussions.
If you're in Santa Clarita, CA, either go online or call ahead to schedule your foundation inspection so you can have a solution to your foundation, crawlspace, and hillside issues. Dalinghaus Construction can help you out!
To schedule an appointment, you can go online or call (877)360-9277.