Whether you live in Southern California or Arizona, or in one of the other 48 not-so-cool states, you're bound to see a home that has settled or sunk.  But how the heck do people stop their homes from settling or sinking.  Underpinning is the only way to permanently repair a home, or commercial structure, that has settled by stabilizing the structure in place and relying on more competent soils at greater depths beneath the structure.  If you want to see examples of underpinning a home in action, this article is for you!
Our team here at Dalinghaus Construction Inc. has assisted thousands of homeowners with underpinning and foundation issues across Southern California and Arizona. We're here to help you get to the bottom of foundation issues you may be facing, and that starts with understanding what underpinning looks like with examples! 
This article covers examples of underpinning in action, what underpinning looks like, and what someone can expect when undertaking an underpinning project on their home or commercial structure.
Examples of Underpinning
Before we dive into examples of underpinning we wanted to warn you that each of the projects listed below was designed and executed by our team.  Being that we service Southern California and Arizona residents we aren't exposed to certain types of underpinning, especially underpinning structures that have basements.  If you're looking for examples of underpinning with basements this article isn't for you, but if you want to see underpinning examples for slab foundations and raised foundations continue scrolling down.
Examples of Residential Underpinning
Residential underpinning will typically involve one of a handful of different piles or piers.  This could include:
Helical Pile Underpinning
Push Pile Underpinning
Drilled Concrete Underpinning (Caissons)
Mass Pit Concrete Underpinning
Mini Pile Underpinning
And more…
Most of the examples we're going to be discussing today will involve helical pile underpinning and push pile underpinning as these methods have been proven to be the most effective and efficient repair methods for homes and residential structures in Southern California and Arizona.
Example of Underpinning with Helical Piles in San Clemente on Hillside Home
Now this project is one of our all time favorites!  This hillside home in San Clemente had settled, or sunk, 16 entire inches and was moving laterally towards the hillside it sat on.  Five other homeowners in this golf course community have called our team for their foundation repair and underpinning needs.
Our Project Design Specialist, Mark Cook, performed the initial inspection on this San Clemente home and designed a repair plan consisting of underpinning and polyurethane void fill to stabilize and lift the home to recover some of that 16 inches of settlement.
Utilizing 27 vertical helical piles and 5 helical tiebacks our crew was able to not only stabilize the home from any future settling but also lift and recover 14 of the 16 inches of settlement!
Want to learn more about this project?  Take a look at this underpinning case study (you can even download it for future reference/reading)
Underpinning Example: Saving Murrieta Home's Backyard and Pool with Helical Piers
At this underpinning project we utilized 87 vertical helical piers and 27 helical tiebacks to stabilize an entire backyard and pool from settling or sinking.  Several years prior to addressing the backyard our team underpinned the home with push piers.
The helical piles and tiebacks would be embedded into new grade beams and columns for this particular situation.  The methodology behind the underpinning design was to create a structurally sound solution the the slope's previously unsupported crepe characteristics.
Our crews found an average depth between 14' and 25' for all of the helical piers whereas tiebacks were installed to an average depth of 28 feet.
Learn more about this underpinning project by clicking on the case study below!
Example of Underpinning a Flipped Home with Push Piers in Brea, CA
As a new homeowner the last thing you want to be hearing in the middle of the night is sharp cracking and creaking sounds.  Unfortunately that's exactly what happened with these homeowners in Brea who had recently purchased a home that had been flipped by an investment group.
The remodeled kitchen, living room, and master bedroom was absolutely beautiful… but the structure behind the remodel wasn't exactly as beautiful.
This home had blatantly obvious signs of a settling or compromised foundation, and the flippers attempted to cover all of it up with a shiny new remodel.
At this underpinning project a repair plan was designed consisting of push piers and polyurethane injections to stabilize the home from future settlement.
Learn more about the repair plan on this underpinning project for a recently flipped home by clicking on the case study below!
Example of Underpinning in Diamond Bar with Helical Piers
As we learned earlier in this article, pools can settle or sink just like homes… and that's what we saw in the beautiful backyard of this hillside home in Diamond Bar hidden away in private community.
After purchasing the home the new homeowner found himself looking at cracks all over the concrete in his backyard along with several massive cracks running parallel to both the slope and pool.
There were two options for this backyard… either tear out and replace everything or install piers to address the incompetent soils and lateral movement.
During the initial inspection our specialists Phil and Joe found that the pool had settled well over an inch on the side adjacent to the slope.  They'd need to design a repair plan consisting of both vertical piers for the settling and tiebacks to address the lateral movement towards the slope.
The crew utilized 23 helical piers and 4 helical tiebacks to average depths of 28' and 22' respectively.
Learn more about this underpinning project by clicking on the case study below!
Example of Underpinning 1800's Historical Home with Helical Piles
Homes built in the 1800's aren't all that common anymore so it's always a treat when we get called out to an old home like this in the historic part of the City of Orange!  
Unofficially this is the oldest home in all of Orange with paperwork showing it being built prior to the 1890's.
The current homeowner had inherited the home from his mother and in the 1980's had taken it upon himself to lift a corner of the home to repair cracks in the foundation.  These repairs held for almost 30 years before he decided it was time to call the foundation repair professionals.
During the initial inspection Phil measured over 1.7 inches of settling in the corner that had been previously repaired.  Multiple posts and pads within the crawlspace were in dire need of repair.
Phil designed a repair plan consisting of 5 helical piers to attempt to lift and stabilize the settling corner in addition to replacing 4 posts and pads.
Learn more about this historic home underpinning project by clicking on the case study below!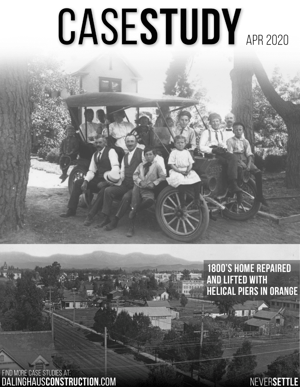 Example of Underpinning Needles Settling Pool with Helical Piles
Building a pool for a home is a difficult process, and it can be even more difficult when the pool you're wanting to build is located just feet away from the Colorado River.  
Building a structure so close to a running body of water can cause challenges in the design phase, primarily designing the foundation.
The initial design involved the installation of micropiles and grade beams to properly support the pool with fill materials found to be in the range of depths of 15' to 25'.
During the initial site visit and plan review our team was able to recommend another deep pile product that would yield better end results and better timeframes for construction with the same load capacities.
Learn more about the helical pile underpinning design that was used to construct this new pool by clicking on the case study below!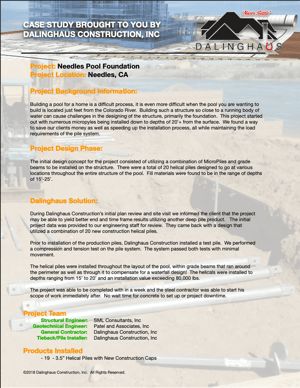 Example of Underpinning to Save Villa Park Home with Helical Piles
After being sick and tired of the cracks appearing on their walls and ceiling this Villa Park homeowner decided to rip up their carpet to see if the cracks were also showing up in their slab foundation.  They found massive cracks riddling the slab with some going from one corner to the complete other side of the home.
After finding the slab cracks they knew they needed to call foundation repair experts to figure out what was going on.  
Our foundation specialist, Mark Cook, performed the initial inspection and measured over 4.5 inches of settlement… yes almost 5 whole inches!
The homeowner had previously received bids for mudjacking and concrete piers, which neither provided long-term solutions for the foundation issues that were present.Mark designed a repair plan consisting of 22 helical piers to not only stabilize the Villa Park home, but also attempt to lift the home and recover the 4.5 inches of settling.
Learn more about this helical pier underpinning project by clicking on the case study below!
Examples of Commercial Underpinning
Just like residential structures, commercial structures can settle and sink due to various factors. Underpinning a commercial structure isn't all that different from underpinning a home.In the examples of commercial underpinning we share below we'll be talking about both retrofit construction and new construction applications.
Example of Underpinning with New Construction Helical Piles For Gas Station In Lancaster
A large, well-known gas station chain was getting ready to construct a new location at a very busy intersection in Lancaster, CA. The gas station has a team of in-house engineers who design their new construction plans and they ran into an issue when designing the foundation of a car wash that was being constructed on the south end of the property. The calcs were showing load values that would require some MASSIVE concrete caissons for proper support. Such massive caissons that their teams wouldn't have the time or resources to install without affecting their go-live timeline.
Having not been familiar with our helical pile systems, the engineering team wasn't sure which system would be a good fit for the situation.
Learn more about this new construction underpinning project and the 6 helical piles we drove down to 30 feet by clicking on the case study below!
Example of Underpinning Oil Pipeline with Helical Piles in Arizona
While most of our examples so far have been on buildings, this underpinning project in the middle of the Arizona desert was for an active pipeline that was in dire need of help after multiple monsoonal flash floods had left the pipeline defenseless.  
This particular pipeline was 12" in diameter and was actively transporting petroleum based products through the desert outside of Tucson.  
Having recently designed supports for this energy infrastructure company for a different project, our team was able to immediately mobilize for the soon to be pipeline emergency to build adequate supports for the areas of the pipeline that had already been washed out.
Learn more about this pipeline underpinning project and its design consisting of 2 helical piles by clicking on the case study below!
Example of Underpinning Concrete Tilt-Up In Diamond Bar with Helical Piles
Diamond Bar is full of hills and slopes and this project involves a concrete tilt-up building sitting on one of these hills overlooking the 60 freeway.  Over the years this building had settled over 8 inches from where it was originally constructed.  It was a two story thats sits upon a combination foundation consisting of a shallow 36" footing as well as 46 interior and exterior pad footings.  
The building had been recently purchased by a local investment group who was looking to complete a full renovation, but before they could do that they needed to stabilize and lift its foundation.
The initial designed consisted of a micropiles and grade beams, but we helped designed an underpinning repair plan consisting of push piers, tiebacks, and polyurethane grout injection that would be cheaper, faster, and stronger than the initial design.
Learn more about this tilt-up underpinning project that settled or sunk 8 inches by clicking on the case study below!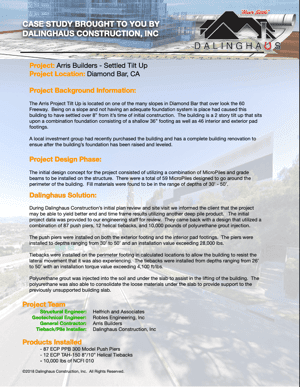 Example of Underpinning with New Construction Helical Piles For Temporary Shoring
When you buy a building to transition it from a variety of business to a full on functioning hotel, it can rase a few challenges. One of the first challenges to address was adding additional elevators to take on the requirements of the number of users and occupants. This can be a process within itself, but to compound it, you have to shore up the existing structural beams and pads, but it is definitely doable, if you think outside the box.
During the initial plan review we were able to recommend an underpinning method different from what was initially designed by trading out micropiles for helical piles with retrofit brackets.  
Learn more about this underpinning project with helical piles by clicking on the case study below!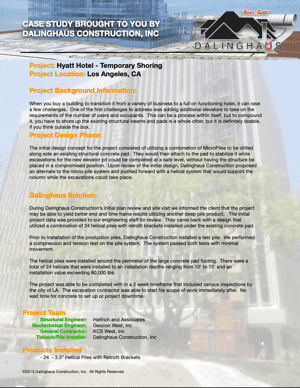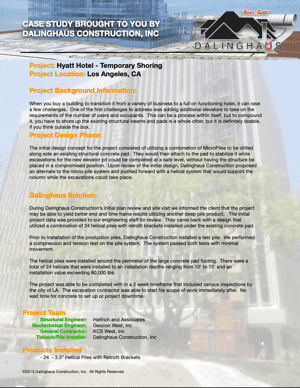 Book a Free Underpinning Inspection
In this article, you learned about the 11 of the best underpinning project examples for residential and commercial structures.  You also learned how underpinning projects can be for already built structures or in new construction applications.
Dalinghaus Construction Inc. has been in the foundation repair industry since 2015 and holds over 100 years of combined foundation repair experience.
If you live in Southern California, Arizona, or Nevada and would like to book a free underpinning inspection, click on the link below –