If you're considering a commercial construction project, knowing about grouting piles might be in your best interest. With varying soil conditions, grouting piles can handle some better than others, especially rocky soils.
This pile can solve a large number of construction issues and have a larger load capacity. They are a perfect – albeit messy – commercial foundation solution, whether you're starting a new construction project or foundation repair for your structure.
Dalighaus Construction has been in the foundation repair and project game since 2015, fulfilling residential projects and commercial services. We have a background in installing grouting piles for new construction and foundation repair projects. We understand grouting piles and the purposes they serve.
What is a grouting pile?
Grouting piles come in varieties like micropiles and helical pulldown piles (which use grout). Where a grouting pile is a broad category, micropiles and helical pulldown piles would be specific subcategories.
Both are very similar, though the installation methodologies are the distinguishing factors. Either type will still use grout.
A grouted pile system can either have a casing or use straight skin friction. They usually have a center steel rod or point of influence that drives the pile into the end-bearing material.
For instance, a micropile has a head with the rest being a threaded bar that shoots up the middle. As you're drilling, you're pumping grout in.
Grout is fed into the pile to fill the voids in cavities. The head of the pile is larger than the middle shaft. The grout is what produces the load capacity of the pile. You have the diameter of the head at the bottom, followed by grout that dries, essentially making the pile like a caisson.
Anchoring uses grouting piles that can provide active restraint to structures and avoid movements by applying a comprehensive load to a structure.
Grouting piles are similar to helical piles in that they are put in independently of a structure. This makes them effective for both repair and new construction.
What is grout?
It is generally a mix of water, cement, and sand used to fill voids in the soil during pile installation.
Grout makes installation messy as hell when machines are used to displace excess sediment. While the grout makes these piles effective, it doesn't mean it's clean. It looks like chaos, especially when sediment's thrown from where the pile is being installed. It's dirty.
This also means safety is a huge priority when installing these piles. Not to say safety isn't taken seriously with any project. It means that installation requires a higher threshold for safety standards.
The use of a grouting pump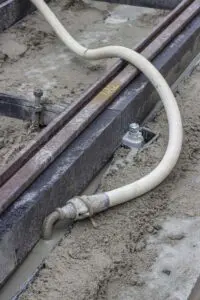 You need a grout pump to pump grout as you go.
One of the issues is if your grouting pile spins out, you have a limited amount of time to figure out a solution since the grout will harden up in the column it's pumped into. Grout can start drying in 10-15 minutes.
You have to think of the weight being put in the ground when the pile has trouble moving. If you still have 20 more feet before completion, you have a ton of weight you need to pull down. You have to keep pushing and pulling the pile because of the displacement plates.
Once you spin out, you leave the pile and load test it to see if the pile reaches load capacity. If it doesn't, another pile will need to be installed at a similar depth to compensate for the capacities.
When a grouting pile is used
It depends on what's under grade. Standard helical piles don't work if there is a lot of rock.
With helical piles, you don't push grout in as you go compared to a grouting pile.
While a pain to install, grouting piles can be used for repair. It requires larger equipment and an air compressor to blow out loose sediment.
Regardless of new construction or repair, they act as excellent ground anchors.
Grouting piles are typically commercially based
While they can be used in residential areas, installation requires large equipment you won't see getting through a tight fence space to your backyard.
Using grouting piles has increased as they allow construction in densely populated areas.
Grouting piles such as micropiles can go in all soil types, in various ground conditions, and in access-restrictive environments.
They don't cause much vibration and noise, allowing them to be used in low headroom conditions for underpinning existing structures without compromising their integrity. They eliminate overhead cranes use and can use smaller teams for installation.
Piles with hardened grout can handle a higher loadbearing capacity.
You've learned more about grouting piles. Learn more about commercial foundation repair and replacement.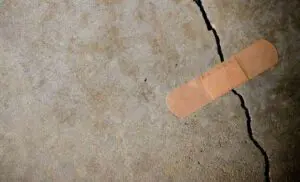 You've learned about grouting piles, what exactly grout is, the purpose of using grout with these piles, when grouting piles are used, and their commercial application. Learn more about commercial foundation solutions and see if Dalinghaus Construction can fulfill your needs.
Check out our Ultimate Guide to Commercial Foundation Solutions.
Consider having Dalinghaus Construction be part of a deep foundation project. Schedule a free project evaluation.
For additional questions or to schedule an evaluation, call Dalinghaus Construction at (877)360-9277.