When you are looking at buying something there are always a number of items that you would like to get checked off to ensure you are making the best decision for you and your family.  Whether you are buying a new car or buying a house these items are in the back of your mind or written down and need to have answers attached to them.  Crawlspace Encapsulation is no different, especially when the literature that is out there is limited at best.
Crawlspace Encapsulation is a construction procedure that involves homeowners that have a Raised foundation on their home or an easier way to think about it, you can access to the underside of your home into the crawlspace.  This type of procedure is needed and recommended with homes or areas that experiencing a lot of moisture or if moisture is present in your home's crawlspace.  The reasons that it is needed are numerous, but the most common reasons that we get from customers is that they want to stop the moisture or water intrusion in their crawlspace, or they usually want to do it for health reasons as the particles from the soils underneath their home are causing them to have complications with breathing or they have someone within their household that has asthma.  
Now let's dive into the costs of crawlspace encapsulation!
First thing that we do when we build out a proposal for crawlspace encapsulation is to get an accurate layout of the home.  We will measure the perimeter walls to generate a floor plan of the home.  Once we have the floor plan we will then begin our inspection of the crawlspace.  When we inspect the crawlspace, we look for things such as the number of post and pads that support your floor and the spacing of those post and pads.  We also analyze the soil conditions of the crawlspace.  If the soils are moist or wet we want to make notes of where that is occurring.  We also want to make sure that you don't have any leaking pipes or drain lines.  Lastly, we will review the structure's floor supports and framing.  We want to make sure that all of the wood components of your home's crawlspace are still in good working order.  We look for any mold that may be present, any cracked beams or posts, as well as any leaning posts and pads, and we will take a moisture reading of a few areas throughout the crawlspace to determine any high moisture concentrated areas.  All of these components are the primary items that we address while we evaluate your home's crawlspace.  
Once we have documented those items we can then start to build out your list of items to address any and all of the issues that you may have or be experiencing.  
Encapsulation Cost
The cost of encapsulating the crawlspace is one of the easier items to plug in and provide you an estimate for.  We take the total square footage of the crawlspace area and multiply it by our cost per square foot, which is $9.36.  So, if you have a 1,000 sqft house the cost to encapsulate the crawlspace would be $9,360.  This price would include laying the 20 mil encapsulation material throughout the entire floor of the crawlspace.  It also includes running up the walls and wrapping the posts so there is no openings for any of the soil particles or moisture to travel through.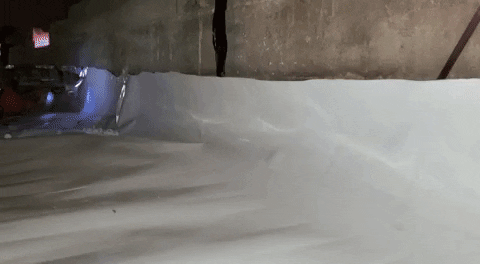 Dehumidifier Cost:
A dehumidifier would need to be installed if you have a very high moisture content within your crawlspace.  The crawlspace doesn't get the luxuries of the other areas of your home, of getting the sun and the breeze from the wind to dry it out at a more rapid rate.  The dehumidifier will help to keep your home's organic materials, such as all of the wood framing, to stay dry and structurally sound.  It will also help to clean the air that comes in before it is pushed up throughout the house.  The installation cost of the dehumidifier is $2,912.  We would also need to hire an electrician to install a dedicated power supply to the crawlspace if one is not present.  This typically runs about $1,000 for the installation.
Sump Pump Cost:
If you are experiencing a large amount of water underneath of your home, you will need to have a sump pump system installed to divert that water away from your home and not have your home's foundation resting on a muddy base.  If this is not installed, it will eventually lead to your home or some of the post and pads to start settling, leading to a whole other series of expensive repairs.  The cost of the sump pump is $2,800 installed with the proper discharge drainage in your home's crawlspace.  The only item that is not included is having a dedicated electrical supply ran to the crawlspace for the pump to run off of.  This would need to be completed by a licensed electrician to ensure proper installation.  Typically, you will only need one of these pump systems within your crawlspace with the limited amount of rain that we encounter in Southern California and Arizona.
Post and Pads Cost:
If we need to add or replace any post and pads it will be noted for you.  The last thing we want to do is to install this new encapsualtion and your home is not structurally sound.  The post and pad installation will be $350 per location.  If there are 10 posts and pads that need to be removed and replaced, it would be a cost of $3,500.
Total costs:
For your base encapsulation price, you have the encapsulation cost of $9,360, the dehumidifier cost of $2,912 to be in your proposal.  This total price of $12,272 will be your base price for the encapsulation of a 1,000 square foot home. Dependent on other items that are present the price can increase from there.   
You can learn more about the health benefits from encapsulating your home by speaking with one of our highly trained project consultants.  They can also let you know of any other foundation related items that you should look for throughout your home.