Cost is an uncomfortable word. It can make your palms sweat and your heart pick up speed. Why? Because generally the final price line is shrouded in mystery, with hidden fees and services tacked on at the end. Well, we understand that can cause a bit of apprehension.
So, we decided to spell out underpinning costs with steel pier systems the best we can to ease those concerns and educate you on how much you should expect to spend. 
Steel pier systems (push piers and helical piers) are currently the industry's favorite for foundation repair. These are complex systems with a variety of factors that play into the final price line.
We have over 100 years of combined foundation repair experience and have fixed thousands of foundations. That's why we are here to help guide you every step of the way – whether you choose to work with us or not.  
This article covers the average cost of underpinning with Dalinghaus Construction Inc. We are going to cover:
  Underpinning Pier location cost
  Underpinning Pier concrete r&r location cost
  Underpinning Pier depth cost
  Underpinning Polyurethane void fill cost
  Underpinning Pier permitting and engineering cost
  Underpinning GPR floor scan cost
  Underpinning Average total cost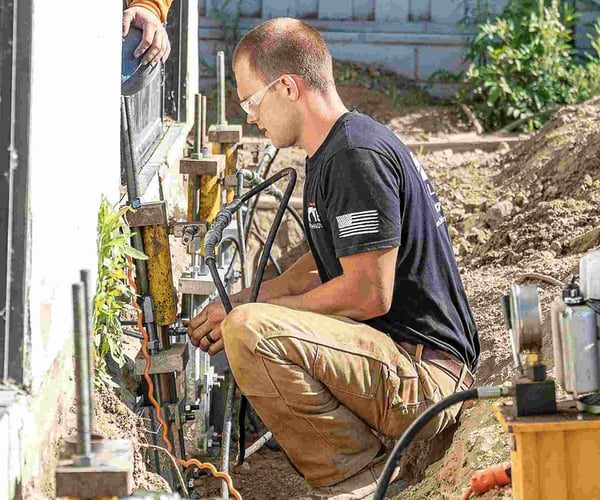 Underpinning: Steel Pier Location Cost
Helical pier and push pier underpinning cost an average of $2,000 to $3,000 per pier location. An average underpinning project requires around 10 pier locations.
10 x $2,000 – $3,000 = $20,000 to $30,000
However, helical piers, due to their installation method (requiring two production crew members to man the hydraulic torque motor) tend to run on the higher end of this range – $25,000 to $30,000.
Granted, this underpinning estimation is with 10 piers. Piers are placed, on average, every six feet along the perimeter of the affected area(s) of your home. The longer the length of the affected area, the more piers that are required to stabilize and secure your foundation.   
Below is a breakdown of x number of underpinning piers and their average cost.
*Note – it is common for underpinning contractors to have a cost minimum for their foundation repair to assure it's worth the time, material, and labor. For example, Dalinghaus Construction Incorporated has a $5k minimum.  
Underpinning: Steel Pier Concrete R-&-R Pier Location Cost
Occasionally, sections of the sidewalk or concrete patios need to be broken up and removed to install the push piers and helical piers. These sections of concrete are immediately replaced once the home has been lifted or stabilized. This is referred to as concrete removal & replacement (or R&R for short). 
Generally, this costs $350 per pier location.
Sticking with our 10-pier location example, let's say 5 of them require concrete R&R.
5 pier locations x $350 = $1,750  
Underpinning: Steel Pier Depth Cost
Generally, here at Dalinghaus Construction Inc. the $2,000 to $3,000 per pier location price comes with no depth clause – meaning we will install the pier system to whatever depth is required to achieve the necessary capacity of the pier.
We do occasionally offer a depth clause option (like many other underpinning companies), but we generally steer customers away from this option because it can get expensive quickly. Depth clauses charge x amount per foot, which can add up fast depending on how many additional feet are necessary to reach load-bearing, competent soil.     
For example, with Dalinghaus, there is an option to pay per pier with a depth clause after 21 feet of material is installed. We charge an additional $35 per additional foot after the 21-foot mark. This can add up quickly, as some pier locations go as deep as 40 feet.  
40ft – 21ft = 19 ft
19ft x $35 per foot = $665
And let's say all 10 pier locations (sticking with our previous example) hit 40 feet:
$665 x 10 pier locations = $6,650
Almost $7k is a big chunk of change. Choosing to have a push pier or helical pier project with a depth clause is like gambling unless you know the target depth from a geotechnical report. Sure, you pay less for the piers upfront, generally a few hundred less per pier, but any potential savings is usually usurped by the added depth cost. 
We suggest you always go with the no depth clause option to avoid stress and change orders.
Read more – What is Shoring Up a Commercial Building?
Underpinning: Polyurethane Void Fill Cost
For slab on grade foundations, after a foundation has been lifted and secured, there is generally a void where the settled foundation used to reside. It is imperative to fill this void to ensure the slab foundation has ultimate support. This deters future cracking and ensures the structural integrity of your slab remains stable. 
Void fill covers the largest area of lift, not the entire home. In other words, void fill is used to fill the gap that is created by the lift of the affected area, returning that affected section of the home to as level as possible.  
Polyurethane is the industry favorite for void fill.
Here at Dalinghaus Construction, this void fill typically costs between $2,500 to $3,000 (we along with most companies have a void fill minimum of $2500).
So, our minimum void fill cost already covers 250 square feet (which is generally enough to fill the void after a lift). If additional polyurethane is required, the price is $10 per square foot.
For example, let's say the void underneath your home is 300 square feet. We subtract the 250 square feet already included in the base price, which leaves us 50 additional square feet.
50 square feet x $10 per square foot = $500
$2,500 (for the minimum 250 square feet) + $500 (for the additional 50 square feet) = $3000
Underpinning: Steel Pier Permitting and Engineering Costs
 Depending on the state, county, and/or city, specific permits can be required in order to underpin a home with push piers or helical piers. These permits can range, depending on location, anywhere between $750 to $3,500.
In addition to permitting fees, engineering fees also play a factor. Engineering fees can range anywhere from $1,000 to $3,500 for structural engineering to $1,800 to $6,000 for geotechnical engineering.
Both types of engineering are not always required, it's completely dependent on your location. These prices reflect the amount of time, investigation, and services required to fulfill the city's requirements. 
Again, every underpinning scenario is its own unique project. The cost will differ depending on your location, but in our experience, engineering and permitting costs an average of $3,000 to $6,000.
Underpinning: GPR Floor Scan Cost
A Ground Penetrating Radar (GPR) floor scan is conducted to determine the thickness of the masonry and concrete slab foundation. GPR scans can see what is below your existing concrete. 
It's important to know what exactly is below your foundation before we start drilling through it, so we don't hit any utilities, such as water, sewer, or gas. After the scans are complete, we mark these utilities out so we can stay clear of them during the underpinning and polyurethane void fill process. 
This is especially helpful for post-tensioned slab foundations (foundations strengthened by rebar wire pulled tautly). It's imperative to not drill into locations where these wires are positioned, so as not to snap them and jeopardize the integrity of the foundation.
GPR floor scans generally cost around $850.
Underpinning: Steel Pier Underpinning Cost in Total
 Now that we have a significant amount of the line items you may see on your underpinning proposal outlined in terms of price. Let's add them together for our mock 10 helical pier location project.
10 helical pier locations (no depth clause) = $20,000 to $30,000
5 concrete R &R locations = $1,750
Polyurethane void fill (250 square feet) = $2,500
Permitting and engineering costs = $3,000
GPR Scan = $850
Total = $28,100 – $38,100
*Note – The final line item is likely to be on the higher end with helical piers.
Below is a line-item example from a proposal created by our foundation repair specialist Mark Cook for the city of Laguna Niguel –
Book a Foundation Repair Inspection
 In this article, you learned how to calculate the average cost of underpinning with steel pier systems by Dalinghaus. You learned about cost per pier to permitting. You also discovered that every underpinning project is different and unique. No two projects are the same, the price can fluctuate significantly. 
For your next step in your underpinning education and to learn more about how push piers and helical piers are installed, read the articles below. They offer an in-depth step-by-step guide of the installation process:  
We've been in the foundation repair industry for a long time. Like the State Farm slogan, we know a thing or two because we've seen a thing or two.  
If you live in Southern California or Arizona and would like to book a free foundation inspection, click the link below –