Hearing the words "deep injection" and "polyurethane" sounds like a painful medical procedure you don't want to endure. That or you're getting ready to prepare a weird turkey dinner.
Thankfully, you're dealing with neither of those things. You don't need to be concerned so much about the cons. Deep injection with polyurethane is used in construction for issues such as void fill, soil densification, and releveling. So don't worry about going to the doctor or preparing a dinner no one wants.
While you'll notice more pros to this process, it isn't without its cons. If only there could be perfection to everything, but you'll always find some flaw.
Dalinghaus Construction has been doing deep injections with polyurethane in areas of Southern California, Nevada, and Arizona. Our projects involving deep injections with polyurethane have been effective for void fill, soil densification, and releveling. We've also seen when projects don't exactly go to plan.
We want you to understand the pros and cons of deep injection with polyurethane.
What is the purpose of deep injection for construction?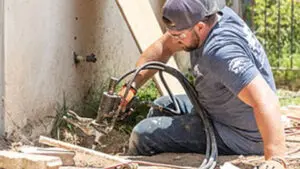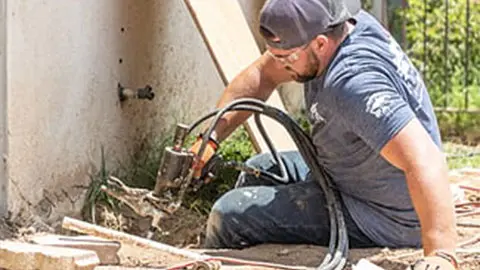 Deep injection is used for void fill, soil strengthening, soil densification, and lifting. This involves systematic layering to densify the soil.
Deep injections are often done with slab-on-grade foundations after lifting a home. Soil stabilization and void fill will happen to stabilize your foundation. This could maybe happen with a raised foundation if the soil is super loose, but slabs need that soil densification.
Void Fill
You can take the term very literally. Deep injection won't help with the void in anyone's heart. That's a personal issue you should figure out with your therapist.
Voids are filled in the soil using polyurethane. Same with micro voids.
Void fill will happen acting lifting a home that has settled. That way slabs for slab-on-grade homes will have stable soils underneath.
You'll also have void fill used to densify soil on hillsides to prevent lateral movement.
Structural support
This goes back to the void fill portion. Soil becomes denser as voids are filled. Denser soil is much better at structural support rather than doing nothing. Soil densification is necessary to prevent future foundation settlement.
Releveling
Injecting a substance into the ground naturally causes expansion up, down, and all around. Soil being pushed in all directions can also lift buildings (a little bit).
What's crazy is there is a solid foam that can lift buildings when injected all the while being as hard as concrete (when hitting a certain PSI) to stabilize the soil.
You can also relevel concrete, rather than removing and replacing it, which can cost more.
Fun fact – Injecting polyurethane under a sinking road and lifting it can have it working as well as new in 15 minutes. Dalinghaus Construction has been able to do this before. And cars were able to drive comfortably.
Deep injection for void fill and soil densification will happen with polyurethane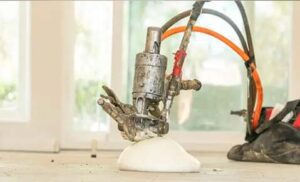 Deep injection through mud jacking used to be more prominent but is a more archaic method of deep injection. Like medicine, construction and foundation repair have learned to adapt to modern times.
Mud jacking involves using mud, another word for concrete, and injecting it into the ground for soil densification. The process is incredibly messy. The outcome looks like a concrete food fight.
Many contractors have transitioned to polyurethane, which is a far more effective and clean method for void fill, soil densification, and lifting.
What is polyurethane?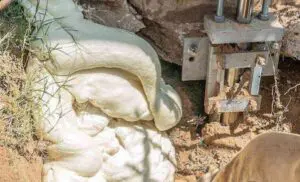 When it comes to construction and void fill, polyurethane comes out as a foam that can sustain a large load and be hard as concrete. It is an injectable polyol and isocyanate resin that expands when the compounds make contact.
In the context of this article, we're talking about polyurethane for construction. Polyurethane has other uses in areas such as flooring, furniture, and medicine.
Spin a category wheel and see if polyurethane is part of it.
Polyurethane is light
There is another form of deep injection that uses "mud," a term used for concrete. Concrete is heavy before and after it cures, weighing around 140 lbs per cubic foot.
Compare this to polyurethane foam, which can weigh 3-5 lbs per foot.
And polyurethane foam cures faster than concrete. Concrete can take weeks. Polyurethane foam takes 15 minutes to cure.
Polyurethane is environmentally friendly
We know the name "polyurethane" sounds like a complex medical procedure using some kind of radiation. Don't be fooled. Polyurethane is environmentally friendly to the point it's used to make pacemakers put in the human body.
Polyurethane foam is non-invasive, non-polluting, flame-retardent, and waterproof. Those are some hazards you get to avoid right there.
You don't need to worry about the safety of yourself, your significant other, your kids, or the family dog. There's no need to worry about turning into a zombie due to radiation.
Pros and cons of deep injection with polyurethane
Pros
Non-invasive.
Addressing the soil issue.

Push piers and helical piers don't address voids in the soil.

Cost-effective.
Environmentally safe.
Longevity.
Better than mud jacking.
An engineered solution that's been around longer than piers.
Various uses.
Lighter than concrete.
Cons
Cannot DIY

You can't get the material or expertise to do deep injection for void fill, soil densification, or releveling on your own. It's a specialty product.
Professionals have certifications to perform this task.

Doesn't work as well with highly expansive soils.

Deep injection with polyurethane can still work with this type of soil, though it works better with grainier soil.
While it can still work, it doesn't exactly stop the highly expanding soil from moving. This method would have to be reinforced with some type of underpinning to prevent movement to your home.
Learn more about deep injection with polyurethane for your void fill, soil densification, and releveling needs
You've learned about the purpose of deep injection, how it is done with polyurethane, what polyurethane is, and the pros and cons of deep injection with polyurethane. Expand your knowledge like a hardening foam on the subjects of deep injection for construction and polyurethane.
Take a look at our article that answers the question of if you can use polyurethane without underpinning for foundation repair.
For additional questions or to schedule an evaluation, call Dalinghaus Construction at (877)360-9277.