Are you a homeowner who's wondering what foundation piers are used for? If so, don't hit that back button because that's what we're going to talk about in this article. We'll dive into the basics of foundation piers, including what they do, why they're used, how they're installed under your foundation, and more.
What Are Foundation Piers, And What Are They Used For?  
Foundation piers are tools used to repair foundations experiencing differential settlement. This is when a foundation settles unevenly into the ground. Differential settlement puts a lot of stress on a foundation and can cause severe structural damage if left unrepaired.
Foundation piers essentially extend the home's foundation down to soil that's strong enough to support it. This strengthens and stabilizes the foundation and restores its structural integrity.
Types Of Foundation Piers  
There are various types of foundation piers. The most popular are push piers, helical piers, drilled concrete piers, and slab piers.
Push piers  
Push piers are driven into the ground using the weight of the building and hydraulic pressure. Once they're in place, a synchronized hydraulic lifting system raises the foundation to maximum practical level.
Helical piers  
Helical piers look something like giant corkscrews and are turned into the ground until they reach the load-bearing strata. As with push piers, once the helical piers are in place, a synchronized hydraulic lifting system lifts the foundation.
Slab piers  
Slab piers are push or helical piers installed through the slab. Because they're installed from inside the house through the slab, they don't require excavation.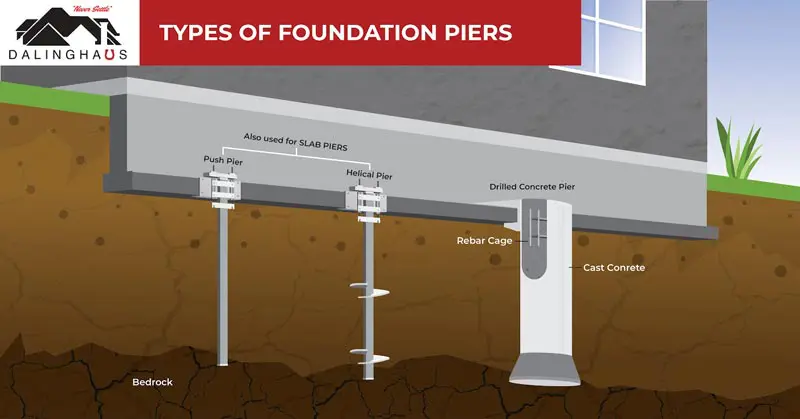 After a thorough inspection, your foundation repair contractor will know which type of foundation piers are right for your foundation.
How Are Foundation Piers Installed?  
Push piers are probably the most common type of foundation pier used to stabilize a settled foundation. Here's the general installation process:
First, the foundation repair contractor excavates down to the footing.
Next, heavy-duty steel brackets are attached to the footing.
Steel push piers are inserted through the brackets and into the ground using the weight of the structure and hydraulic pressure.
Once the push piers have been properly installed, a synchronized hydraulic lifting system raises the foundation.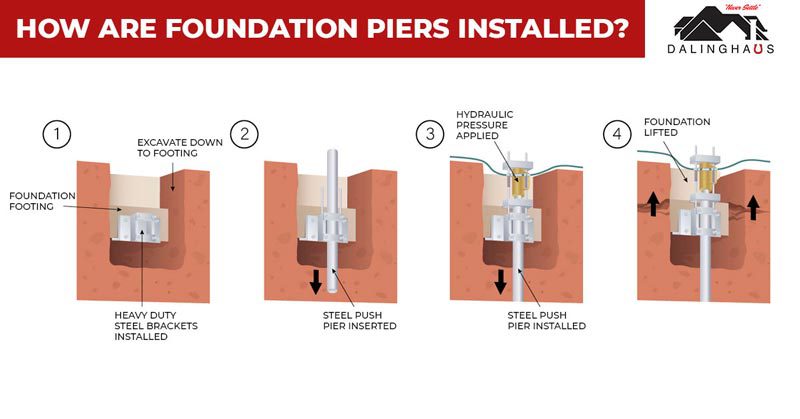 Learn more here:
Installing foundation piers to correct differential settlement is not a DIY project. It's a job performed by experienced foundation repair contractors only.
The Importance Of Hiring A Professional When Dealing With Foundation Issues  
If you're a homeowner, you want to resolve any foundation issues quickly and efficiently in order to ensure your home's structural integrity. You probably also want to do that in the most cost-effective way possible, right?
We get it.
However, attempting foundation repairs without proper knowledge and experience can be an expensive mistake. The slightest miscalculation when attempting a DIY project can become an even larger problem down the line that could cost you much more money to fix.
In fact, when it comes to installing foundation piers you won't be able to even attempt it because you won't have access to the proper equipment necessary. Therefore, it's vital to reach out to an experienced professional contractor specializing in foundation repair who can assess your foundation issue, provide you with the right repair solution, and then offer sound advice on keeping your foundation healthy and strong.
Is It Ok To Buy A Home With Foundation Piers?  
As we've noted above, foundation piers are used to stabilize and strengthen a foundation experiencing differential settlement. Although it might be alarming to discover that the home you're looking at has foundation piers, this doesn't necessarily mean you should walk away.
The important thing to remember is that foundation piers are there to provide the necessary support when there are soil issues and, therefore, can serve as protection against future damage.
The presence of foundation piers doesn't mean the foundation is weak. On the contrary, the previous owner spotted a problem and had it fixed. With foundation piers properly installed and good maintenance, you probably won't have any further trouble with the foundation. However, it's still essential to consult with a foundation repair professional so they can tell you more about the foundation's condition before committing. In other words, never sign on the dotted line until you get a pro to give you the thumbs up.
If you think your home's foundation might need to be strengthened and stabilized using foundation piers, contact us today to schedule a free foundation inspection. If we find a problem, we'll provide you with a repair estimate. We serve Southern California, Arizona, and Nevada.