Does your foundation need to be lifted, leveled, or otherwise stabilized? Maybe your foundation repair specialist suggested push pile or screw pile underpinning, but you're not quite sure what all that entails. If you want to learn how pile driving can relevel or stabilize your settled foundation, this article is for you.    
Our team here at Dalinghaus Construction Inc. has helped hundreds of Orange County residents reclaim their homes through steel pile underpinning. We believe educated homeowners make the best decisions, so we're here to school you on all things foundations repair – including pile driving.
In this article, you will learn what pile driving is (in terms of foundation repair) and how push pile and helical/screw piles can help you secure your home against foundation settlement.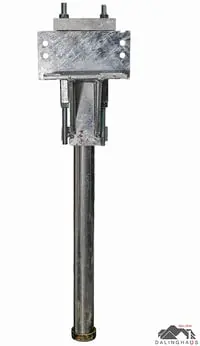 What is Pile Driving?
Pile driving is the act of hydraulically punching piles/piers (of various materials and sizes) into   soil for construction purposes – cofferdams, bridges, foundation repair, and other "pier" related projects. Pile driving can be utilized to create deep foundations for new construction or used to repair and shore up settled foundations.
Pile driving creates a series of columns that transmit a structure's load to competent, load-bearing soil beneath grade.
Piles are generally comprised of concrete or galvanized steel. In the foundation repair game, piles are referred to by many different names: piles, piers, caissons, and so on. The constant across the board, regardless of material or size, is the cylindrical shape that provides incredible strength and support.
The act of driving piles down to support an already existing and settled foundation is called underpinning. Underpinning provides an underground steel stilt support system, lodging into bedrock or competent soil.
To learn more about the intricate process of underpinning, read our article: What is Underpinning (Definition, History, & Types).    
Pile Driving and Foundation Repair: Push Piers & Helical Piers      
IIn Orange County, the most common form of piles utilized for foundation repair/underpinning are push piers and helical piers. Push piers and helical piers are galvanized steel pipes that are hydraulically driven to competent, load-bearing soil and anchored to a foundation's prepped footing via a remedial bracket to secure, stabilize, and/or lift a structure. 
Push piers and helical piers are:
  Comprised of galvanized steel to impede rust/oxidization
  Constructed with maximum load capacities ranging from 68,000 to 74,000 pounds
  Generally driven to a depth of 25 to 30 feet
  Comprised of three main components: remedial bracket, starter, & extensions
  Utilized every six feet along the affected section of the home
Push piers are similar to nails – they're smooth cylinders that are driven into the ground via hydraulic rams that utilize the weight of the home. Push piers are not great options for lighter-weight structures, such as decks and single-story homes. However, push piers are perfect for second-story homes and heavy structures.  
Helical piers are similar to screws – they're smooth cylinders spiked with helices that lodge into bedrock or competent, load-bearing soil. Helical piers are implemented through extreme torque via a torque motor which is pinned to a torque bar.  Helical piers are a great option for lighter structures.
Pile driving and utilizing steel pier underpinning can help you:
  Level/lift your home
  Stabilize your home against further settlement
  Reduce stucco & drywall cracks
  Eliminate floor slope
  Secure your home for a remodel
In conclusion, underpinning your home through pile driving can secure your home against foundation settlement caused by expansive soil. Expansive soil is the No. 1 cause of foundation settlement in Orange County.
To learn more about expansive soil, read our article: What is Expansive Soil & How Does it Cause Foundation Settlement?