Foundation Repair In
The City of Phoenix
Arizona has its fair share of foundation issues, whether it's due to foundation settlement, foundation heave, or water sticking around after the rare rainy season and sticking around your foundation. Phoenix, AZ, is susceptible to foundation issues from these possibilities.
Unfortunately, anywhere in Arizona is susceptible to foundation issues. Thankfully, they can always be fixed. Dalinghaus Construction has done over 2000 foundation repair projects since 2015, working in Southern California, Nevada, and Arizona, especially Phoenix. We've finished foundation repair projects involving foundation stabilization, foundation leveling, concrete removal and replacement, and crawlspace repair.
We've become a trusted source when it comes to foundation repair, having the expertise to take on any projects involving homes or businesses and making sure they never settle.
How will I know if my Phoenix, AZ, property will have foundation issues?
Foundation issues are simple to identify, exposing themselves to more than one sign. If you find only one, it likely isn't foundation related. But if you're having foundation issues, you'll want to contact a foundation repair contractor.
Phoenix, AZ, and the rest of the state is interesting in terms of weather. You might know it to be dry and hot in the summer. But remember when the monsoon season hits? It doesn't hold back a punch. It hits hard.
And for some reason, Arizona doesn't believe in drainage, which means the water that hits your property is going toward your home instead of away from it. It puddles and sticks around your foundation like someone who stayed at a concert venue when the show was over hours ago. The result is in either concrete spalling (where the concrete starts to flake) or rebar blowout, which involves the rebar in the concrete oxidizing.
The soil in Phoenix, AZ, is fascinating with its clay and loam soils. Homeowners and business owners experience soil susceptible to expanding and shrinking depending on the moisture levels, temperature, and other environmental factors. This results in areas of your home or business being susceptible to foundation settlement or heaving.
Conditions like this are what make a trusted professional with foundations essential to the betterment of your property. Dalinghaus Construction offers quality foundation repair services in Arizona, ready to prevent your foundation issues from getting worse.
What does the foundation repair process look like in
Phoenix, AZ

?
We make the foundation repair process for any location as easy as possible. One of our Project Design Specialists will come to your home for your scheduled free 60-90 minute foundation inspection. A diagram of your home with floor elevation measurements will be documented to evaluate your property.
Next, you'll have a repair plan created by the Project Design Specialist on what was found during the inspection. You'll receive a full report, a CAD drawing of your property, and a recommended repair plan.
Finally, your foundation repair will be underway based on the plan proposed and the required city permits.
What are the most common methods for foundation repair?
There are various methods of foundation repair depending on which contractor you go with. Dalinghaus Construction uses a couple of foundation repair methods to stabilize your home.
Galvanized steel push pier and helical pier underpinnings are put into the soil until reaching competent soil. Push piers, as implied by the name, are hydraulically pushed into the soil, whereas helical piers, with helices at the base, are screwed into the ground using a helical torque motor. Both systems will be attached to your concrete footing to prevent your home or business from moving with the soil.
Think of it this way: if five feet of your soil were removed from under your home or business, your home would stay in place.
Push piers and helical piers can stabilize and you can choose to lift your home to have it back to maximum practical recovery.
And when it comes to a large portion of Arizona, many of the homes don't have good drainage. Phoenix isn't an exception. The water will stay next to your home for too long and cause damage to the foundation. Concrete removal and replacement might be necessary so you don't have to experience your home having foundation issues exacerbated.
How are foundation cracks repaired?
Foundation cracks are simple to repair. You would hope to hear that from a foundation repair contractor.
Epoxy is a resin that is gravity fed into the crack until it's filled and dried. It keeps the foundation together like the greatest superglue you've ever purchased.
Carbon fiber stitching uses tiny pieces of carbon fiber to cover a crack and prevent others from coming. They offer extra strength and keep water from seeping into the cracks.
Why should I do foundation repair in
Phoenix, AZ

?
Your home doesn't look good from those cosmetic issues. When your home has foundation issues, cosmetic problems are the first thing you'll see, whether it's cracking on your walls or noticeable gaps. Foundation repair allows you to stabilize your foundation and address those cosmetic issues without worrying about them coming back because of your foundation.
Foundation issues don't magically get better. There might be temporary solutions that act like a bandaid, but a damaged foundation always comes back. Foundation repair will rectify those issues your home or business has been facing.
Foundation issues cause only cosmetic issues the vast majority of the time. However, they can become structural if it's left unaddressed for a long period. Structural issues can leave your home red-tagged. Foundation repair will make it so structural issues won't appear from foundation problems.
As you experience foundation settlement or heave, your floors might feel off and start to the slope as though you're fighting an uphill (or downhill) battle with your home. Choosing foundation repair to lift your home or business will have your floors feeling relatively level as though you can place a marble down in the area previously affected and it won't move.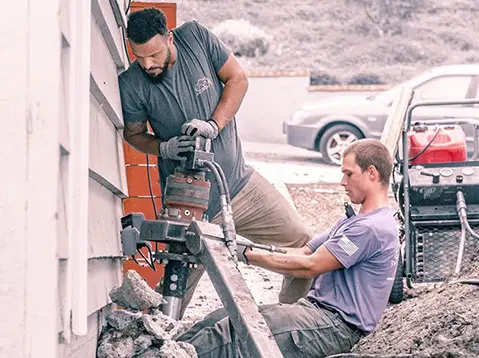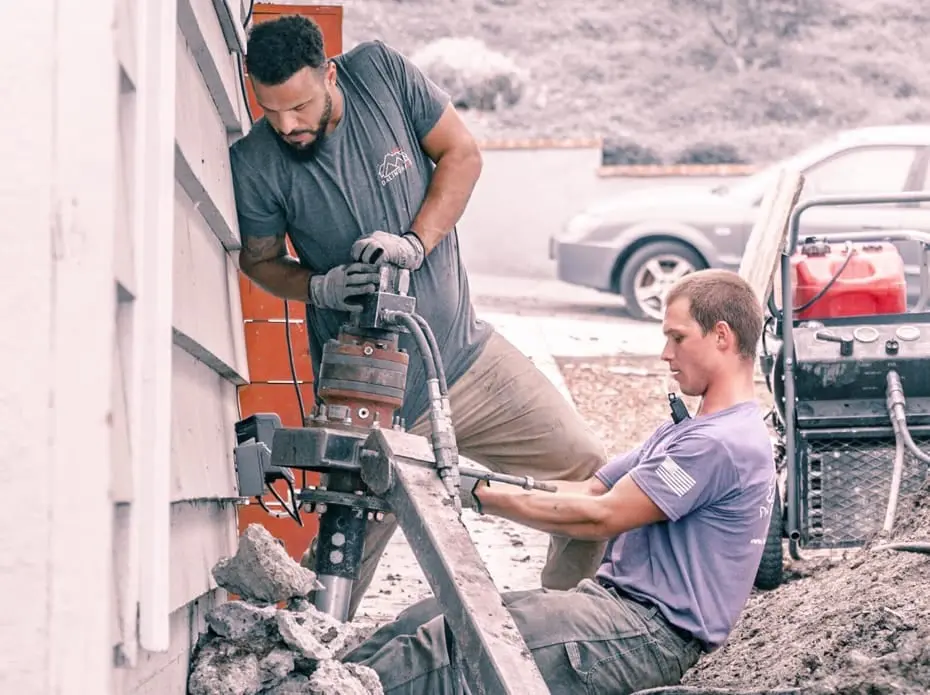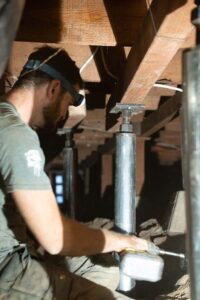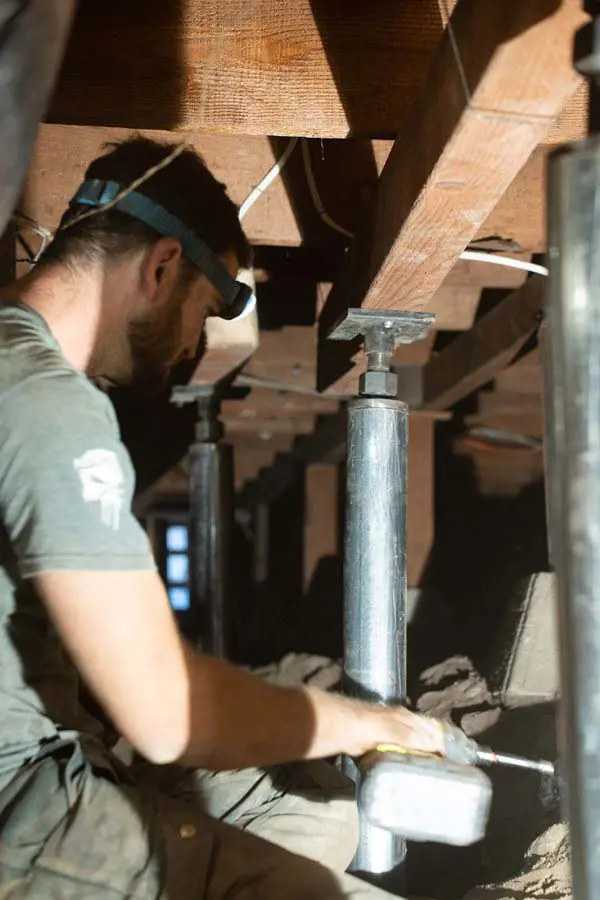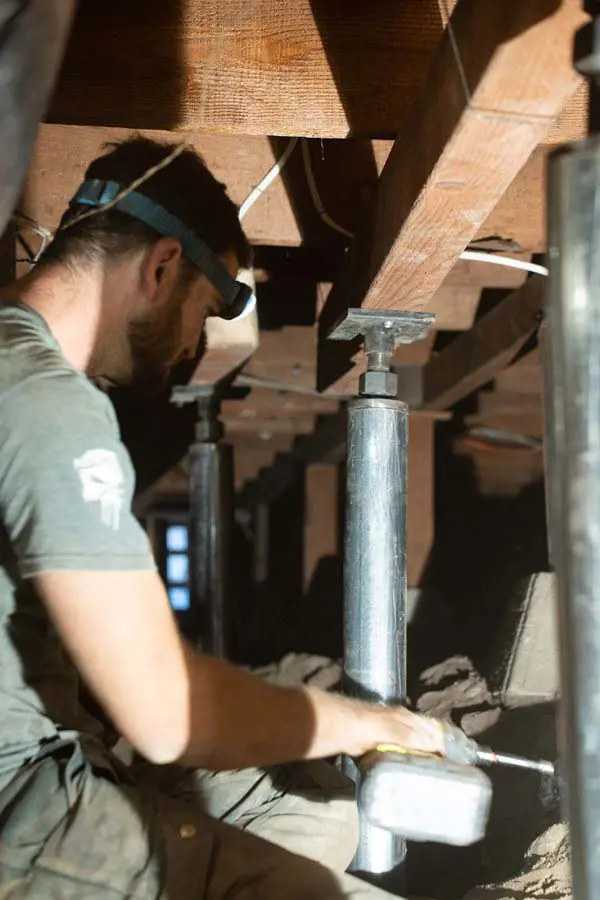 You can choose whether or not you will work out on certain days. Foundation settlement or heave will make your day-to-day feel more like a workout, especially as it makes doors and windows feel sticky. So opening and closing these things might make you break a sweat. However, you will no longer need to break a sweat to get those windows and doors open with foundation repair.
If you're looking to maintain the value of your property, you need to make sure your foundation is okay. Foundation issues legally need to be disclosed when you put your property on the market. You don't want to limit your potential buyers. Cash buyers can negotiate the price of your home down by 30%. Foundation repair will broaden potential buyers and let you sell your property at full value.
Concrete spalling isn't the biggest deal when it comes to a damaged foundation. It can indicate issues coming in the future but isn't nearly as bad as rebar blowout. Rebar blowout isn't only a source of foundation issues; it can accelerate them. Concrete removal and replacement can have your foundation working as well as when your home or business property was originally built.
Foundation repair will be in your best interest so you maintain your investment. You can make sure you, your family, and your workers feel okay and safe. You can all have some peace of mind.
Schedule your foundation inspection for your Phoenix, AZ, property
Foundation issues are issues for a reason. They're meant to be taken seriously, making your home feel more like a home, or so people are comfortable walking into your business.
For these reasons, you want to schedule a free 60-90 minute foundation inspection for your Phoenix, AZ, property.
Note – a foundation inspection is free if your property is not on the market. Real estate foundation inspections will cost $1000, which is credited toward your foundation repair.
Don't wait on your foundation repair – schedule a free foundation inspection today!