Maintaining a good quality of life while maintaining the comfort of a tight-knit community, La Verne, CA, is considered one of the best places to take residence in California. There are also areas commercial properties can thrive when businesses have plenty of restaurants and coffee shops.
But like any of the best places to live, there are still issues residential and commercial property owners have to deal with. Foundation and crawlspace issues don't match the "best place to live" sensation La Verne, CA, is known for.
You can get the best foundation and crawlspace repair to fit with the rest of the city. Dalinghaus Construction has been in the foundation repair business since 2015, servicing over 2,300 residential and commercial properties in Southern California, Arizona, and Nevada. If you're looking for solutions for your foundation or crawlspace, look no further than Dalinghaus Construction.
Signs of foundation and crawlspace issues in La Verne, CA
Don't worry about having foundation issues if you only find one of these signs. It might be unrelated to a larger issue with your residential or commercial building. Contact a reliable, qualified, and licensed foundation repair contractor to look at your property.
Are you feeling the floor of your raised foundation sag? Chances are you have a crawlspace issue. Problems with your crawlspace can result from a larger foundation issue, though this isn't always the case. The wood supporting your floor may be deteriorating. That or your posts and pads aren't supporting the wood holding your floor.
The soil on your property might be causing foundation settlement, meaning the area of your residential or commercial building is sinking into the soil. This can either be due to soil erosion or expansive soil shrinking from being too dry.
If you're seeing any of these signs of foundation or crawlspace issues, have a professional come inspect your property and come up with a repair plan that's best for you.
Your foundation repair process in
La Verne, CA
A FREE 60-90 minute foundation inspection will happen after you schedule an appointment. One of our Project Design Specialists will drive to your property to go around, look for signs of foundation or crawlspace failure, figure out the exact issue you're dealing with, and later create a repair plan. They create a scaled drawing of your property with floor elevation measurements to help you understand what exactly is happening with the building.
Properties on the market will have a foundation inspection cost. Real estate foundation inspections are $1,000. The money is credited toward your foundation repair.
You'll then receive a recommended repair plan from your Project Design Specialist the day of or after your initial foundation inspection. You'll receive a funn report on what was found during your initial inspection, a CAD drawing of your property, and the recommended repair plan.
It's up to you whether you want to move forward with your repair after receiving everything. If you agree to continue, your foundation or crawlspace repair project date will be scheduled. One of our production teams will complete your project, making it so you don't have to deal with these issues on the property again.
The foundation and crawlspace repair methods used for your
La Verne, CA
Dalinghaus Construction used galvanized steel Push pier and Helical pier underpinning systems to stabilize your home from foundation settlement. The system used depends on the weight of your commercial or residential building.
You'll have Push piers hydraulically driven into the soil using the weight of your building until reaching loadbearing strata. Think of them like a nail being put into wood.
Helical piers are different since they have helices at the base. They're more like a screw. Helical piers are used when a building is too light for Push piers to be effective. They're put into the soil separately using a helical torque motor until reaching the recommended torque. They're then attached to brackets bolted onto the concrete footing.
Both systems have the primary function of foundation stability, though they can both be used for foundation leveling. This means the area of your building affected by settlement is lifted to be as close to level as possible.
You need to fill voids and densify the soil if you're dealing with soil erosion or you went through with foundation leveling. The perfect solution for this is deep injection with Polyurethane foam, which is effective for void fill, soil densification, and releveling (under certain circumstances). Polyurethane foam is rapidly expansive, cures in 15 minutes, is as hard as concrete when under enough pressure, is lightweight, and is environmentally safe.
The way crawlspace repair is done is by having one of our production teams go into your crawlspace to replace deteriorated wood like girder beams or installing crawlspace jacks to hold up the subfloor. Either way, you'll have your floor feeling level again.
Foundation crack repair methods
One way to fix a foundation crack is using Epoxy, a glue-like resin, and have it gravity-fed into the gap until it fills and dries.
Another method is using Carbon Fiber wrapping, which is applied onto a crack to provide extra strength. It also keeps water out of the crack so it doesn't cause rebar to rust and cause a blowout.
Reasons to have foundation repair in
La Verne, CA
If there's one thing foundation issues are good at doing, it's creating cosmetic damage to the interior and exterior of your property. You can fix cosmetic damages without worrying about them coming back because of your foundation.
While this doesn't happen often, the damage can go from cosmetic to structural if you allow the issues to continue. This puts your property at risk of being red-tagged.
You can try to hide the damages, but they're likely to come back if you don't fix your foundation. Foundation repair lets you make those fixes more permanent.
Do the most simple things you do in your residential or commercial building feel more difficult than usual? Windows and doors feel sticky when you open or close them or you feel like you're walking uphill in your building. Foundation damages affect your day-to-day living when those simple tasks feel more difficult.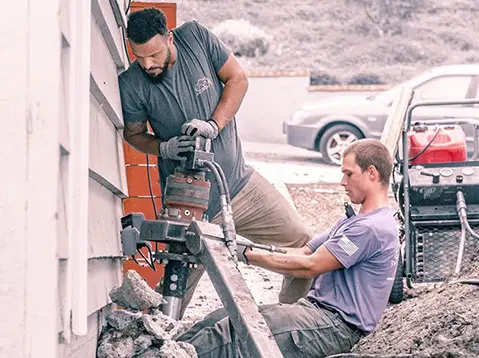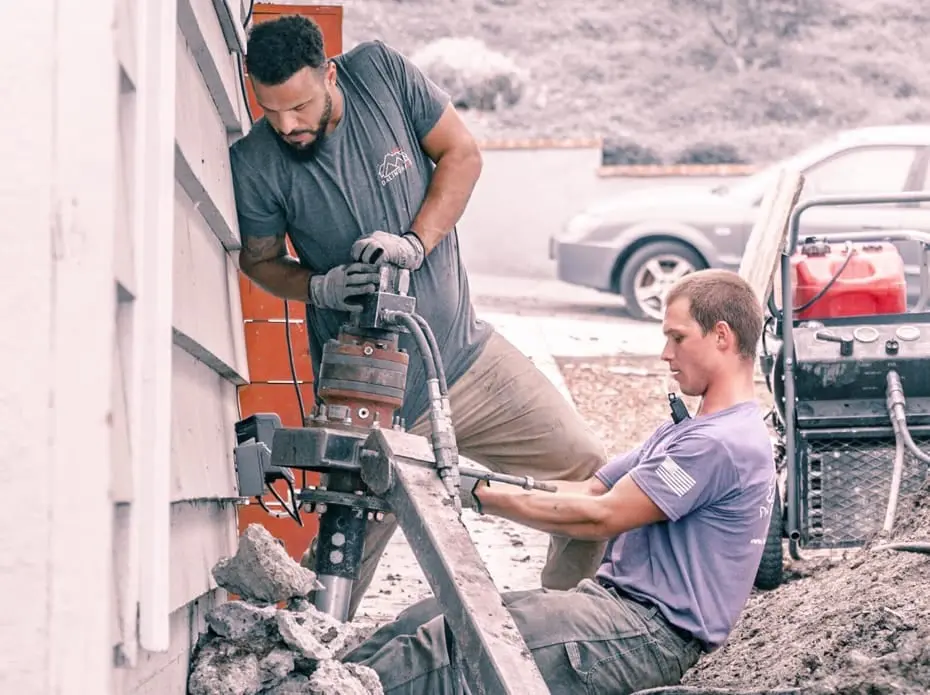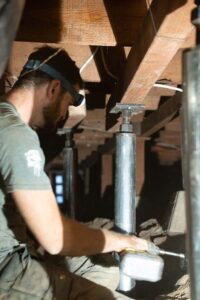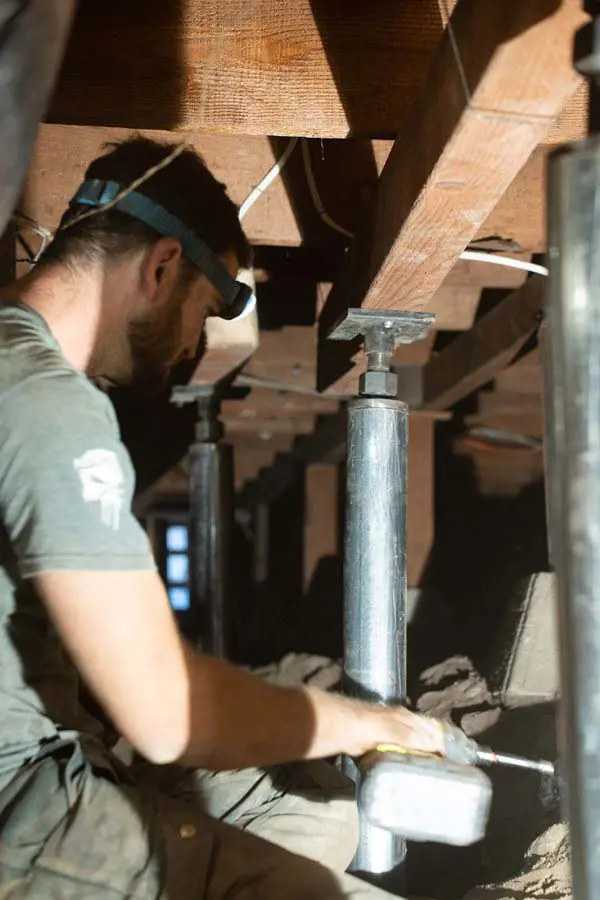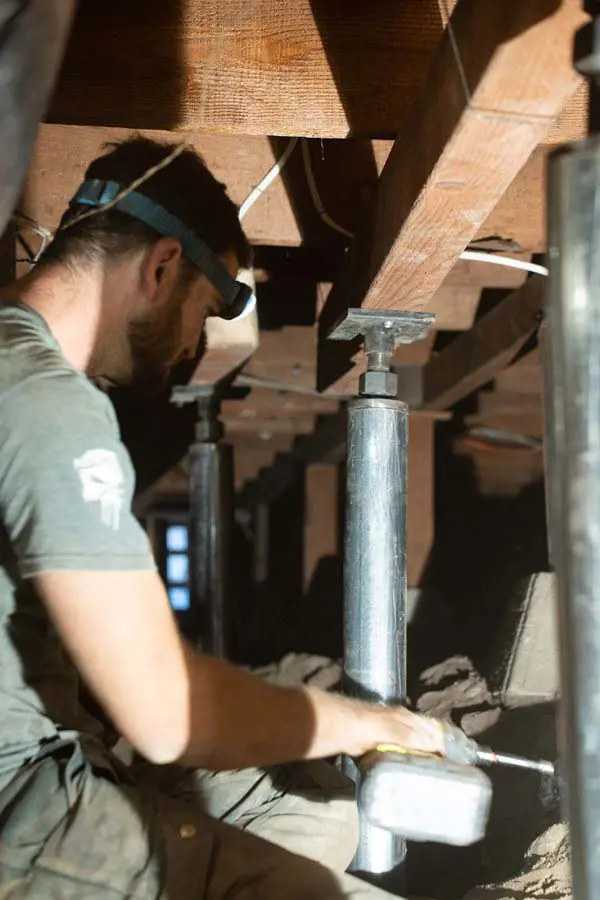 Crawlspace issues create saggy floors, which is a hazard. They can cause your to trip or even collapse if you don't make them level and supported again. Crawlspace repair will eliminate that hazard and provide a flat floor.
If you're looking to remodel, you'll want your foundation repaired. You don't want to do a remodel only to have your foundation issues worsen and damage everything you've paid for.
Foundation issues affect the value of your residential or commercial property. Any property put on the market needs foundation issues to be legally disclosed. This can diminish the value of your property by 30% when you're restricted to cash buyers.
Foundation and crawlspace repair are great ideas for the longevity, stability, and value of your residential or commercial property. Make sure your property can last a long time, whether you decide to sell it later on or you want it to last longer than you do.
Schedule a foundation inspection for your La Verne, CA, property
Take your foundation and crawlspace issues seriously. They're intimidating, but you don't have to go in alone. You have plenty of qualified and licensed contractors who can help you.
Dalinghaus Construction is ready to help you for the sake of your property and peace of mind. Let us go around your property, go into that claustrophobic crawlspace, and figure out an optimal solution to fulfill your needs.
To get started, you can go online or call Dalinghaus Construction at (877)360-9277 to schedule a foundation inspection today.