`I don't care who you are, man –
Maybe you're in the Russian Mafia or just a cool guy still kickin it in a bitchin' tracksuit and gold chain like it's the 90's – polyester is sexy.  
Okay, so my wife and kids don't really agree; but here at Dalinghaus Construction Inc., we believe polyurethane is just as sexy as polyester.
Polyurethane expands, it supports, it's flame-retardant and water-resistant, what's not to love. Okay, before you accuse me of Pollyannaism, polyurethane really does miracles.  
Check out our exhaustive Ultimate Guide To Foundation Repair.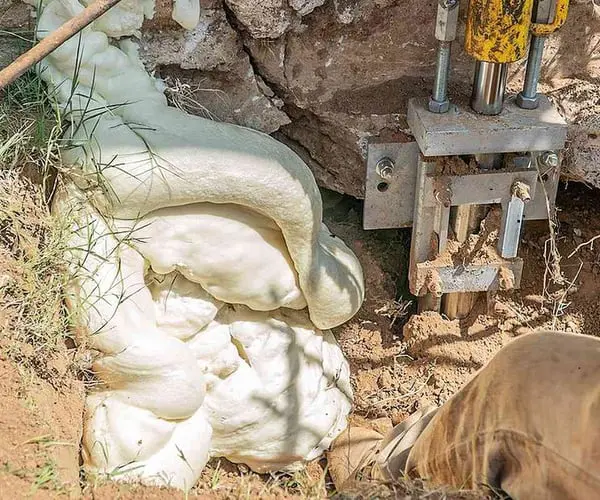 In this article, we are going to discuss:
What is Polyurethane Foam?
Construction Applications
The 5 Steps of Polyurethane Foam Application   
What is Polyurethane Foam?
Polyurethane foam is an injectable polyol and isocyanate resin sealant, insulation, grout which expands upon application providing void fill, structural support, and re-leveling properties. Polyurethane foam is waterproof, flame-retardant, noninvasive, and nonpolluting, weighing 3.5 to 5 pounds per cubic foot and reaching 90% compression strength after 15 minutes. Polyurethane can hold 7,200 pounds per square foot.
Polyurethane is a chemical compound that is implemented in liquid form before it expands into a solid, incredibly strong foam.
Due to its initial liquid form, polyurethane permeates perfectly into cramped, difficult-to-reach spaces – such as void under sidewalks, patios, or foundations.
Polyurethane is environmentally inert and poses no danger to the environment.
Here at Dalinghaus, we use AP LIFT 430, which is certified by Truesdail Labs to NSF/ANSI 61-5 (approved for contact with drinking water). 
Fun Facts with Brian – Did you know due to weather, seismic activity, and expansive soil, holes/voids can form underneath concrete flatwork, compromising the structural integrity of the slab. This is where polyurethane shines brightest.
Polyurethane is a considerably lighter alternative to Mudjacking (utilizing cement to reinforce, raise a previously settled structure). 
Mudjacking can act as an anchor and further sink whatever it was initially support, weighing an astonishing 140 pounds per cubic foot.
That's 97% heavier than Polyurethane.  
Also, unlike Mudjacking, Polyurethane does not rely on the pressure of installation to lift up the slab, it relies on the expanding power (rather than the application force) to get the job done.   
This helps make it a cleaner, less invasive process in addition to the smaller installation sites. Mudjacking holes can be 2 to 2.5 inches in diameter as opposed to 3/8ths inch for poly.   
Fun Facts with Brian – Polyurethane is not just environmentally safe, it's safe enough to be surgically inserted into your body (once cured). Polyurethane is so safe it is utilized in pacemakers.
In addition, its cure time is considerably faster than Mudjacking, which can take up to 28 days to cure.
This quick curing time allows for immediate use, with little to no concern for load-bearing capacity at a 90% cure rate in 15 minutes.
Polyurethane Construction Applications  
Polyurethane is used for a variety of applications.
Polyurethane Foam is utilized to:
Repair Cracked Concrete Slabs

Repair Settling/Sinking Concrete Slabs

Repair Settling/Sinking Foundations

Repair Void Fill

Permeate and Densify Soil
Quick Characteristics of Polyurethane:
Polyurethane is waterproof, water retardant, and non-water-soluble making it the perfect candidate for underground application in any climate   
Polyurethane does not chemically react with moisture or soil
Polyurethane does not leak adverse chemicals into the substrate and is inert, environmentally neutral and does not contribute to water contamination       
Polyurethane cures quickly, solidifying up to 90% full strength in 15 minutes
Polyurethane is adaptable across a wide variety of applications. It can easily withstand various temperatures, weather conditions, and soils.
Polyurethane is relatively noninvasive (particularly when compared to Mudjacking)
While polyurethane has various applications, the installation process is pretty much the same across the board. Our 5-step process is applicable across the different implementations of polyurethane deep injection.  
Before we begin, it is important to note that Polyurethane is often used in conjunction with other lifting/stabilization systems – such as push piers, helical piers, and helical tiebacks (all of which are covered by a lifetime warranty here at Dalinghaus).  
Steps to Polyurethane Lifting  
Drill holes
Application gun
Void Fill
Patch Drill Holes
Clean up and Cure
Drill Holes
Holes are punctured into the slab via a 3/8th drill bit in a grid pattern. These holes are implemented 18 to 24 inches apart depending on the size of the void/affected area and soil conditions.    
The resulting hole is about the size of a nickel.
The void is then probed for depth with a long bit or rebar pole.  
Application Gun
It is important to note that polyurethanes are formed when a polyol (a type of alcohol containing multiple hydroxyl groups) reacts with a diisocyanate or polymeric isocyanate.
This is just a fancy way of saying: it takes two to tango.  
The two separate chemicals mix at the nozzle of the gun, instigating a chemical reaction as the slurry is ejected via pneumatic fluid control.
The chemicals e x p a n d very quickly, filling every nook and cranny with ease, providing support.   
We can regulate the reaction/rise time by controlling the liquid temperature and altering the chemical makeup. 
For example, deeper applications we can finess to delay expansion by over sixty seconds. Shallow injection sites can be filled in 5 seconds. 
It all depends on the situation and is a case by case basis.     
Void Fill
Polyurethane is for soil what chocolate cake is to the soul – an attempt to fill a void. As the polyurethane expands it compresses and densifies the soils, filling any voids or fissures.
We go until there's a little bit of lift on the slab, which indicates there's enough pressure. The foam compacts and stabilizes the surrounding soil, providing support.   
Patch
 The holes are then patched with mud to match the original concrete.  
Clean up and Cure 
Then, all that's left is to clean up and wait for the new concrete to cure. And it looks like we were never there.
Polyshore
 If you enjoyed this article, read more of our blog.
You have now witnessed the full strength of street knowledge when it comes to polyurethane. If you would like free tickets to a Pauly Shore standup about Polyurethane in pink polyester, click the link below –  
*(Okay, so, the link below is actually for a free foundation inspection if you live in Southern California or Central Arizona, which is actually just as exciting) –