We get it – foundation repair isn't cheap. Rather than paying a professional for foundation repair, fixing the problem on your own keeps a good chunk of change in your pocket. However, a DIY foundation repair project isn't always the best decision.
Don't get us wrong – it's possible to do some DIY foundation repair projects without hiring a contractor. But not all of them. You have to consider the problem, the materials needed for the repair, if you're doing the fix properly, if you can make the problem worse, and if you can put yourself in danger.
Dalinghaus Construction has over 100 years of combined experience in Southern California, Arizona, and Nevada, doing over 2,000 repair projects ranging from replacing posts and pads to foundation underpinning using galvanized steel piers. We have done plenty of projects to understand what you can do on your own and what may be too much for you to do yourself.
You need to understand what projects you can take on and others you shouldn't do on your own.
When you can and can't DIY foundation repair
Can
It is possible to do a foundation repair project on your own depending on the severity of the issues.
Moisture affecting a crack on rebar or fixing concrete spalling is probably a DIY project. Minor cracking on a slab can be done.
Some projects will require you to have some construction knowledge. For instance, a project involving carbon fiber is something you shouldn't do if you don't have construction knowledge or aren't handy.
Can't
Stabilizing or lifting your home from foundation settlement is a little more difficult than repairing the spalling on your concrete footing. And by a little more, we mean a lot more. You have to identify the signs and symptoms to see if you're dealing with some type of foundation settlement or heaving.
Foundation settlement or heaving is not something you can fix on your own. This involves dealing with the amount of moisture in expansive soil.
Foundation settlement – An area of your home is sinking into the ground due to soils being dry and compacting. This is a very common occurrence compared to heaving.
Foundation heaving – An area of your home is being thrust upward due to expansive soil taking in moisture and expanding.
Signs and symptoms of foundation failure
Drywall cracks
Stucco cracks
Concrete slab cracks
Ceiling cracks
Tile cracks
Chimney cracks
Leaning chimney
Sloping floors
Doors and windows are hard to open and close
Water leaks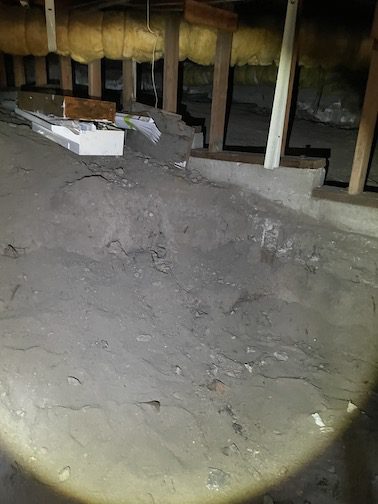 One of these signs doesn't indicate you're dealing with foundation settlement or heaving. Finding more than one of these signs in an area of your home likely means you're dealing with foundation settlement or heaving in your home.
You can't get the materials to deal with foundation settlement or heaving
Suppliers won't sell you the material needed for an underpinning unless you're a contractor through them.
Even if they did sell you the products, you'd have to go through certified training to be able to install their material.
Galvanized steel piers aren't exactly something you can install by hand. You can try to push a push pier into the ground by hand until it reaches bedrock or competent soil, but that would take a long time. These piers are hydraulically driven into the soil by using the weight of your home.
You can try to screw a helical pier into the ground without a hydraulic drive head, but that will be tough. You'd have to achieve the right amount of depth and torque.
You need that hydraulic drive head. And that's something you can't use on your own. There's a reason you need a production team to install these types of piers. They are heavy.
You also need the equipment to attach the brackets to your footing so the piers can be securely attached to your home.
And you need permitting along with an engineer report. You're better off going through a contractor to have this done.
For underpinnings, you'll spend MUCH more time trying to fix it rather than hiring a foundation repair contractor that does the job every day.
If you do try to do foundation repair on your own
You need to know what type of foundation you have before doing a foundation repair DIY project.
Rule of thumb – If you're unable to identify your foundation, you're better off not doing repairs on your own. It sounds harsh, but this is for your benefit
You need to also make sure you have the correct materials for the repair. You can probably find the material depending on the issue.
You don't want to attempt to do a DIY foundation repair project to save money only to make the situation worse. It will cost you more in the long run.
DIY foundation repair generally isn't a good idea
You can repair your drywall, stucco cracks, replace tile, and other things. Foundation repair is a little different. While you may be able to identify the extent of the damage, it's more difficult to identify why the damage is happening.
You may think you can do your foundation repair, but it may not be the best fit for your current situation. Foundation repair isn't a thing regular homeowners do on their own. You'll have future issues if your foundation isn't fixed the right way. So a DIY fix might not do anything.
Remember, foundation repair contractors do this work every day. They know how to do foundation repair properly (you would hope).
Also, you can put yourself in danger.
Dangers of DIY foundation repair
If you were to put all new posts and pads in your crawlspace, it needs to be shored up correctly. Doing so incorrectly can cause more damage to your home.
You also don't want to take on a project larger than you can handle. If you aren't shoring your crawlspace correctly or if anything breaks on you, you can put yourself in danger.
Also, you won't have warranties for any DIY projects. Reputable companies have warranties and back up their work. Most companies will do the right fix.
You know whether you can do foundation repair on your own. Get a set of professional eyes to assess the issue
You've learned when you can do foundation repair on your own, when you can't, what you need to know before a DIY project, and why DIY foundation repair generally isn't a good idea. Have multiple professionals come and inspect your foundation.
Look at third-party review sites to see which foundation repair companies you would be interested in checking out your foundation and schedule an evaluation from there.
If you would like, you can schedule a FREE 60-90 minute foundation evaluation with Dalinghaus Construction!
Learn more about the cost of underpinningwith push piers and helical piers.
You can also read an article to find out what type of foundation you have.
For additional questions or to schedule an evaluation, call Dalinghaus Construction at (877)360-9277.