Los Alamitos, CA, is a city with plenty of historical buildings, residential, and commercial buildings prone to foundation and crawlspace issues. The soil in the area leaves these buildings susceptible to foundation settlement, meaning it's slowly sinking into the ground and getting damaged.
This isn't something you want to deal with when you have a property in Los Alamitos, CA. You want comfort and peace of mind. Unfortunately, foundation and crawlspace problems don't give these things to you.
Dalinghaus Construction is here to help you with quality foundation repair solutions so you never have to deal with these problems again. We've finished over 2,300 repair projects involving foundations and crawlspaces in Southern California, Arizona, and Nevada. We're experts in foundation stabilization, foundation leveling, crawlspace repair, deep injection with Polyurethane foam, and foundation crack repair. Our team of experts can finish your job with the accuracy you can depend on. That way you can have peace of mind with your residential or commercial building.
Signs of foundation and crawlspace issues in Los Alamitos, CA
If you find more than one of these signs, contact a foundation repair contractor that is licensed, reliable, and provides quality solutions. Finding only one sign doesn't necessarily mean you have a problem with your foundation. That is likely an isolated issue.
Crawlspace problems can result from foundation problems such as settlement, but this isn't always the case. They can be entirely separate. You'll know your crawlspace has trouble when you feel your floor sag. This can be due to either 1) the girder beams holding up your floor are deteriorating or 2) the posts and pads aren't properly supporting the beams that hold up your floor.
The silt loam soil in the Los Alamitos, CA, area expands or shrinks based on the amount of moisture present. With the typically dry weather in Southern California, the soil will shrink, causing foundation settlement and damaging your residential or commercial building on top of the soil.
If you're dealing with any of the issues mentioned, you want to contact a reliable foundation repair contractor to come out and inspect your property. That way they can figure out the issue, the area affected, and come up with a foundation repair solution that fits your needs.
The foundation repair process in
Los Alamitos, CA
The first step involves a FREE 60-90 minute foundation inspection on your residential or commercial property with one of our Project Design Specialists. They will go around your property to look for signs of foundation issues, go into your crawlspace (if the building has a raised foundation with a crawlspace), and draw a scaled drawing of your property with floor elevation measurements to figure out the problem you're experiencing.
The initial foundation inspection is free for properties that are not on the market. Real estate foundation inspections are $1,000, which is credited toward your foundation repair.
On the day of or after your initial foundation inspection, you will receive a recommended repair plan from your Project Design Specialist. Included will be a full report on what was found during your initial inspection, a CAD drawing of your property, and the recommended plan that fits your needs.
Finally, your project will be scheduled if you agree to move forward with your foundation or crawlspace repair. One of our production teams will go out to your residential or commercial property to finally do your repair and give you back your peace of mind.
Foundation and crawlspace repair methods used in
Los Alamitos, CA
When your residential and commercial building is dealing with foundation settlement, Dalinghaus Construction uses galvanized steel Push pier and Helical pier underpinning systems to stabilize your foundation. They're not only effective when it comes to foundation stabilization but can be used to provide the bonus of foundation leveling – the area affected by the settlement is lifted, making your building as close to level as possible.
The main difference between each piering method is how they're driven into the soil based on their design. Push piers are steel tubes that use the weight of your building until reaching competent soil or bedrock. Helical piers don't need the weight of your building. They have helices at the bottom that allow them to be driven into soil independently until reaching the recommended torque. They're then attached to brackets bolted onto your concrete footing.
After lifting a slab-on-grade foundation building or if the soil has eroded, the voids created in the soil underneath need to be densified and strengthened to reinforce your foundation. We add stability by doing deep injection with Polyurethane foam, which is used for void fill, soil densification, and can be used to relevel a settling building. Polyurethane is rapidly expansive, cures in 15 minutes, is as hard as concrete when under enough pressure, is lightweight, doesn't shrink when it cures, and is environmentally safe.
For your Crawlspace repair, a production team will go into your crawlspace to 1) replace deteriorating wood such as girder beams and 2) install crawlspace jacks in place of failing posts and pads. Your floors will no longer be a hazard when they're flat again.
Foundation crack
repair

methods
Epoxy
a glue-like resin that is gravity fed into the crack until it fills, dries up and strengthens your foundation.
Carbon Fiber wrapping
This is applied over a crack to provide strength and prevent water from getting in and making contact with the rebar.
Reasons for foundation and crawlspace repair for your
Los Alamitos, CA,

property
You've likely already found the cosmetic issues resulting from your damaged foundation. They won't get better. Foundation repair allows the opportunity to fix those issues.
Over time, it won't be only cosmetic issues. Damages can become structural over a long period. It's not often we deal with these cases, but you should know damages can be that bad.
Foundation and crawlspace damages don't fix themselves. You might be able to figure out how to put a bandaid over a wound, but you need a professional to fix these issues. If you don't, they will come back.
Damages from foundation settlement affect your day-to-day, whether it's from feeling your floor slope, or the windows and doors feel sticky when you open and close them. It's annoying and doesn't help your peace of mind.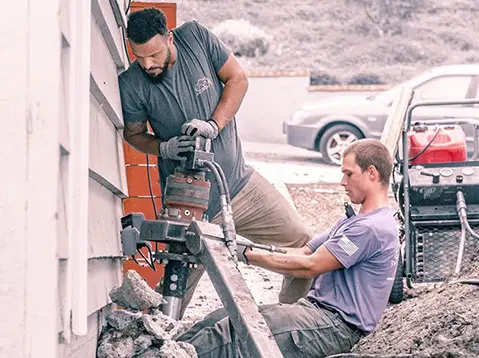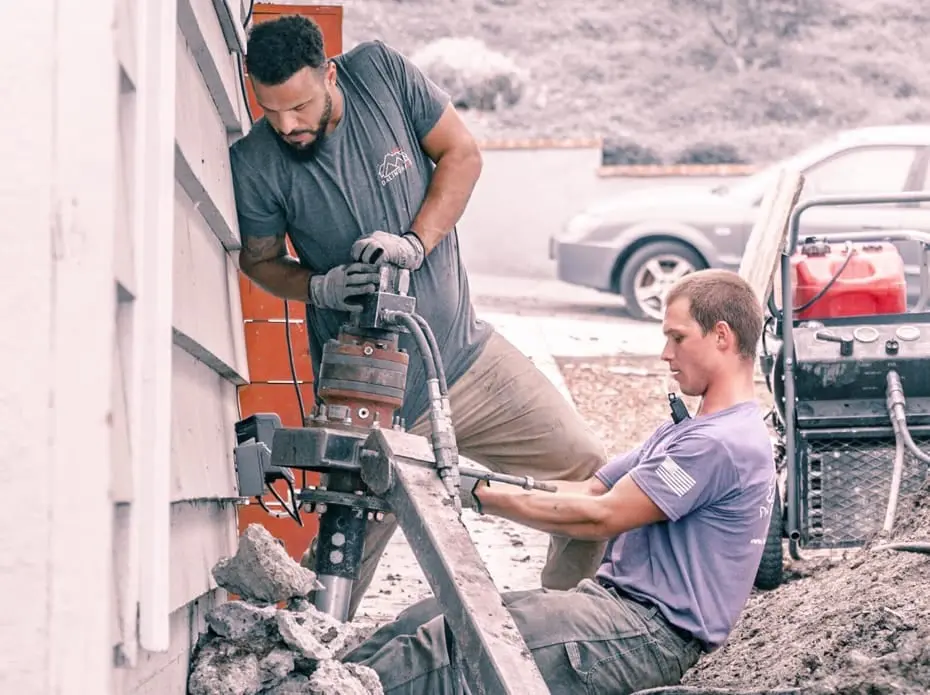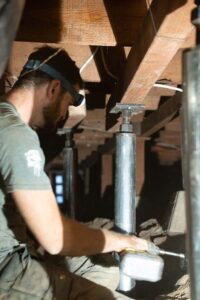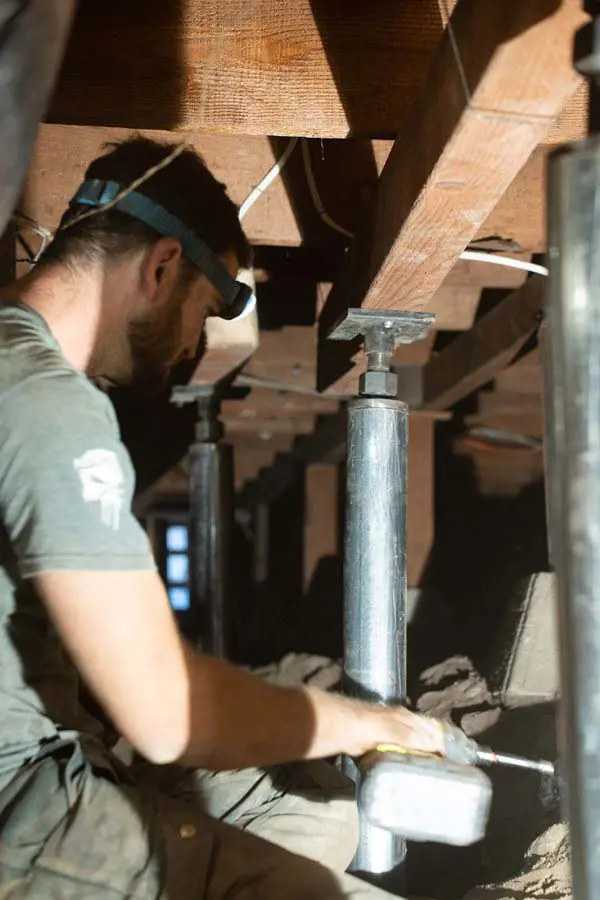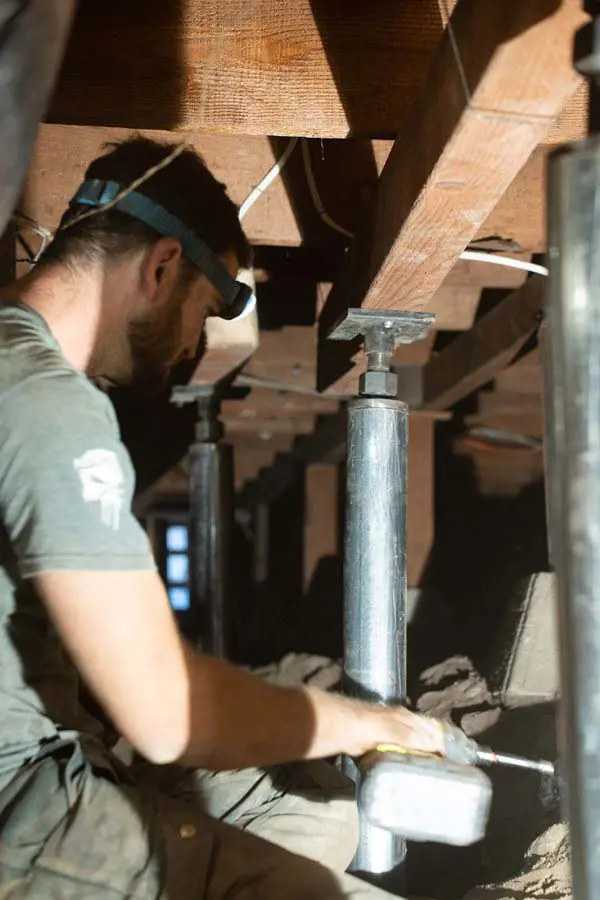 Foundation issues can be troublesome for a remodel. You don't want to put in new cabinets to have them damaged when foundation issues make themselves present. Get foundation repair before a remodel. Or have your foundation repaired through stabilization so the remodel won't experience damage over time.
You have a hazard when the floor of your raised foundation home sags. You could trip, cause someone to trip, or have your floor potentially collapse without doing your crawlspace repair.
Good luck selling a residential or commercial property with a foundation issue-ridden building. The problems need to be legally disclosed. Banks are less likely to loan for these properties, meaning you'll deal with Cash Buyers. They can negotiate the property down by 30%.
Repairing your foundation or crawlspace makes sense when your residential and commercial property is one of your top investments in life. Make sure these buildings are stabilized to give them a longer life.
Next up – scheduling your foundation inspection for the sake of your Los Alamitos, CA, property
Whether you want to protect your property or plan to put it on the market, foundation and crawlspace repair is in your best interest. They're also in your best interest for your peace of mind.
Schedule your initial foundation inspection with us here at Dalinghaus Construction. We want to find the best foundation repair solution for you. And of course, we want your crawlspace repair to have your floors flat again.
To get started, you can go online or call Dalinghaus Construction at (877)360-9277 to schedule a foundation inspection today.