Foundation Repair In
The City of Santee
Incorporated in 1980, Santee, CA, would become an incorporated city in East County of San Diego. Home of Gillespie Field and one of the few drive-in theaters still existing in San Diego County.
It's also one part of East County where homes and businesses are susceptible to foundation issues, especially when it comes to foundation settlement and hillside issues, even though the city isn't burdened with too many hills.
Thankfully, this isn't too much of a problem to deal with, especially when you have trusted foundation repair contractors to help you. We've been serving Southern California, Arizona, and Nevada since 2015, working in cities like Santee, CA. With over 2,000 finished projects, we've become a well-respected foundation repair contractor with attention to detail homeowners and business owners can rely on.
How do I know if I have foundation or hillside issues on my Santee, CA, property?
You'll find multiple signs before you should reach out to a professional and consider foundation repair. One sign doesn't mean you have foundation issues necessarily.
Santee, CA, has a good mix of sandy and clay loam, which seems to be a classic San Diego County move. Makes sense when the county is by the coast, desert, and mountains, creating one of the most biodiverse climates in the world.
The soil makes your home or business prone to foundation settlement depending on the amount of moisture present. Southern California is mostly dry, which causes the soil to shrink and the structure to sink (at least an area).
Because of the soil content, you'll want to make sure you have a professional check out your home or business for quality foundation repair.
How does the
foundation repair process

start?
You'll first have to schedule a foundation inspection with one of our Project Design Specialists, who will come to your door on the day agreed upon.
Your foundation inspection is free if you're home is NOT on the market. Real estate inspections will be $1,000, which is credited toward your foundation repair if you decide to move forward.
Our Project Design Specialist will be at your property for 60-90 minutes, liking for any signs, taking measurements, and floor elevations to evaluate your property. They will draw a scaled CAD drawing to properly assess the problem you're experiencing.
After this, they will leave and create a repair plan that you'll receive either the day of or the next day.
If you decide to move forward, your repair will be scheduled and underway.
How are foundation repair and hillside stabilization done in Santee, CA
Dalinghaus Construction tries to make foundation repair effective, affordable, and as minimally invasive as possible. The last thing you want is to have large vehicles in your yard. Some types of concrete underpinning are invasive.
We instead use galvanized steel push pier and helical pier underpinnings, which are excellent and reliable when it comes to stabilizing your home or business. They're both put into the soil until they reach competent soil or bedrock.
Push piers are cool since they use the weight of your structure to be hydraulically driven into the ground.
Helical piers are put into the ground using a helical torque motor if your structure is too light for push piers until reaching competent soil or the recommended torque.
They can also do more than just stabilize. If you want to do more than foundation stabilization, foundation leveling is excellent for lifting the area of your home affected by settlement to maximum practical recovery.
You also have to compensate for any voids in the soil, which are just about inevitable after lifting a slab-on-grade foundation. It's nice to have structural support attached to the concrete footings of your foundation, but it's better to make sure your home or business is supported from underneath. Polyurethane foam will be injected into the soil and rapidly expand, cure in 15 minutes, and be as hard as concrete.
Fun fact – Polyurethane foam is also environmentally safe!
And when your home or business has to deal with foundation settlement, you'll likely have a crack in your foundation. These will be repaired using epoxy, a strong glue-like resin that's gravity fed into the crack, or carbon fiber stitching, which uses small pieces of carbon fiber to strengthen your foundation and prevent water from sneaking into the cracks.
And even though Santee, CA, doesn't have an overabundance of hills, they are there.
Why should I do foundation repair and hillside stabilization in
Santee, CA

?
Your home is your number one investment you want to feel comfortable living in. Foundation settlement isn't something that makes anyone feel comfortable, especially when you see cosmetic issues in the areas of your home affected. Foundation repair lets you be able to take on cosmetic damage without worrying about them coming back from your foundation issues.
Those cosmetic issues don't just go away with a bandaid. Cover them up all you like, but they always come back. And foundation settlement doesn't tend to stop forever. Cosmetic damage will come back to haunt you.
The majority of foundation issues appear cosmetically. That said, they can become structural if unattended for a while. If you're seeing the sun go through a crack in your ceiling, you probably have a structural issue. You can prevent those structural issues when you do foundation repair.
Any foundation-related damage needs to be legally disclosed if you decide to put your property on the market. The result will be that the value will drop significantly. Since banks tend to not loan on a home with foundation issues, you'll be limited to cash buyers. They can negotiate the price of your property down by 30%.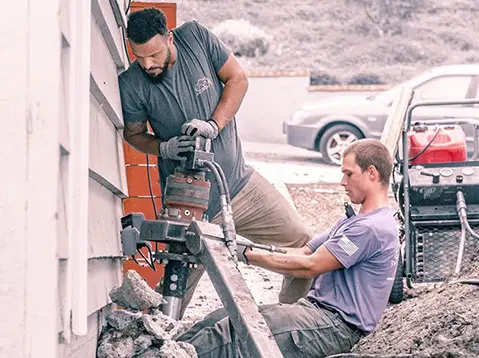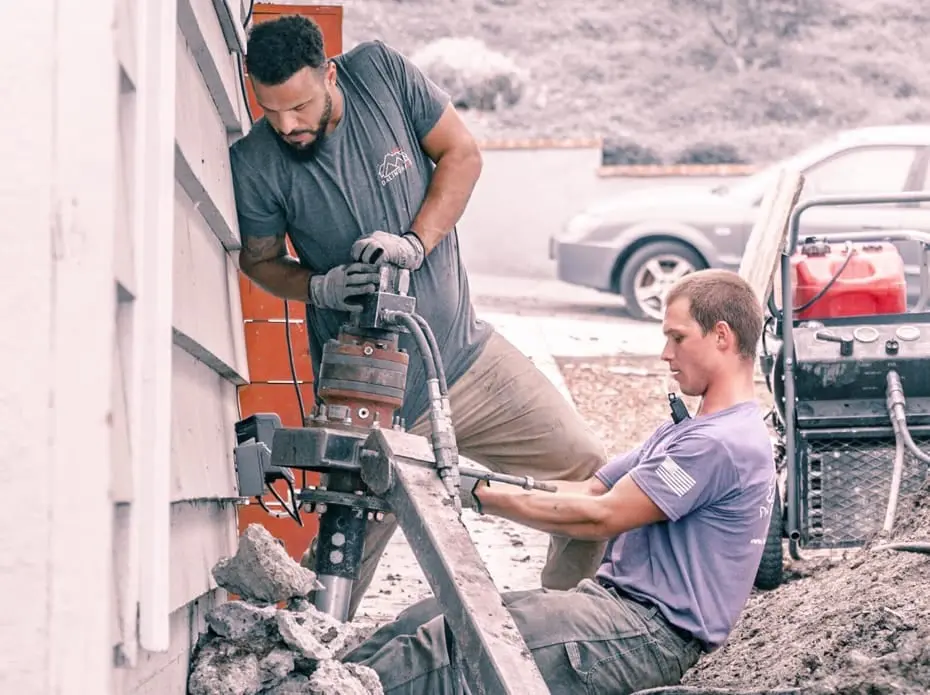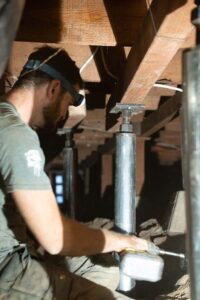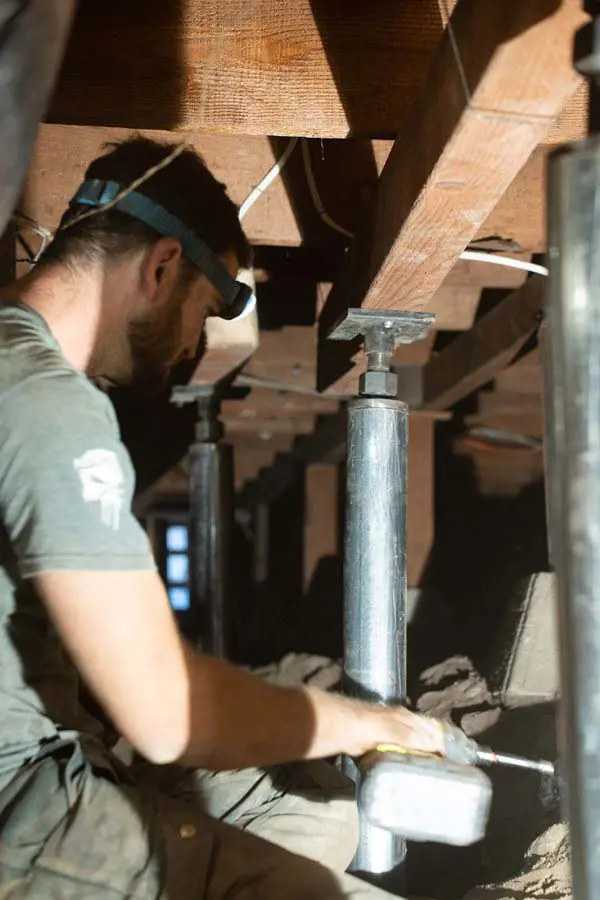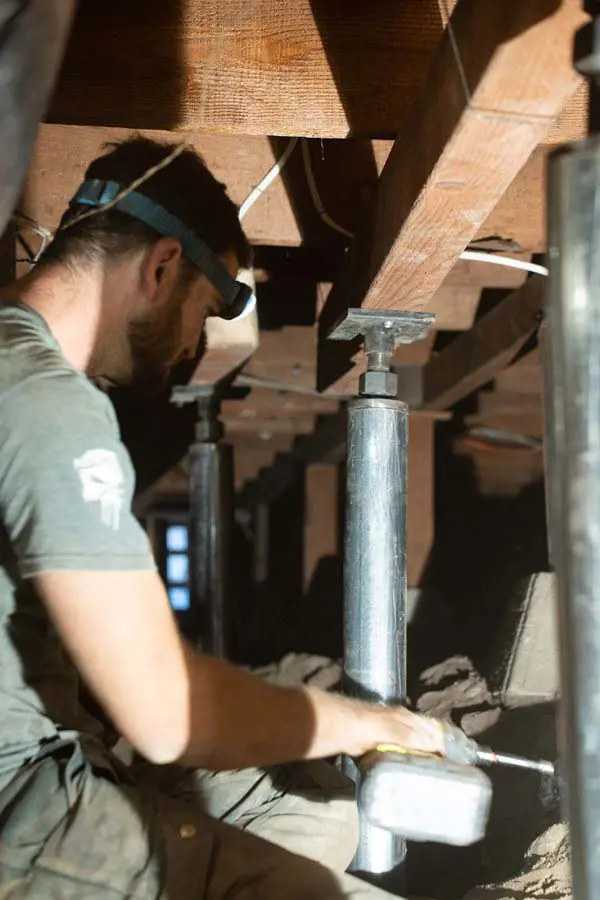 Foundation repair will save your property value. It costs an average of $26,000 to do foundation repair on your home or business. The cost of foundation repair and selling after tends to put more money in your pocket.
You can experience more of a workout than usual when your windows and doors are difficult to open and close due to foundation issues. Foundation repairs will make it so those things won't feel sticky and give you an arm workout.
Hillside stabilization will keep the soil from intruding on your property where it is. If the retailning wall is below your home or business, you making sure the structure you own won't be affected by faster foundation settlement or lateral movement.
Foundation repair and hillside stabilization offer peace of mind, letting you know your property is fine and not sinking or moving in any other way. You'll know your home or business is stabilized and maintains its appropriate value.
Protect your Santee, CA, property. Schedule your foundation inspection today!
Dalinghaus Construction is wonderful when it comes to foundation repair and hillside stabilization. That way you can make sure your property is protected as the soil moves.
You want a professional who knows foundation repair to come out and take a look at your property. That way you know exactly what is happening after your 60-90 minute foundation inspection.
Make sure you can get the repairs you need – contact us today!