Are you wondering if you'll have to take out a second mortgage on your house to pay for foundation repair? Not sure how much foundation repair costs and want to understand the price breakdown? If you want to know the average cost of foundation repair and the major price points, this article is for you.
Dalinghaus Construction Inc. has been in the foundation repair game since 2015. We have over 100 years of collective experience when it comes to push/helical pier underpinning, polyurethane void fill, slab crack repair, and more. We know price is the number one factor homeowners consider when contemplating any form of foundation repair.    
This article covers foundation repair costs per type of repair. By the end of this article, you will have a ballpark estimate for 4 different types of foundation repair, and you'll have an opportunity to book a free foundation inspection.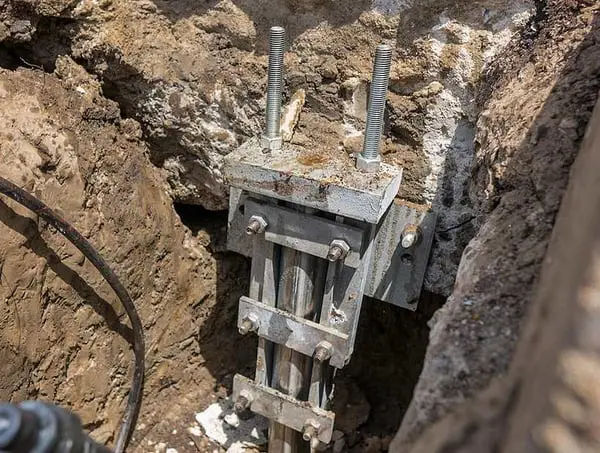 How Much Does Foundation Repair Cost?  
Foundation repair is actually an incredibly broad term encompassing many different types of foundation restoration.
  Steel pier underpinning (push piers, helical piers, and helical tiebacks)
  Polyurethane deep injection/void fill
  Slab/stemwall crack repair (carbon fiber staples and/or carbon fiber wraps applied via epoxy)
  Post and pad replacement
  Seismic retrofitting
  Spalling, efflorescence, & further water damage repair
And, here at Dalinghaus Construction Inc., we believe there are certain types of foundation repair not worth paying for at all – primarily underpinning with concrete piers in addition to any type of void fill with concrete – mudjacking, slabjacking, and concrete underpinning.  
On average in Southern California and Arizona, foundation repair costs between $25,000 to $60,000 – dependent upon the type of foundation repair required, the material, labor, engineering fees, permitting fees, and more.
Steel Pier Underpinning Foundation Repair Cost
Steel pier underpinning utilizes push piers and helical piers to act like an underground stilt-support system to combat foundation settlement.
Push piers and helical piers cost between $2,000 to $3,000 per pier location. Pier locations are determined by the size of the affected area and are implemented at six-foot intervals. The average foundation repair cost for underpinning with push piers and/or helical piers is $25,000 to $70,000.
For a detailed account and exact line item price breakdown, read our article Underpinning Cost – Steel Pier Systems.
Polyurethane Deep Injection Foundation Repair Cost
Polyurethane foam is an injectable polyol and isocyanate resin sealant, insulation, grout that expands upon application providing void fill, structural support, and re-leveling properties.
Polyurethane costs an average of $150 to $180 per square foot with a $5,000 minimum.
Polyurethane is primarily used to densify weak, non-load-bearing soil and provide void fill underneath settled foundations. Polyurethane injections are most effective if a home has settled less than 1" and the native soil is less than 10 inches from ground level.  
Slab Crack Repair and Spalling Repair Foundation Repair Cost
Crack repair and spalling repair overlap with carbon fiber staples and/or wraps. The average cost of addressing spalling or a cracked slab is $5,000.
Post and Pad Replacement Foundation Repair Cost
Does your floor bow in the middle or have an extra bounce when you walk across it? Then you probably need post and pad replacement, a repair that can be quickly verified by crawling into your crawlspace.
On average, post and pad replacement costs between $5,000 to $30,000.
If you would like to learn more about post and pad foundation repair, read our article Post and Pad Foundation Repair (Definition, Repair Process, & Cost).
The Size of the Repair Area Factors into Price
No matter the type of foundation repair, the single biggest factor in determining your foundation repair cost is the scope of the area. It's not the size of your home itself, but rather the size of the affected area (typically determined in square footage or linear feet).
For example, you may have a small section of your home that needs an underpinning lift/stabilization, resulting in a significant cost reduction when compared to an entire house underpinning project. The affected area is determined by a floor elevation survey.     
In other words, the cost of repair is only derived from the area/scope that needs repairing. Do not pay for "preventative maintenance" when it comes to underpinning.  
Not Sure You Need Foundation Repair? Book an Inspection!
In this article, you learned the average cost for steel pier underpinning, polyurethane deep injection/void fill, carbon fiber repair (spalling/cracks), and post and pad replacement. You also learned to only pay for the repairs, not preventative maintenance.
Dalinghaus Construction Inc. has been in the foundation repair game for a while now and we're happy to answer your questions. Be sure to go through our blog and video library to learn more about all kinds of foundation repair.   
Check out our post: How Much Does Foundation Repair Cost?
If you live in Southern California or Arizona and would like to book a free foundation inspection, click on the link below.