Foundation Repair In
The City of Chino Hills, CA
Dalinghaus Construction is the premier foundation repair contractor that services the Chino Hills, CA area. Our team specializes in foundation repairs, hillside stabilization, crawl space repairs and foundation leveling for both residential and commercial properties. With over 2200 successful projects under our belt since 2015, our team has earned a reputation as the trusted source of quality foundation repair services around Chino Hills.
Our group of honest and trained professionals have the expertise to handle just about any project, whether it's big or small, with accuracy, precision and attention to detail that homeowners can count on.
Are there common signs and symptoms of foundation problems in Chino Hills, CA?
As a homeowner, if you're noticing any of the following signs and symptoms of foundation problems, it is highly recommended to reach out to a foundation repair specialist to evaluate the structural integrity of your home's foundation.
Homeowners in Chino Hills often face relatively unique challenges when it comes to foundation problems with their home. Expansive clay soils run rampant throughout Southern California, but due to it's proximity to Los Angeles County, Orange County, and San Bernardino county homeowners in Chino Hills experience similar issues to those of their neighbors.
Expansive soils are prone to shifting and differential settlement that lead to the signs and symptoms mentioned above. These symptoms can often cause other, more easily seen issues throughout a home like doors or windows that won't properly open or close.
Expansive soils will expand in the presence of moisture and shrink or contract as it dries out. This recurring cycle of expansion and contraction will lead to instabilities and voids in the soil that will often allow for settlement. Structural issues caused by soil compositions require special attention from trusted professionals with experience dealing with foundations in your area.
Our team at Dalinghaus Construction provides quality foundation repair services throughout Southern California and our group of experts are here to help you maintain that peace of mind in knowing your home is safe from foundation damage.
The
foundation repair process:

What Does It Look Like?
In Chino Hills the foundation repair process for homeowners looks the same as most other cities in that it begins with a foundation evaluation performed by one of our knowledgeable and experienced inspectors. While performing the inspection he'll draw up a scaled diagram of the home and take floor elevation measurements in order to properly evaluate the property and the health of its foundation.
After creating the drawing the next step is to design a repair plan based on the inspectors findings during the foundation evaluation. The repair plan will include a full report, the scaled CAD diagram of the property, and repair plan recommendations. The final step consists of making the repairs based on the plan that was proposed and submit for city permits.
What are the most common methods for
foundation repair

?
Our team's two most common methods for foundation repair involve either helical piles or push piles. These piles are often also referred to as piers. Both types of piles are American made, galvanized steel 2 ⅞" diameter pipes. They differ in how they're installed though. Push piers are hydraulically driven into the ground and have slip sleeves allowing multiple sections to be attached in order to drive the push pier down to competent, load-bearing soil. Helicals are like big screws that are hydraulically torqued into the ground rather than driven.
Our team will choose helical piles or push piles depending on the structure that's being repaired. Push piles will leverage the weight of the structure to push the piles into the ground whereas helical piles do not need to leverage the structure and instead use hand equipment to turn hydraulic pressure into rotational energy.
Hillside stabilization is another type of foundation repair which involves reinforcing footings, grade beams, walls or terraces on steep slopes to prevent landslides or movement due to slope creep or erosion.
How do we repair foundation cracks?
We repair foundation cracks in several different ways depending on the severity of the crack as well as the original cause of the crack. We'll often use an application of gravity fed epoxy, which is the simplest repair and great for smaller cracks as the glue-like epoxy bonds to the concrete to create an airtight seal throughout the crack.
For bigger cracks our team will use CFRP or Carbon Fiber Repair Polymers. Commercial grade bi-directional carbon fiber sheets are bonded to the concrete with epoxy polymers to provide well over 35,000 lbs/sq ft of confinement strength which is much stronger than typical concrete. These repairs will ensure that the footing or concrete slab foundation will no longer continue to crack.
8 reasons to repair your foundation in
Chino Hills, CA
The structural integrity of a home starts with its foundation, which can greatly affect the safety of everyone living in it.
Foundation repair can often save money as it prevents small problems from escalating to large problems… small problems are almost always cheaper and easier to address than large problems.
A home's foundation supports just about everything else in the home such as things like the roof, walls, windows and doors. Unstable foundations often cause damage to these areas of the home when left unchecked.
Water seepage and drainage mitigation often lead to expensive damages that are both costly and time consuming. With the presence of expansive clay soils in Chino Hills water mitigation is extremely important in ensuring water does not reach the soil under the home's foundation.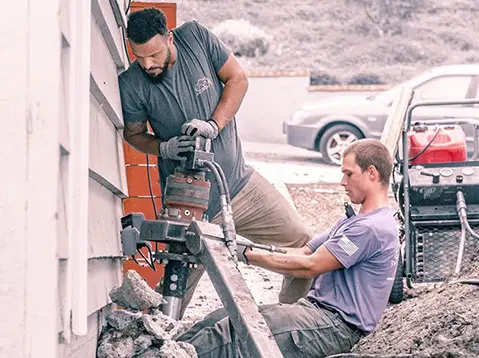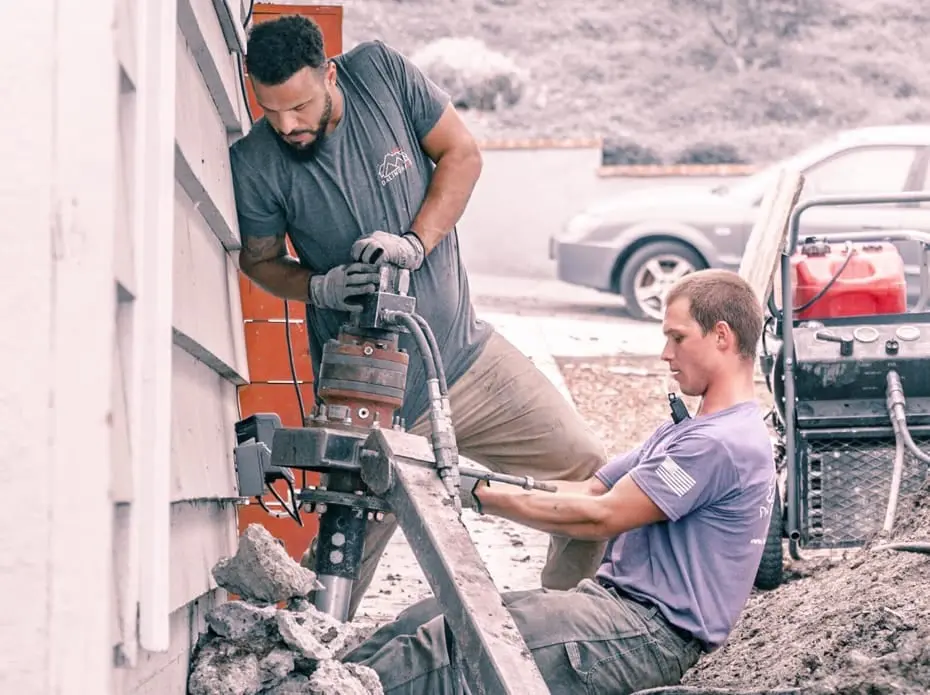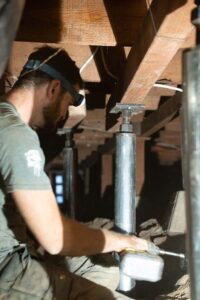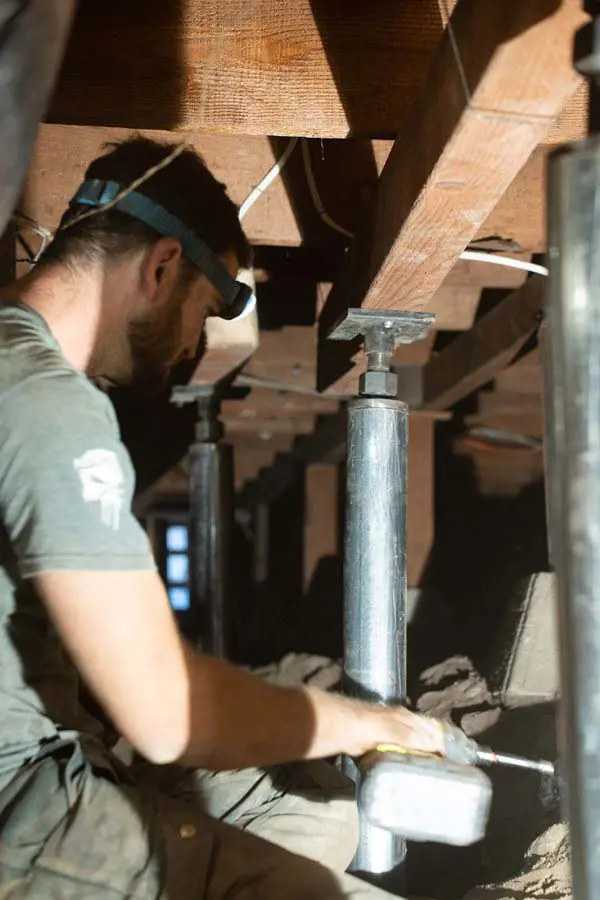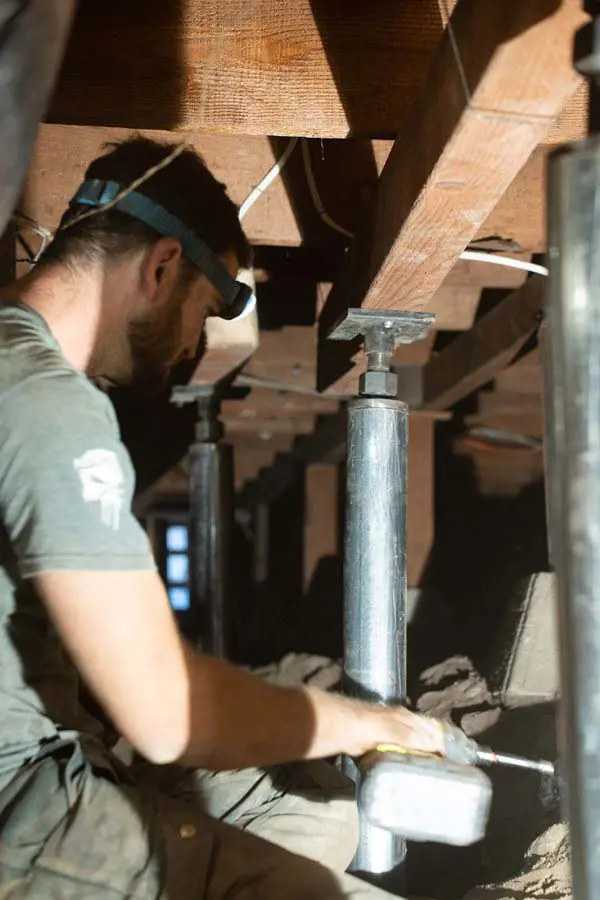 Most foundations will settle over time, but it's the differential settlement or uneven settlement that is of concern. When a foundation settles unevenly it can cause sloping floors within a house which can be visualized by setting a ball down on the floor and allowing it to roll to the lowest point in the room.
Property value is often maintained or improved upon with the help of foundation repairs. If a home is on the market or in escrow it's in the best interest of potential buyers to get assurance of the health of the home's foundation with a foundation inspection. They'll typically want foundation issues addressed before the purchase can be closed.
In most cases, city or county building codes will require certain types of foundation repairs be done before a project is permitted within a specified area; if these repairs are not done then fines may be issued by local law enforcement officials if found during an inspection. This topic is especially important with hillside home projects.
Lastly, even without any of the reasons mentioned above, repairing a home's foundation just makes sense from a financial standpoint as it adds stability and increases the longevity of what is many families largest investment!
Next steps - schedule your free foundation evaluation
Foundation repair is an integral part of maintaining the structural integrity and safety of a home. It keeps small issues from becoming large issues, maintains/improves property value, and keeps floors level. Foundations and foundation repair are a long-term investment that should be taken seriously as they will affect other parts of a house if left unaddressed.
If you're a homeowner in Chino Hills, CA or its surrounding areas, our team highly recommends requesting a free foundation evaluation to ensure your property remains safe and secure for years to come. Our team of experts are ready to help you with any foundation, hillside, and crawl space repairs so don't hesitate – call us today!