Foundation Repair In
The City of Lake Forest
With a good mix of hills and flats, Lake Forest, CA, property owners deal with a mix of issues, ranging from foundation settlement to hillside destabilization.
That said, it doesn't mean needing foundation repair is a top worry, but is necessary at times. Dalinghaus Construction has been helping home and business owners with their properties in Lake Forest, CA, since 2015, having done over 2000 foundation repair projects in cities around Southern California, Arizona, and Nevada. Our experience has allowed us to further specialize in foundation stabilization, foundation lifting, polyurethane injection, and hillside stabilization.
Our experienced professionals can handle jobs of any size with attention to detail you can rely on.
Signs of foundation issues to look for in Lake Forest, CA
With Lake Forest, CA, having a mix of elevations and soil types, multiple foundation or hillside issues will make themselves stand out. It won't usually be only one. You'll see multiple before you should consider contacting a professional for a foundation inspection.
Lake Forest, CA, has a variety of rocky, sandy, and clay soil, all of which are susceptible to causing foundation settlement or hillside issues. Clay soils are especially prone to expansion and shrinking due to moisture exposure, variations in temperature, and other environmental factors.
You'll want an experienced professional to deal with your foundation in the Lake Forest, CA, area. Dalinghaus Construction offers quality foundation repair and hillside stabilization solutions. We're here to help your home or business, preventing further damage from foundation issues.
What can I expect for my
foundation repair process

in Lake Forest, CA?
Hills or flats, rain or shine, you will always start with a scheduled free 60-90 minute foundation inspection, which involves one of our Project Design Specialists taking a look at your foundation. As they do their foundation inspection, they make a scaled diagram of your home or business with floor elevation measurements.
Shortly after your foundation inspection, a foundation repair plan is created and sent to you, which includes a CAD drawing of the property, a full report on what was found, and the recommended foundation repair plan.
Finally, foundation repairs are underway based on the proposed plan and required permits.
How is
foundation repair

done in Lake Forest, CA?
Depending on which foundation repair contractor you go with, you'll find different companies use different types of underpinnings. Dalinghaus Construction uses galvanized steel push pier and helical pier underpinnings.
Both underpinnings serve the same purpose of being attached to the concrete footing to stabilize your home or business so it doesn't move as the soil does. The main difference is how they are put into the ground until reaching competent soil or bedrock. Push piers are hydraulically driven into the ground, whereas helical piers have helices at the base that allows them to be "screwed" into the soil using a helical torque motor.
Both piers are excellent for not only stabilization but are a bonus for foundation leveling if you choose to do it, which lifts the affected area of your home or business to maximum practical recovery.
After a lift happens, there are voids in the soil that need to be filled in to help further stabilize a property with a slab-on-grade foundation. Polyurethane is injected into the ground and hardens to be about as hard as concrete depending on the among of pressure. Polyurethane is used for void fill, deep injection, and soil densification.
And when it comes to preventing your home or business from moving due to lateral movement, helical tiebacks are the way to go. They're also put into failing retaining walls for hillside stabilization. These are like helical piers, except they're put in at a more horizontal angle until they reach competent soil or the recommended torque. That way your home or business won't move side to side and your retaining wall is taking on soil movement with some reinforcement.
Can foundation cracks be repaired for my Forest Lake, CA, property?
Absolutely! You might not be able to see the crack on your slab, but you likely do if you can feel your floor start to slope. And your concrete footing might have more noticeable cracks. There are a couple of ways these cracks are addressed.
There is a resin known as epoxy that is gravity fed into cracks until full. This will then dry and hold your foundation together with the strength of Hercules.
Carbon fiber stitching fixes foundation cracks by using tiny pieces of carbon fiber to cover cracks on the footing or slab to provide extra strength to stop cracks from happening. The stitching is also excellent in preventing water from getting into the cracks and making things worse.
Why are foundation repair and hillside stabilization necessary in
Lake Forest, CA

?
Lake Forest, CA, is a fairly nice place to live. So it makes sense when you don't want cosmetic issues to show on your home or business. You want it to look nice with everything else. Foundation issues will create cosmetic issues for the interior and exterior of your home or business. Foundation repair will let you take care of those issues without worrying about them coming back.
Foundation issues are cosmetic the vast majority of the time. The damage has to be severe enough for it to become structural, which can leave your property red-tagged, meaning it's deemed unsafe to live in. Foundation repair will help in keeping your home from being red-tagged, meaning you're fine living there.
You won't be able to ignore foundation issues. They'll be back to bother you. The signs can be covered up, but they'll come back. Foundation repair will make it so those foundation issues become foundation solutions.
You don't want to feel like you can't find balance in your own home or business, whether it's literally or figuratively. Foundation issues can already compromise your peace of mind. Your floors will also start to slant in certain areas due to foundation settlement or heaving. Foundation repair via leveling will have your floors brought to maximum practical recovery, letting you keep more balance in your life.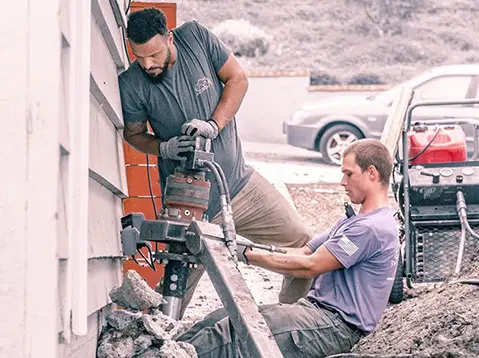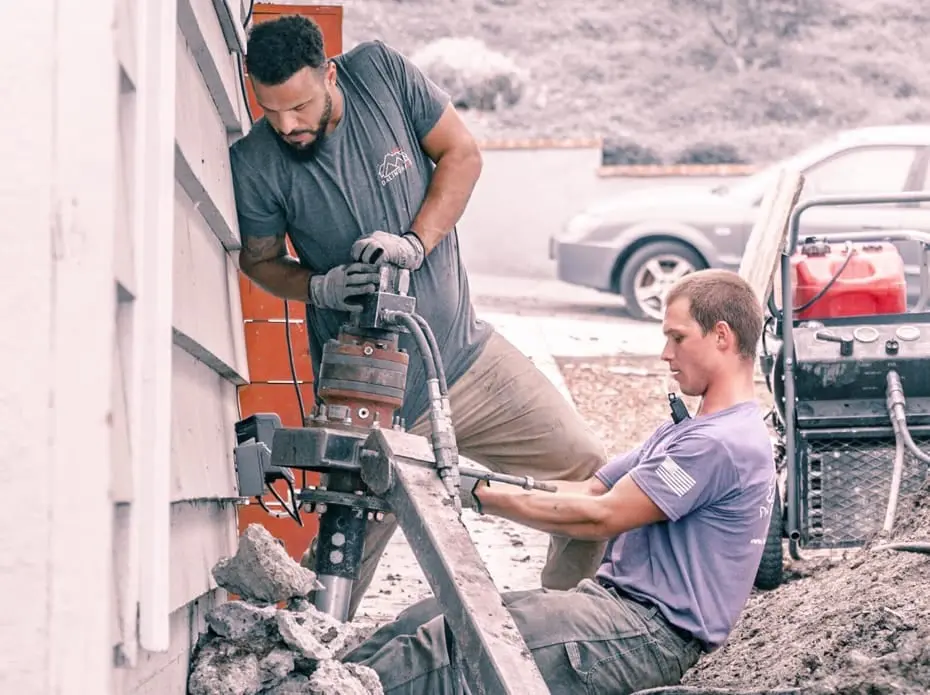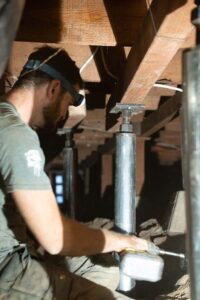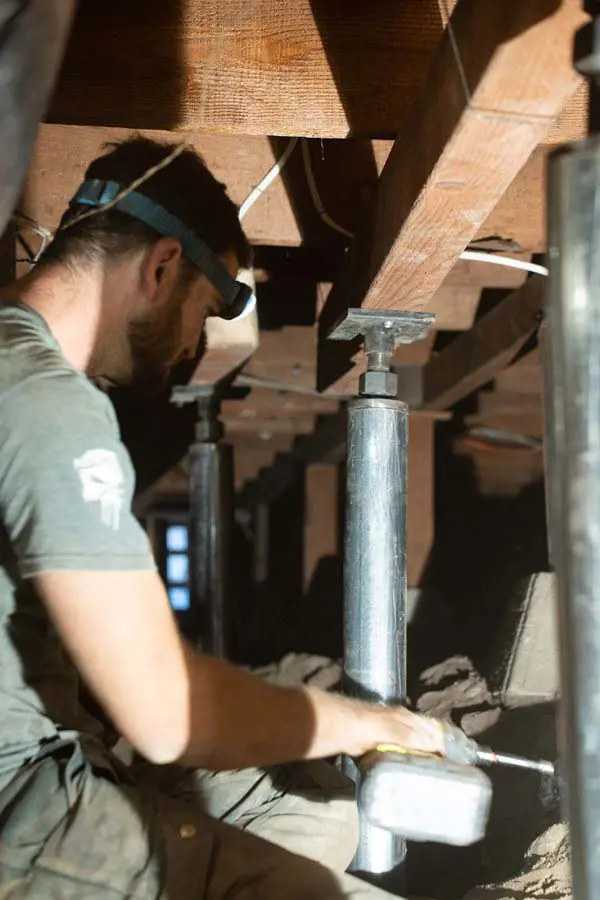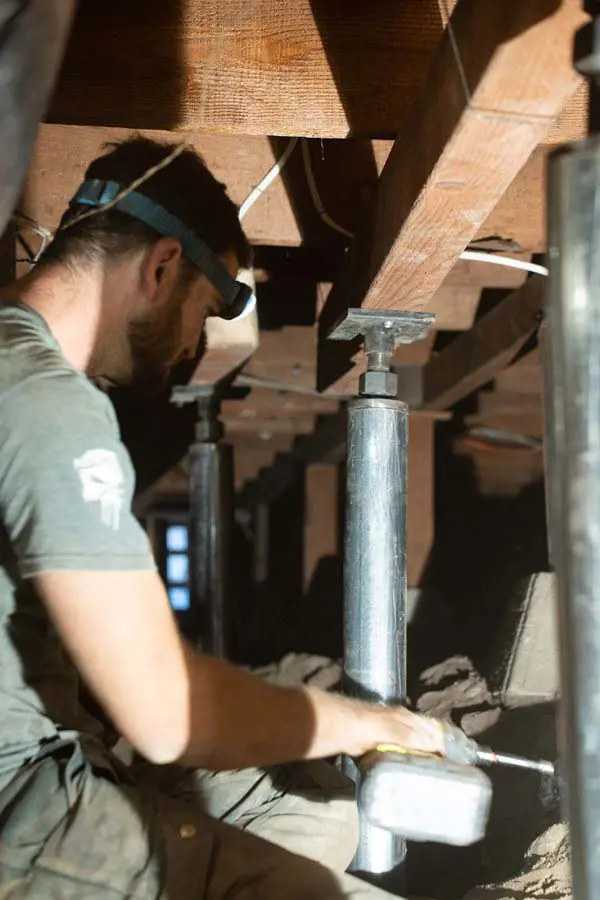 You probably want it to be easy for your doors and windows to open and close. They might begin to feel sticky, which is in large part due to foundation issues. Foundation repair lets you address those windows and doors without worrying about foundation issues making things harder for you.
You don't want your problems to make your life go downhill. In this case, you don't want your home to go downhill or for your retaining wall to fail in holding soil. Hillside stabilization will make it so your home or business will stay where it's at. It will also make it so your retaining wall can hold back soil like a fortified defense.
Foundation issues diminish the value of your property when it's on the market. Those issues need to be legally disclosed, which banks are less likely for potential buyers to loan to. Your clientele will be limited to cash buyers, who can negotiate the price of your property by at least 30%, meaning your $1 million property will be sold for $700,000.
Foundation repair will let you keep the full value of your property and broaden potential buyers. Our average foundation repair cost is around $26,000.
Foundation repair just makes sense since your home or business is one of your top investments. Whether it's you, your family, your pets, or workers in your business, everyone wants to feel like there's stability while on your property.
Be sure to schedule a free foundation inspection if you're concerned about foundation or hillside issues in Lake Forest, CA.
You want to have peace of mind and feel some stability in your life, especially when it comes to the top investments in your life. Hillside stabilization and foundation repair might be essential for your Lake Forest, CA, property.
If you're concerned about any of these issues, consider scheduling a free 60-90 minute foundation inspection.
Note – the price is free for properties not on the market. A real estate foundation inspection will cost $1000, which is credited toward your foundation repair.
Make your life a little more stable – schedule your foundation inspection today.