Foundation Repair In
The City of Tustin
Tustin, CA, is that sweet middle spot being inland, yet still fairly close to the coast. This leaves a weird amalgamation of foundation issues that homeowners and commercial property owners need to address.
Dalinghaus Construction has been a reliable foundation repair contractor serving in Tustin, CA, along with other areas of Southern California, Arizona, and Nevada. Since 2015, we've done over 2,000 projects involving hillside stabilization, crawlspace repair, foundation stabilization, and foundation leveling. We've become a trusted source for foundation repair in Tustin, CA.
We have the expertise to handle any job so you can have your foundation repaired once and for all. Our projects are done with amazing attention to detail homeowners and commercial property owners have been able to rely on.
Does my Tustin, CA, property have foundation issues?
You might not know what to look for to see if you have a damaged foundation. And that's okay. The foundation holding up your home or business isn't something most people think about. If you see one of these signs, you likely don't have foundation issues. It's when you find more than one sign that you'll want someone to come out for a foundation inspection.
Tustin, CA, has unique soil conditions that present challenges for property owners. There is a fine mixture of clay and sandy soil, making your property susceptible to foundation settlement. The soil expands and shrinks based on the amount of moisture present, temperature, and environmental factors.
When the soil moves, so does your residential or commercial property, causing damage. You'll want a trusted professional to come to your property and assess the issue and have it repaired. Dalinghaus Construction can help you combat foundation issues and keep your number one investment safe.
How does the
foundation repair process

go in Tustin, CA?
We'll start your foundation repair process by conducting a scheduled foundation inspection, which involves looking at your foundation to assess the issue. A scaled home diagram with floor elevation measurements is done to evaluate the property.
Next, a repair plan is created and provided for you, which as a full report, a CAD drawing of the property, and a recommended repair plan.
Finally, the foundation repair is underway based on the recommended repair plan and city permits.
How is
foundation repair

done in Tustin, CA?
Your home and commercial property needs to be stabilized if you're dealing with foundation settlement. The two most common methods we use are galvanized push pier and helical pier underpinnings.
What each of these underpinnings do is break through the soil until reaching competent soil or bedrock. Push piers are galvanized steel tubes hydraulically driven into the ground and attached to the concrete footing of your foundation. Helical piers are also attached to your concrete footing. The main difference is how they're installed. They have helices at the base to displace the soils and be "screwed" into the ground using a helical torque motor.
Both types of underpinnings are excellent for foundation stabilization and foundation leveling.
Foundation leveling means the area of your home affected by foundation settlement is being lifted to maximum practical recovery, meaning everything is as close to level as when your structure was first built. The result of this will leave voids between your structure and the soil that needs to be filled. After all, you want to make sure your slab is okay and won't move. This is where polyurethane comes in.
Polyurethane foam is injected into the soil for soil strengthening, void fill, and deep injection. This can be injected under your home or your driveway to provide some lift. Poly is excellent in mixing with sandier soil.
When your property is on a slope, you don't want the soil to move downhill and cause foundation settlement to you or your neighbor. This is why retaining walls and your building will have helical tiebacks installed for hillside stabilization. Installing these under a structure will keep your home from moving with the soil. They'll be installed in retaining walls to reinforce your retaining wall, keeping the soil where it's at.
How do you repair a Tustin, CA, home with a raised foundation?
When it comes to the concrete footing, a galvanized push pier or helical pier underpinning will be put in place. However, polyurethane won't be put in after. It doesn't make sense with a raised foundation. Instead, you'll likely find yourself needing crawlspace repair.
Even without larger foundation issues, your floors will occasionally feel down. Literally. It's like your floor droops with gravity as it feels sad. Sometimes parts of your crawlspace aren't connecting to your floor.
For crawlspace repair, someone will crawl under your home to install crawlspace jacks or remove and replace deteriorating wood.
What reasons are foundation repair, hillside stabilization, and crawlspace repair important for my
Tustin, CA

property?
There are things you like to look at in your home or commercial property. You have artwork or an awesome flatscreen TV mounted to the wall. Do you know what doesn't look good? Wall and ceiling cracks caused by foundation issues. Foundation repair will allow you to address those unpleasant-looking signs without worrying about them coming back.
Your foundation issues don't become better over time. As you deal with foundation settlement, the signs become worse. Foundation repair done for stabilization will prevent those foundation issues from becoming worse.
Foundation repair already isn't cheap. And it won't get cheaper over time, especially as your property continues to settle and foundation repair products become more expensive. Foundation repair now might save you more money later.
Foundation issues need to be disclosed legally when you put your property on the market. This limits potential buyers and doesn't let you get the full bang for your buck. When you limit yourself to cash buyers, they can negotiate the value of your property down by 30%. Foundation repair lets you sell your property for its full value.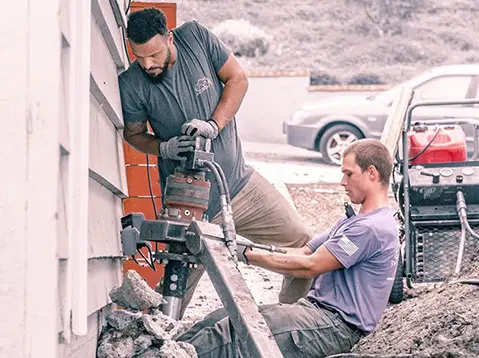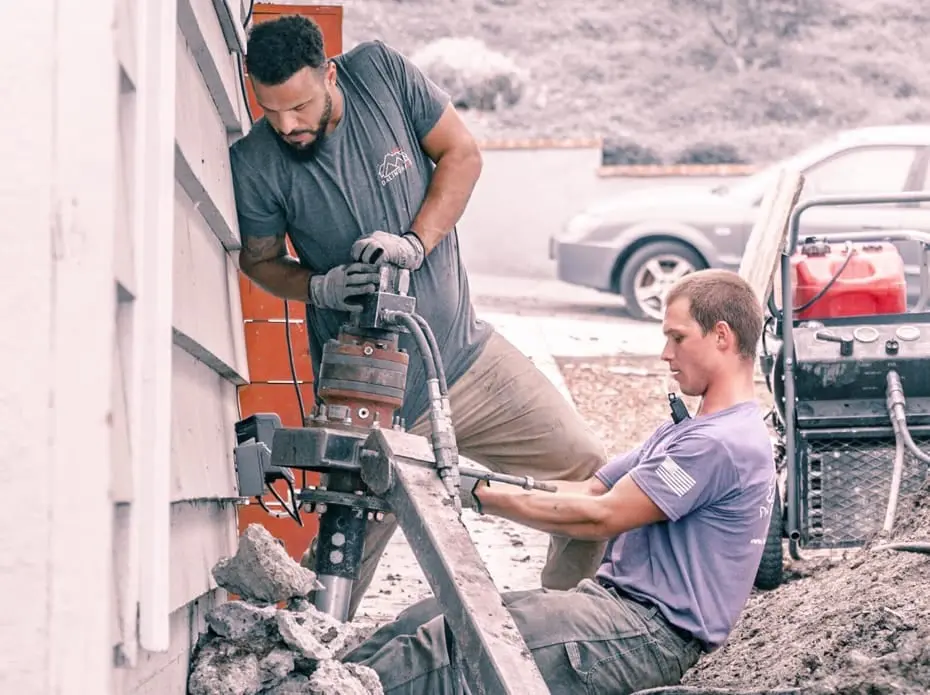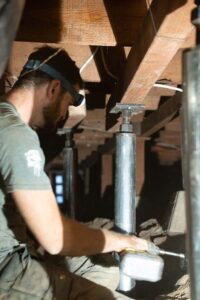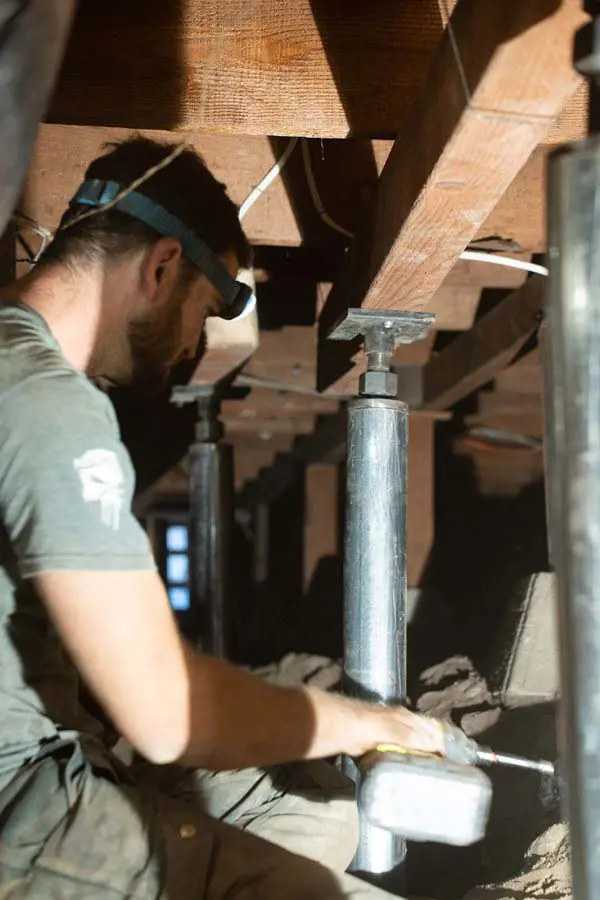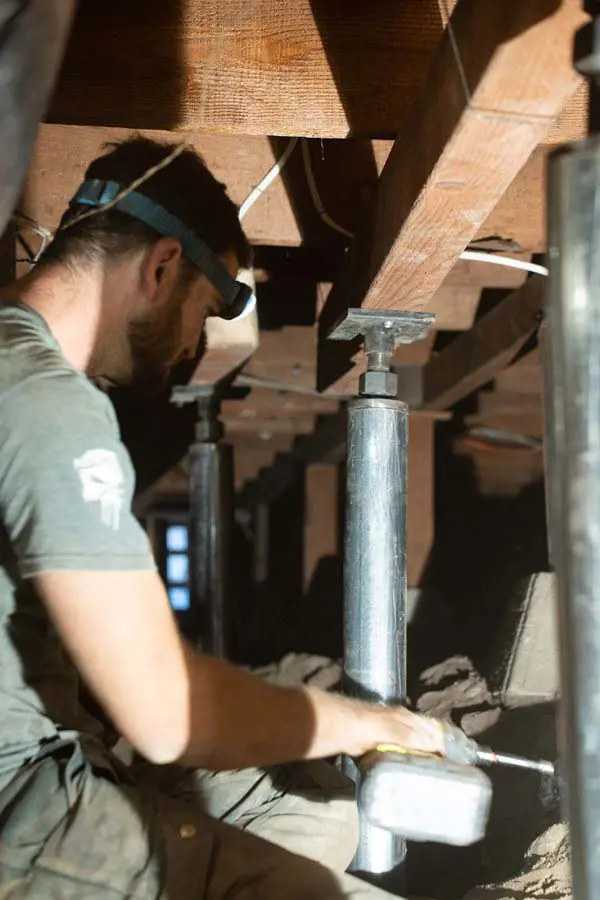 Floors will be uneven as your property deals with foundation settlement. You'll go from a nice horizontal angle to feeling like you're getting ready to go down a half-pipe with your skateboard. Foundation repair through leveling will bring your property back to maximum practical recovery.
Your floors on your raised foundation can start to sag, which can make you feel as though you'll fall into your property. Crawlspace repair will have your floor feeling as good as new.
If you were ever a kid at the park that had a grassy hill, there was always that temptation to roll down that slope (and get very dizzy). Soil shifts down slopes with the help of gravity, which can add pressure to your property and retaining wall. Hillside stabilization will keep your property in place and keep your retaining wall from failing.
Foundation repair for your property just makes sense. After all, your property is your number one investment. You can maintain the value of your property and feel safe knowing you took care of those foundation issues once and for all.
Next – schedule a free foundation inspection for your Tustin, CA, property!
The last thing you want to feel is uncomfortable in your home or commercial property. You don't want to feel as though everything is falling apart around you (quite literally). You want to do foundation repair, crawlspace repair, or hillside stabilization so your issues don't get worse.
Schedule a free 60-90 minute foundation inspection for your Tustin, CA, property. Keep in mind it's free for properties not on the market. If it's on the market for real estate, there is a $1000 charge that is credited toward your foundation repair.
Support your foundation like it supports your home or business – schedule a foundation inspection today!