Do you live on an Orange County hillside with a gorgeous vista, but your patio, deck, or pool is starting to slide downhill? Not certain how to protect your home? If you want to learn what slope creep is and how to best defend your property against hillside erosion, this article is for you.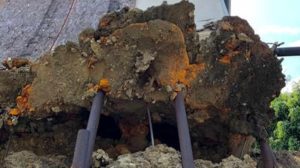 Our team here at Dalinghaus Construction Inc. has helped hundreds of Orange County homeowners stabilize and secure their homes against slope creep. With over 100 years of combined slope creep mitigation experience, we can help you reclaim your property.  
This article covers the definition of slope creep, common signs and symptoms of slope creep, and the best lines of defense against lateral movement.  
What is Slope Creep?
Slope creep is the slow, gradual downward displacement of soil, rock, and organic material. Slope creep causes lateral movement which can be observed through tilted electricity/phone poles, trees, or any object secured into or on a hillside.
Slope creep can seriously damage your home's foundation over time, in addition to your home's framing, gas lines, water lines, swimming pool, etc – resulting in thousands of dollars of property damage. 
Slope creep falls into two different camps:
Ascending – the slope moves away and downward from the home (as in, the home is built onto an eroding hillside/slope)  
Descending – the slope/hillside moves towards a lower elevation home (as in, the home is built at the bottom of a hillside/slope)
Common signs and symptoms of slope creep and lateral movement includes:
  An increasing gap between the concrete hardscape, pavers, patio, or deck and home
  Stairstep cracks in property line walls
  Tilted and cracked retaining walls
  Angled water level in the pool
  Fresh pool mastic angled about three-quarters-of-an-inch to the pool deck (an ineffectual Band-Aid for the gap)
  Deck support beams kicking outward
It's important to make the distinction that slope creep is not a landslide, mudslide, rockslide, or any type of violent, quick downward wash of soil. It is a slow geological process, like the Colorado River cutting out the Grand Canyon.
However, slope creep can be exacerbated by poor drainage, little to no hillside vegetation, and seismic events.
Note – as a general rule of thumb for slope creep, it is the top six-foot layer of soil that shifts.
Slope creep is particularly prevalent in Orange County and is a common deciding factor in home condemnation for hillside communities.
Slope Creep Mitigation
The two most common forms of slope creep mitigation are retaining walls (to intercept the slope) and steel pier underpinning (to secure and stabilize homes and decks against lateral movement).  
Retaining Wall Slope Creep Mitigation –
Retaining walls are created to intercept and retain the slope and bear the brunt of the lateral load. Here at Dalinghaus Construction Inc., we utilize our Orange County piers, beams, helical piles, and anchors in conjunction with our retaining wall systems. This supports lateral loads and supplies vertical loading support, so the retaining walls are less likely to settle.
To learn more about retaining wall costs, read our article: How Much Does a Retaining Wall Cost (New & Repaired).   
Steel Pier System Slope Creep Mitigation –
Steel pier systems don't impede the slope from eroding, but do help support, secure, and protect homes, decks, and pools that are built on precarious hillsides. Helical tiebacks and helical piers are utilized as underground stilt support systems, locking into competent, load-bearing soil.
To learn more about steel pier underpinning cost, read our article: Underpinning Cost – Steel Pier Systems.
Often, securing and stabilizing hillside slopes involves using both a retaining wall and steel pier underpinning to secure the structure in question.
Is Your Slope Creep Serious?
In this article, you learned the telltale signs of slope creep and the two most common lateral movement mitigation methods. You also learned that slope creep is a slow geological process that is exacerbated by wet weather and seismic events.  
Dalinghaus Construction Inc. has been in the foundation repair game since 2015. We've seen our fair share of homes falling off hillsides.
If you live in Orange County (or anywhere in SoCal or Arizona) and would like to book a free hillside stabilization inspection, click the link below –