Foundation Repair In
The City of La Mesa
One of the hillier cities of East County San Diego is La Mesa, CA, especially with areas such as Mt. Helix. "La Mesa" means "the table" in Spanish, which is how you want your city to act when it supports an area with an abundance of families along with businesses that help keep the area thriving. But instead of having wood at the top of the table, all residential and commercial properties are supported by the soil they sit on top of.
The issue is the soil sometimes doesn't cooperate with your residential or commercial property, especially as it causes you to deal with foundation settlement and hillside issues.
Fortunately, these issues can be taken care of, whether you need foundation stabilization, foundation leveling, deep injection with polyurethane, crawlspace repair, foundation crack repair, crawlspace repair, and hillside stabilization. Dalinghaus Construction is a leading foundation repair contractor in Southern California, Arizona, and Nevada, specializing in all these issues since 2015.
What are the signs of foundation issues in La Mesa, CA?
When it comes to foundation issues, it will rarely be one of these signs you'll notice. It could be the case, but usually a single sign isn't related to your foundation. When you see multiple signs, contact a qualified and licensed foundation repair contractor to come out and do an inspection to assess the problem.
Crawlspace issues, while still related to your foundation, might be a little bit different. You'll see and feel your floors start to flag, giving you flashbacks of Droopy the Dog. You'll feel as though you can fall through your floor and go under your home. This is either an indicator that the wood like your girder beams is deteriorating or your posts and pads aren't properly holding up your floors.
You'll know you have hillside stabilization issues when you see your retaining wall start to lean, bow, buckle, and even crack if the damage has reached that point. This is because the lateral movement of the soil your home or business resides on slowly overpowering your retaining wall.
There is a unique mix of loam, sandy, and clay soils in La Mesa, CA. Some of these soils can be susceptible to soil erosion, especially if they're sandier. Clay is susceptible to foundation expansion or shrinkage depending on the amount of moisture present, temperature, and other environmental factors. The less moisture in the soil, it will contract and shift, which causes your home or business to settle, meaning it's very slowly sinking into the ground. It also doesn't help with your property dealing with lateral movement when it resides on a hill.
Dealing with these conditions requires a trusted foundation repair contractor to come out for an inspection, especially when you need quality solutions. Dalinghaus Construction offers quality methods of foundation repair so that your La Mesa, CA, property stays safe from foundation or hillside issues.
What to expect for my foundation repair process in
La Mesa, CA

?
Whether you're in La Mesa, CA, or any other city where we operate, your foundation repair process will always start with an initial 60-90 minute foundation inspection of your property. One of our Project Design Specialists will look around your property looking for any signs of foundation issues. They will take measurements and create a scaled drawing of your property with floor elevations to find the area affected and come up with a foundation repair plan.
Foundation inspections are free unless your residential or commercial property is on the market. Real estate foundation inspections cost $1,000 which is credited toward your foundation repair.
You will then receive a foundation repair plan the day of or after your inspection as recommended by your Project Design Specialist. This will include the recommended foundation repair plan, the full report on what was found during the inspection, and the scaled CAD drawing of your property.
If you agree to proceed with your foundation repair and have signed everything required, your project will be scheduled and underway based on the recommended plan and required city permits.
How does foundation repair happen in La Mesa, CA?
Some companies use concrete underpinnings to try and stabilize homes or businesses, but others like Dalinghaus Construction use galvanized steel Push pier and Helical pier underpinning systems. They're effective at foundation stabilization and cost-effective compared to other foundation repair methods.
Both methods are excellent at foundation stabilization and foundation leveling, which involves lifting the area affected by foundation settlement up to maximum practical recovery. The main difference between the two piers is how they're shaped and installed.
Push piers galvanized steel tubes that are hydraulically driven into the ground using the weight of your residential or commercial building until reaching competent soil or bedrock.
Helical piers are used in place of Push piers when your home or business is too light. They have helices at the base that allow the piers to be driven into the ground like a screw and are put into the soil separate from the building until reaching competent soil or the recommended torque. They're then attached to the remedial bracket that's bolted to your foundation.
Whether you're dealing with soil erosion or your slab-on-grade went through foundation leveling, the voids in the soil need to be filled and densified to offer additional stability. Deep injection with Polyurethane foam will be used to densify soil, fill voids, and can be used to relevel in some circumstances. Polyurethane expands rapidly, cures in 15 minutes, is both lighter and as hard as concrete, and is environmentally safe!
Crawlspace repair is necessary if your floors aren't being held up whether it's due to deteriorating wood or the floor isn't being properly held up. Depending on what you need, your crawlspace will be shored up to put in new wood or put in crawlspace jacks in to replace the posts and pads.
As for foundation cracks, these can be addressed in two ways. Epoxy, a glue-like resin, is gravity fed into the crack and dries to hold your foundation together. There is also Carbon Fiber stitching, which uses small bits of carbon fiber and applies them over the cracks to strengthen your foundation and prevent the rebar from being exposed to moisture.
How hillside stabilization happens in La Mesa, CA
You want to be sure your retaining wall is being reinforced when your property is dealing with laterally moving soil or hydrostatic pressure.
To help relieve the issue of hydrostatic pressure, weep holes will be put in to allow moisture to escape.
As for combatting laterally moving soil, that's where Helical tiebacks come in. At least they're put into the wall and the soil. They're similar to helical piers, but installed at a more horizontal angle. They're driven into the soil until reaching competent soil or the recommended torque. Then they're anchored into your retaining wall to offer that additional support.
Reasons for foundation repair, crawlspace repair, and hillside stabilization in
La Mesa, CA
When you're dealing with foundation issues, you'll know it's happening when you see the cosmetic damage. They tend to become worse over time. Foundation repair can let you take care of cosmetic issues.
If that time goes on for long, cosmetic issues can eventually turn into structural damage. Foundation repair will prevent that damage from getting to that extent.
Foundation issues don't magically become better. They need to be taken care of. You can cover the signs up, but they'll eventually come back. Do your foundation repair so that the problems caused your foundation don't come back.
The cost of your foundation repair becomes more expensive as time goes on, whether it's due to the damage increasing or the cost of materials going up. Going through your foundation repair earlier prevents a larger hole from being burned into your pocket.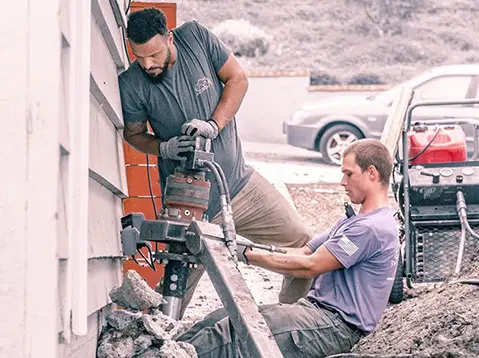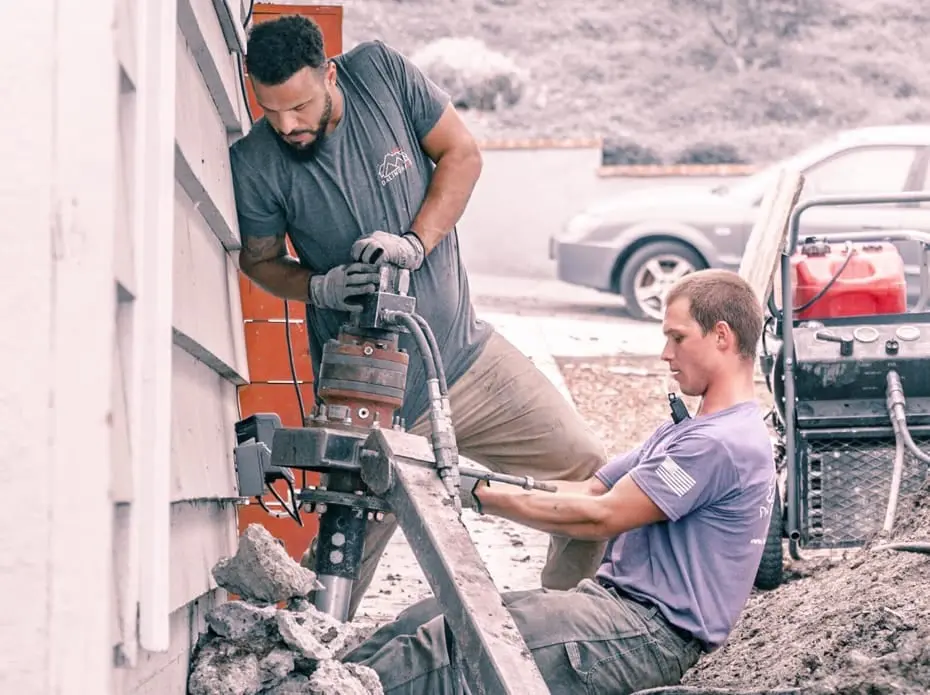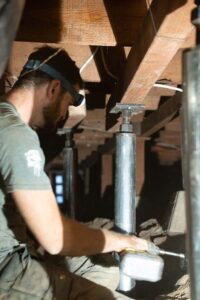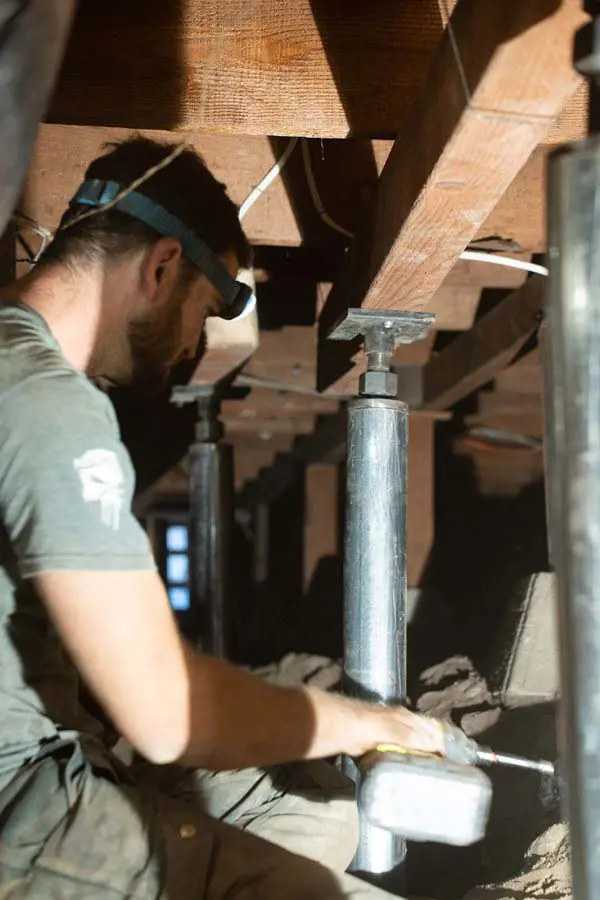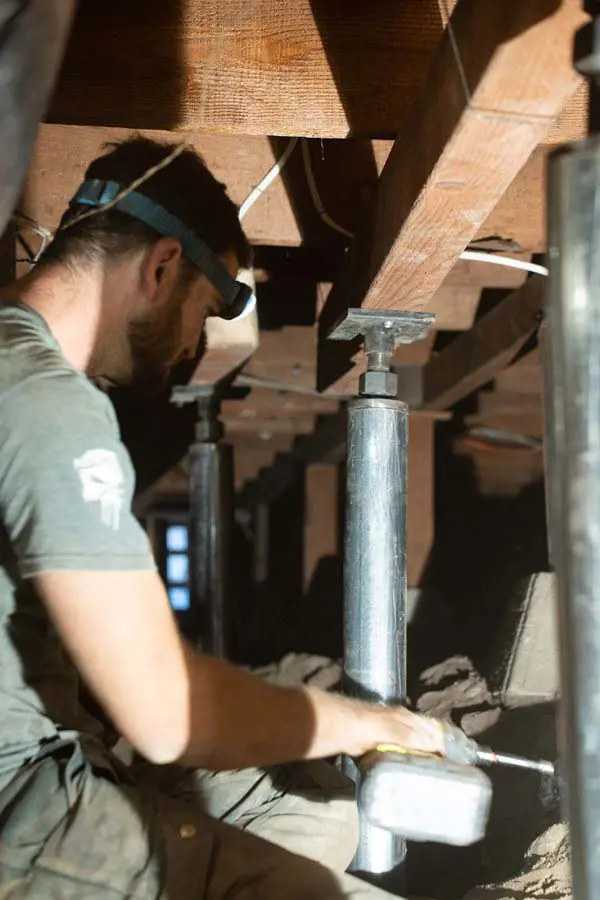 You'll notice your day-to-day is a little more difficult, whether it's your windows and doors becoming more difficult to open and close, or you're feeling your floor start to slope as though you're hiking in your own home or business. Foundation repair will prevent your day-to-day from becoming more difficult.
You don't want your droopy floors in your raised foundation with a crawlspace to become worse. This is why crawlspace repair is essential. Have your floors feeling as good as new.
Keep the soil where it's at so your home or business won't endure further damage via lateral movement. This is why you want your retaining wall to continue working as well as when it was first built.
All of these repairs make sense to maintain the longevity of your home or business, as well as let your property maintain its value. Protect your number one investment in life to make it last more than a lifetime.
Not sure what to do? Schedule a foundation inspection!
Protect your property from moving soils so you can protect your top investment. You want to make sure you're looking toward a reliable foundation repair contractor that can help you with these issues. After all, you want the job done right the first time.
If you're in La Mesa, CA, and need your foundation, crawlspace, or retaining wall looked at, consider reaching out to Dalinghaus Construction. That way we can figure out the problem and let you know the proper actions to take when moving forward.
To schedule an appointment, you can go online or call (877)360-9277.